DRX Worlds 2022 Skins: Release date, champions, and more!
DRX's Worlds 2022 skins are nearly here as part of patch 13.11.
With the 2023 World Championship mere months away, Riot has teased the release of the the 2022 winners' DRX skins. Having debuted on the PBE earlier in May, the main release will arrive with Patch 13.11 on June 1. Keep reading to find out the chosen champions to receive a skin by the DRX members, why the Worlds winner gets a custom skin and the teaser trailer ahead of the release.
Why do Worlds winners receive a custom skin?
For all Worlds championship winners, as part of their win, they choose a champion to have their Worlds win immortalized. Players choose a champion that they like playing, played in the finals or a champion they generally love, and have their win immortalized via Riot Games creating a skin for that champion.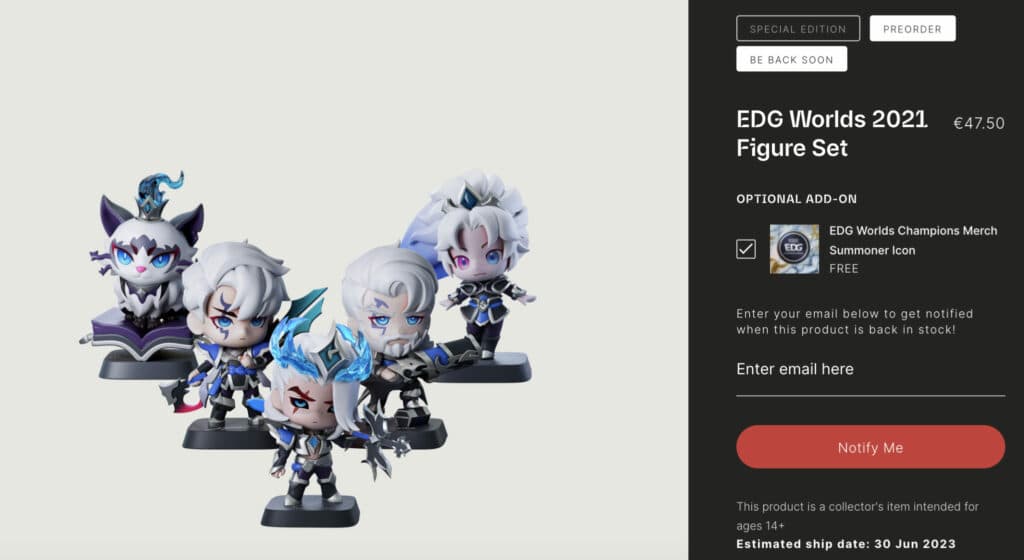 Worlds 2021 EDG skins on figures for fans to buy - image via Riot Games Store EU
These skins are typically released roughly a year after the win, and can also include figures being made of the champions for fans to buy from the official Riot Games website. As with everything in League of Legends, Riot first releases the Worlds win skins onto the PBE server (a server that the public can access and trial new patches) and then later across all other servers internationally.
DRX's chosen champions
A huge part of DRX's 2022 win at Worlds, was that it was a miracle run, from starting via play-ins to pushing through the group stage to reach finals. Throughout the tournament, they were dubbed the unbreakable team and this has become the theme for their Worlds skins. Many of these champion picks are based on the players' signature champions; such as Deft's Caitlyn and Pyosik's "one trick" start to his career on Kindred.
The 2022 DRX champion choices for their skins are as follows:
| | | |
| --- | --- | --- |
| Hwang "Kingen" Seong-hoon | Top | Atrox – Prestige Atrox |
| Lee "Juhan" Ju-han | Sub – jungle | Maokai |
| Hong "Pyosik" Chang-hyeon | Jungle | Kindred |
| Kim "Zeka" Geon-woo | Mid | Akali |
| Kim "Deft" Hyuk-kyu | ADC | Caitlyn |
| Cho "BeryL" Geon-hee | Support | Ashe |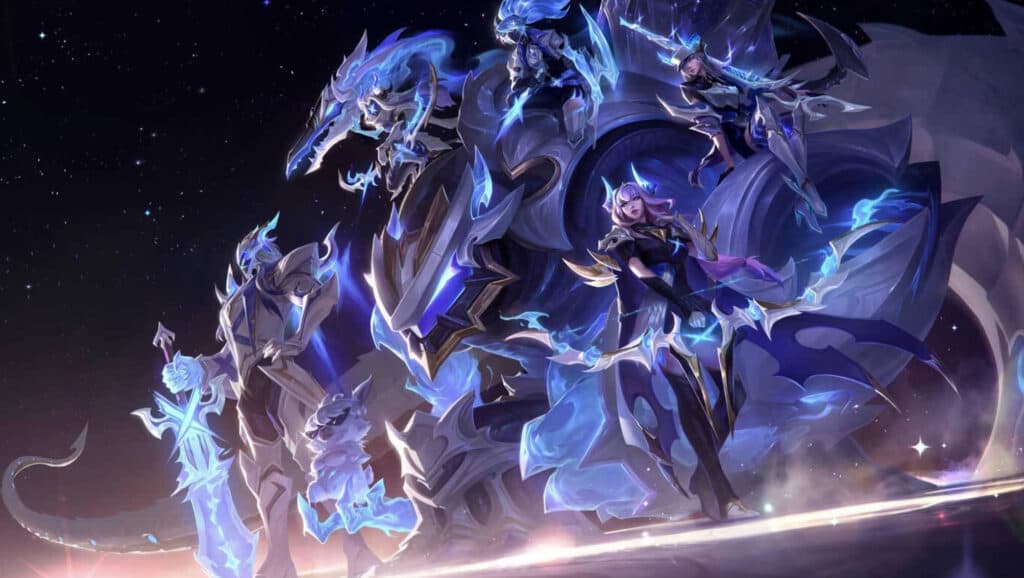 Teaser art of the DRX Worlds 2022 skins being released June 1 - image via Riot Games
Aforementioned, these skins are a way for the players and roster to be a part of League history forever, and although this roster is no longer together, it is a lovely way to reminisce.
Release date and animated teaser
DRX's Worlds 2022 skins will be released in line with the new patch update of 13.11 – this patch update across all servers will take place on June 1. Prior to the release of the skins, Riot created a Worlds 2022 animation of the skins in action available on YouTube, with small nods to DRX's history, their miracle run and the theme of their roster being unbreakable.