Dignitas Neo reflects on loss to 100 Thieves, 2-1 week and "broken" Gwen.
The LCS Summer 2021 split Week 1 kicked off with incredible action and three days of non-stop North American League of Legends. On day 3, we saw Cloud9 take on Team Liquid, which proved to be a spectacle to say the least. A couple of matches before it, we got to enjoy Dignitas vs 100 Thieves.
Both teams looking to secure the 3rd place, instead of the ongoing 3-team tie. We sat down with Dignitas' ADC, Neo, to get his thoughts on the loss, their overall performance in the opening week and how scared he is of Gwen.
The newly released AP top laner has been a nightmare to deal with. She is either banned or picked instantly by one of the teams as top priority. 100 Thieves managed to give Gwen to Ssumday and he scared the entire Dignitas' roster. To give some context, Gwen was banned 11 times and picked 4 times in the event. Out of those 4, she saw 3 wins, putting up an average 6.2 KDA.
100T Ssumday finished the match with a 7/1/5 scoreline. He played a crucial role in 12 of the 16 kills for100 Thieves. There is no doubt Dignitas Neo had to label Gwen as a "broken champion" following this loss. She was incredibly "hard to deal" with according to him no matter what they threw at her.
Dignitas had their fair share of surprises for us this game as well. They flex picked Rumble and Darius. At first glance and with the current state of the meta, you would assume Rumble is going into the jungle with Darius bleeding out his top lane enemies to death. The team had other thoughts, putting the latter in the jungle and giving the Mechanized Menace a lane to play in.
However, Neo believes it was "definitely not" the reason for their loss. Neo labelled it as a flex pick that both "Dardoch and FakeGod basically switch among themselves based on whoever is more comfortable to play it on the day and against the team composition we are facing at the time."
If we go back to bottom lane where Neo plays as the team's ADC alongside Aphromoo as his support, the duo came up against 100 Thieves' FBI and Huhi. To him, "the 2v2 was never a problem for us." However, it drew unwanted attention from the opposition jungler, Closer. "It didn't allow us to snowball our lead which is terrible for us," but this also allowed for pressure topside on the map.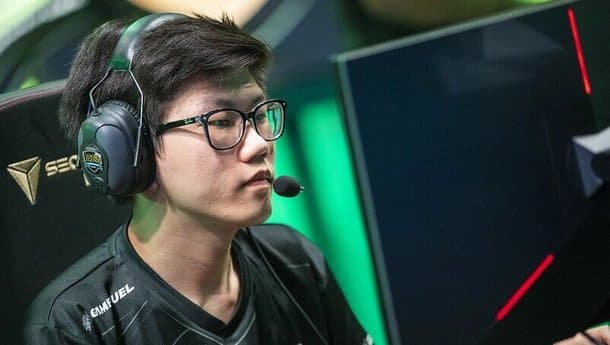 Dignitas Neo
Week 2 sees Dignitas taking on Team Liquid on Day 1, followed by Immortals and Cloud9 respectively. A tough round of games awaits Dignitas, but they are definitely up for it after their 2-1 record.