CLG support Smoothie reflects in the teams performance this past weekend and talks about finding balance in esports.
After a rough 0-3 start to the 2021 LCS Summer Split, Counter Logic Gaming look forward to week 2 with hopes of finding their stride as a team. For CLG Smoothie, getting back to the top of the LCS is something that holds extreme importance.
In this interview, we had the opportunity to speak to Counter Logic Gaming's support, Smoothie, to discuss this past weekend's games and how everything he does in life is to become a better League of Legends player.
---
Hi Smoothie, thank you for joining me after your loss. I want to give you the opportunity to speak about the week and whatever is on your mind.
CLG Smoothie: Unfortunate games on the weekend, but it's okay; it is what it is. Not the start we were going for and 0-3 really sucks. We were super excited going into this weekend because our practice was pretty positive going into the week as well. However, results in scrims do not mean anything. It is more so just a confidence boost. 
I guess what we really did in scrims was individually beat most teams we versed. That will never happen on stage because people are going to play a lot more respectful and smart. It is just even. Playing on stage vs scrims is so different and I think we got a really bad read on the meta as well. It was a really hard weekend overall and we really saw a lot of our flaws from scrims to stage.
It was a hard week for me to digest. We are doing our best to not get too down though. It is still really early on in this split. We know we are much better than this week and know we have a lot to prove.
We learned a lot from these losses about our preparation and our weaknesses. It is a reality check. Every loss in the LCS is usually like that.
---
You catch me as a player who really learns a lot from your losses. When you lose, how do you feel you handle these losses versus when you first joined LCS?
CLG Smoothie: I don't really know what was different. Players were a lot worse as an entirety back then, but my mentality never really wavered. I always took losses really heavily in general and I always do my best to keep myself accountable to everything and to a fault at times.
I am pretty hard on myself on a lot of things I do. It is a pretty rough road on CLG so far, but this iteration of CLG is the closest we are getting. I think this weekend was just bad individual play combined with a bad meta read. Hopefully next week, we can change a lot in how we practice and how we function as a team. We will get better and prepare much better than how we played on stage.
---
You are very self-reflective as a player. I want to talk a bit about your work ethic and your ability to take accountability so you can improve as a player. Where does this come from? Is it primarily only for League of Legends or is this a mentality you carry out in most things you do.
CLG Smoothie: I just love the game. I would not say I am a "gamer", I consider myself more of a League player. Honestly, I don't really like playing other games and to be honest, other games bore me. It is a different feeling when I play League of Legends.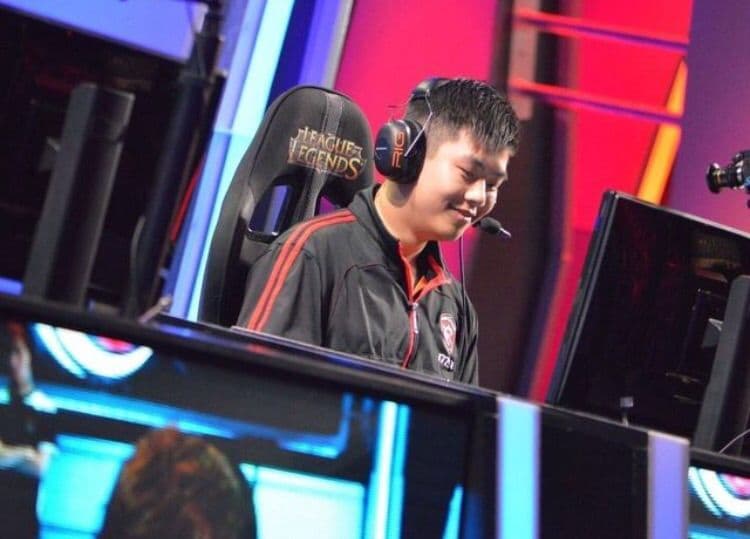 Smoothie first joined the LCS in 2015 Summer Split apart of Team Dragon Knights.
When I play League, I just have fun regardless of the patch or who I am versing. Every game is really fun to me because it is a deep passion of mine. I like putting in extra work in League of Legends because it is a game I have so much love for. Right now, I need to put in even more effort.
 Rough start, but I actually have genuine confidence in this team. I know that we are capable of winning. We just need to get there and I know we will at some point.
---
I want to talk about fitness, did you do these different things to make League of Legends better? Where did these other self help things come from?
CLG Smoothie: I have always liked working out since high school. If you start the day by working out, you just feel better about yourself. I feel like if I start my days with working out, I have a lot more energy, more concentration and feel like I can exert more effort into my work. This is a part of my lifestyle nowadays. 
Recently, I have actually been going super hard on my fitness as well. I am dieting more, working out everyday and it is a really nice routine in my lifestyle. It definitely adds a lot more to my life for sure.
It is a really nice destresser as well. I feel like when I can workout, I have time to reflect and think. It is a nice pause from the stresses in my life and helps me tackle issues with a better mindset. I can just blast some music and think about ways to become better as a player. There is always something I can work on and it is just a nice part of my life.
---
In your offseasons, how do you detach yourself from League of Legends so you can continue putting in a lot of practice during seasons?
Smoothie: In the offseason, I really enjoy taking some time off from League of Legends. I enjoy going back to Canada and visiting friends as well. Adding on, I also enjoy picking up new hobbies when I am taking a break from League of Legends. For example, this past offseason, I began to learn piano. I like learning new things and adding more to my life. I just enjoy learning new things and always developing something about my life.
---
You seem like a balanced person outside of League of Legends now.
CLG Smoothie: Definitely, as I grew up more and more, I realized burying myself in League of Legends is just not healthy. I used to play 10 games a day after scrims and more than half those games were very unproductive and useless. More balance in my life and productivity. All of that helps me focus more in-game and I am trying to do everything I can to play League of Legends. 
Unfortunately, I am not there yet, but I am working really hard to get there once again. Hopefully my team can show we have it in us. It is honestly really hard, but we are working on it and we will get there.
---
Aside from losses, would you say you are in a better place mentally then when you were always at the top in LCS mindlessly playing the game at times?
CLG Smoothie: It is hard to say honestly. When you are at the top, nothing feels better. You go to scrims every single day with so much confidence. Even if you have a bad day of practice, you know that you are the better team. You are winning on stage to prove that as well. It is always going to be better to just win.
CLG Smoothie made it to LoL Worlds Quarterfinals as the support for Cloud9.
My lifestyle in general is really good and consistent right now which is awesome. I love that there is consistency in my life more so than before. However, you can't really compare that to the feeling of winning.
I would give up everything to get back there and I am working really hard to get back there. We are extremely motivated to get back there. I want to be back at the top.
CLG Smoothie will look forward to next week with Counter Logic Gaming. Each team has 24 games left in the 2021 LCS Summer Split so CLG have a lot of time to make up ground.