C9 Blaber is looking to bounce back to form as the 2021 LCS Summer Split comes to a close. Well aware of his team's struggles of late, Blaber is confident an opportunity for a comeback is emerging.
Cloud9 is once again playing with its full starting roster in the 2021 League of Legends Championship Series Summer Split, but the team is not back to championship form. The reigning champion of North America is currently in a 3rd place tie with Team Liquid in the LCS standings. Cloud9 began week 6 by losing to FlyQuest's entire FLY Academy roster before ending the week 1-2.
Seven weeks into the 2021 LCS Summer Split and Cloud9 are no longer the top team in the league. Cloud9 stand at a 9-9 record looking at the 2021 LCS Summer Split alone. With just 9 more games in the regular season to jump up the standings, Cloud9 are in a tough position. For C9 Blaber, the reigning LCS MVP, the changes have been a bit more difficult to handle.
In this interview, we spoke to C9 Blaber to talk about the current state of Cloud9, finding a work life balance and Academy teams getting LCS stage experience.
---
I wanted to give you the opportunity to talk about the split in general and how you have been handling all of this?
C9 Blaber: I think I have not been playing as well this split. Us as a team also have not been playing well. I am not entirely sure what is wrong. I think we are 5-4 with Zven back, but after coming from MSI, we did not play too well in the first couple of weeks. It definitely sucks, but I am still confident in our team going forward.
What is it like trying to stay at the top. Is there a lot of pressure staying at the top spot?
C9 Blaber: I wouldn't say there is a lot of pressure, but we expect ourselves to play well. I think winning Spring does not hurt your chances of winning Summer. That is just kind of a meme. Just because we have done well in Spring and not in Summer does not mean Spring is hurting our chances. I just feel we are playing a lot worse as a team. Regarding the scouting aspect, we can do the same for other teams. All the teams are watching games from other regions so nothing is changing. I just feel we are not playing that well currently.
Cloud9 were the 2021 LCS Spring Split Champions. Image via espat.ai
I want to talk about LCS teams letting an entire Academy team play on stage now with Flyquest Academy since that is something you experience on C9. Do you feel that is something we will see more of moving forward?
C9 Blaber: I think it is decent for Flyquest who are losing every game. It makes a lot of sense for them to swap things up because they are not winning at all. Generally, for Academy teams, the team is not good, but a few star players exist. In general, subbing in the whole team is not seen very often. I think giving academy players a shot in the LCS is really good in general. I just am unsure about subbing in an entire team.
It is better to play with the current team you are playing with. There are team cohesion issues that do occur when you bring in singular academy players to an LCS lineup. There is a lot you need to take in and it is not the easiest to implement new players.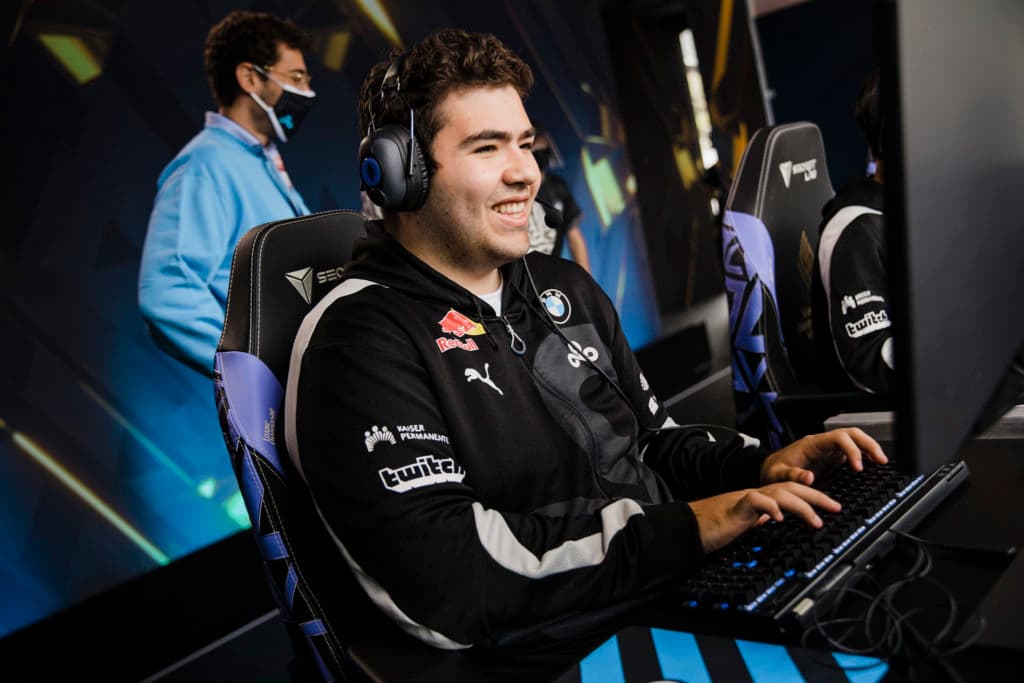 Do you still talk to some of the former C9 players on Flyquest?
C9 Blaber: I do not get to talk to them very often, but I still keep in touch with them every now and then. We talk here and here.
It is definitely hard to balance your life. League is your whole life when you are a pro player. You start playing at 10am and then you don't stop until 8pm. Scrims usually end at 6pm, but sometimes you get a night block. There are also times where you just want to continue practicing, so you hop onto soloqueue to play games. It is pretty expected that you work all the time. We do get one offday, but generally, league is your life. It gets hard to keep track of people and friends that are not a part of my team anymore.
What are things you do during your offdays?
C9 Blaber: I just chill on my offdays. I will watch some shows, go outside for a walk and play other games. Those off-days are my moments to catch up with friends and make sure I can maintain those relationships.
Do you feel like bottom teams are getting better or the top teams are getting worse?
C9 Blaber: I feel like all of the top teams are playing worse right now. I think we are all not that good. 100 and TSM are looking better than the rest, but I feel like anybody is beatable right now.
100 Thieves are the top team in the 2021 LCS Summer Split. image via espat.ai
Final words to the C9 fans?
C9 Blaber: I just want to say thanks to the C9 fans. Right now, I am having a poor showing in this split and I do not want that to continue into playoffs. I am looking forward to us doing good in the future and showing how good we are. I just hope you guys don't give up on us just yet.
---