Muzzy decided to step down from competitive Hearthstone by the end of this year. With two World Championship appearances, he has been one of Hearthstone Esports' top performers.
Muzahidul "Muzzy" Islam announced today in his Twitter account that he will be retiring from Hearthstone after Grandmasters Season 2 finishes. After 8 years of being at the top of the competitive scene, Muzzy will give up his spot in the Grandmasters, Hearthstone's prime League at the end of the current season.
Muzzy's Career
We can't talk about Hearthstone Esports without mentioning Muzzy. He made his debut playing in the defunct Hearthstone Pro League in 2015 while playing for Team Hearthlytics, as well as competing in Team Archon's The Pinnacle 4. From 2016 he spent his time flying around the globe to compete in every major Hearthstone Championship Tour event. Then, with the arrival of the Hearthstone Grandmasters system, he became an Americas' Grandmasters, which he has been for six seasons now. His Hearthstone earnings are estimated above $200k.
Hearthstone Championship Tour
While representing prestigious esports teams such as Tempo Storm and Luminosity, Muzzy achieved what no one had achieved before. He conquered more HCT points than anyone two years in a row, in 2017 and 2018, to earn his pass to two World Championship events.
During that time, he won many major events, both solo, and team. Fearing of missing some of Muzzy's numerous achievements, here are some of the most important ones:
Hearthstone Grandmasters
When the Hearthstone Grandmasters system was announced in 2019, there was no doubt that Muzzy would be included in Hearthstone's top competitive league. Representing Team Radiance, along with his long-time friend Justsaiyan, Muzzy stormed Grandmasters and the Masters Tour circuit.
Despite not glowing like in his golden years of 2017 and 2018, Muzzy was still always a contender. In 2020, he was two matches away from qualifying for the World Championship again.
Earlier this year, during HSGM Season 1, Muzzy was on the edge of relegation. He needed a miracle just to continue being part of Grandmasters. Much like the phoenix, Muzzy returned from what seemed to be ashes. In his last stance, with everything on the line, he stormed Hearthstone Grandmasters, winning the week, not only saving himself from relegation but also making it to playoffs for a new shot at the World Championship.
In Muzzy's words, "it was quite a ride", but the action didn't end there. He made it all the way to the Top 4 in the Playoffs. Finally, he ended up losing in the semifinals to Nalguidan, who would end up being the Seasonal champion.
Is it all over for Muzzy?
That would be a great end of the story, but Muzzy apparently thinks otherwise. When Grandmaster season 2 started, Muzzy began with the right foot and ended up winning the first week of the competition. Maybe, just maybe, he will have to postpone his retirement to play his third World Championship in December.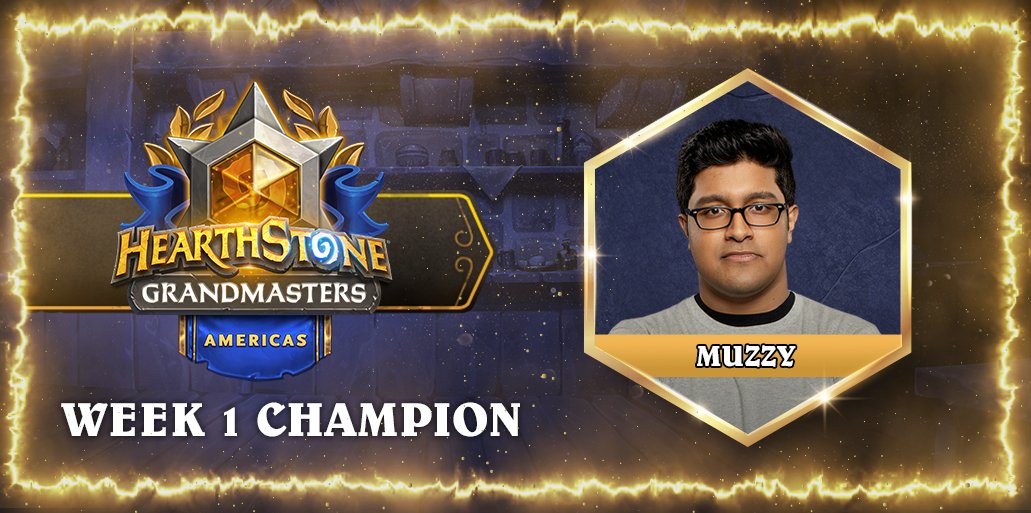 The community filled Muzzy's Twitter feed today with love and support messages. Having myself the pleasure of meeting him, I must say that Hearthstone is losing much more than a fantastic player with his retirement.
If you want to catch Muzzy's last competitive Hearthstone season, tune in to Grandmasters' Broadcast, you will catch quite a show between his high-level gameplay and charisma.
For more Hearthstone news and updates, follow us on Esports.gg. See you next time, in the tavern.