Masters Tour Silvermoon: Who won Hearthstone's $250.000 tournament and the best takes from this competitive weekend, all in one place.
The Masters Tour circuit had a new stop at Silvermoon this last weekend, and the Hearthstone community vibed with the event. The Chinese player jiuqianyu took first place and got yet another Major tournament for what seems to be Hearthstone's most powerful region.
Masters Tour Silvermoon had over 400 players from more than 40 countries clashing to get a share of the $250.000 prize pool. Dreaming of becoming a Grand Master, newcomers had the opportunity to prove themselves against seasoned players. After 8 Rounds of a Swiss bracket and a Top 16 Playoff, jiuqianyu won the finals against the ex-GM Romaric "AyRoK" Dubois.
What did we learn From Masters Tour Silvermoon?
Chinese Players need to be Nerfed
jiuqianyu winning Silvermoon's Masters Tour meant his first major achievement. However, this was not a one-time thing if we see the big regional picture. China has won 4 out of the 5 last Masters Tours. The only one able to break this rule was Gaby, but well, he is kind of out of this world.
The growth of the Chinese region has been astronomic. VKLiooon winning the 2019 World Cup was just the first step of many. The time where the European players were invited to play in Chinese million-dollar show matches has passed.
The rock-solid hybrid system combining ladder finishes and huge open tournaments paid off. The rest of the regions will need to step up their game. There will be a chance to set scores even in the two remaining Masters Tours of 2021 or even the World Championship.
Taunt is Cheat
AyRok proved that there is life after Grand Master relegation. He got all the way to the finals of Masters Tour Silvermoon, piloting an aggressive lineup including the iconic Face Hunter. Proving that Face is the Place once more, as we mentioned while analyzing the meta, AyRok pointed all his damage at his opponent hero in the last match of the finals.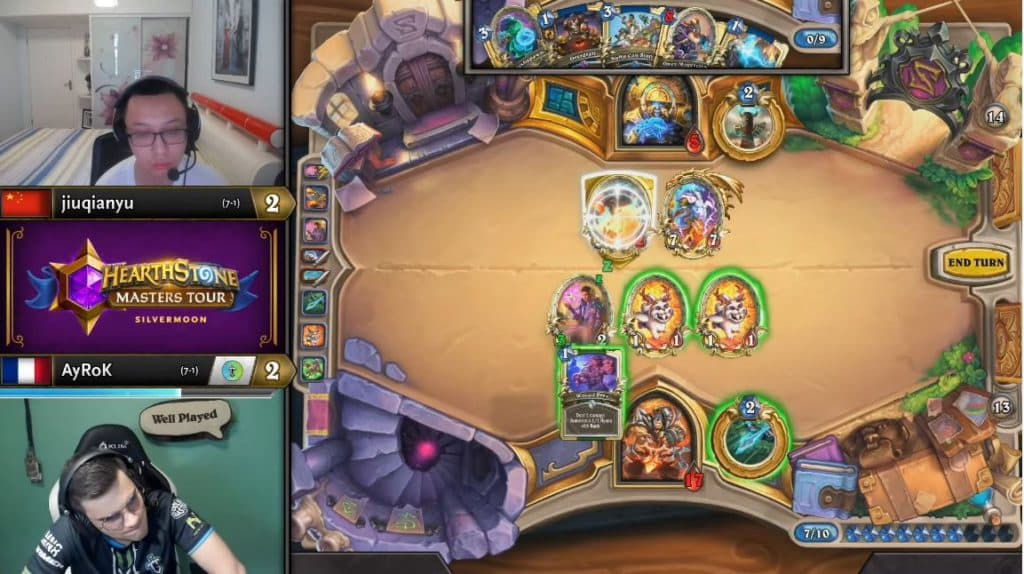 The moment AyRok realizes he can't push for lethal in the finals - Image from Blizzard's Broadcast
With jiuqianyu at five health, Ayrok needed a way to deliver 3 more damage, discounting Hunter's hero power. Furthermore, there were two 1-1 minions capable of attacking that turn, and the draw was, in fact, 1 more damage. However, there was a minion with Taunt in the way for AyRok's disgrace. In the backswing, jiuqianyu had lethal and crowed himself as the Masters Tour Silvermoon Champion.
Murloc Tinyfin is Hearthstone player's favorite
Masters Tour Silvermoon gave us one final take on stats and deckbuilding. One of the most popular decks, Shadowpriest, has in its lines many cheap minions to combo with Disciplinarian Gandling, among them Murloc Tinifin and Desk Imp. Both minions are 0 mana 1-1s, have no special synergies, and for the deck are exactly the same.
Murloc Tinyfin - Hearthstone Card
Desk Imp - Hearthstone Card
However, players don't agree much on this take, and it was America's Grand Masters Monsanto who discovered this little secret. According to Masters Tour Silvermoon stats, there were twice as many Murloc Tinyfins compared to Desk Imps. 
But why is this? Maybe it's just how cute the Murloc looks, but besides that, there is no other logical explanation. Moreover, Monsanto explained that if you were to go to the finest print, "Desk Imp is strictly better since when they draw it after you Mindrender they can Manari Mosher it for the lifesteal".
What's next after Masters Tour Silvermoon?
Hearthstone's competitive scene will continue next weekend with Hearthstone Grandmasters after the announced nerfs. More importantly, Blizzard will reveal Mercenaries, the new Hearthstone game mode tomorrow with a special Showcase Stream. On top of that the Big Battlegrounds Overhaul with incredible new features, heroes, and minions, goes live on August 31st as well.