Hearthstone Esports opens the game for Third-Party Tournaments to award invites for the $250K Masters Tour events. How did the first tournament go?
Hearthstone Esports has lowered the requirements for Third-Party Tournaments to award invites for the official 250K Masters Tour events. In an attempt to encourage organizations to run Hearthstone Esports Tournaments, now the minimum prize pool for an MT invite is $1,000, down from $10,000. The first one of these tournaments happened last weekend, let's go over it.
Hearthstone Esports & Third-Party Tournaments
Alex "Abar" Barhorst, current Product Lead for Hearthstone Esports stated in an interview with Esports.gg that one of his goals was to have a sustainable scene.
"To me, sustainability is when the community is actively engaged and wants to keep playing."

Abar to Esports.gg
In that sense, the changes for 2022, in which the minimum prize pool limit for a tournament to apply to have a Masters Tour invite attached to it, went down from $10,000 to $1,000. Furthermore, according to the Hearthstone Esports announcement for 2022, each Masters Tour will have 20 invites destined for Third-Party Tournaments (up from 10 in 2021).
This encourages Third-Party organizations to aim to be a part of the official Hearthstone Esports scene, with Tournaments that could grant a highly valued MT access. This past weekend, Tierras de Fuego, a LATAM-based Hearthstone organization, and Community Gaming ran the first tournament that awarded a pass to the official scene in 2022.
The Tournament
The Community Gaming Hearthstone Series #8 tournament was the eighth of a series that started in 2021. The events are organized in conjunction between Tierras de Fuego, a well-known Hearthstone organization dedicated to Esports, and Community Gaming, a multigame tournament platform. The Hearthstone Series #8 Tournament had $1,000 in prizes and, thanks to HS Esports' support, a Masters Tour invite for the champion.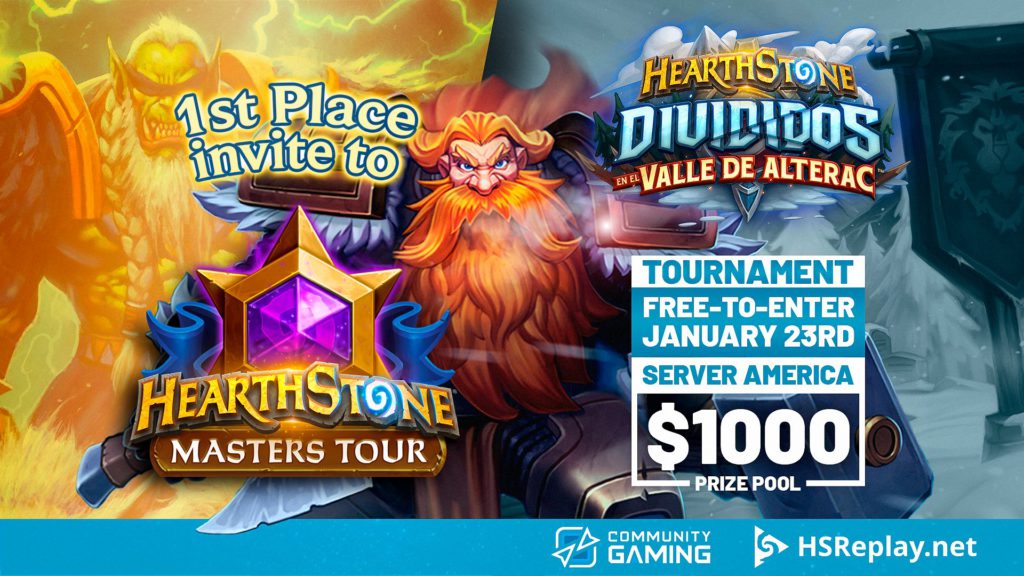 The tournament had over 300 Hearthstone players aiming for a shot at HS Esports' official competitive system. Much like every Masters Tour qualifier, the event had a single-elimination bracket. However, matches were best of five, not best of three, to mimic the Masters Tour competitive experience.
Of course, the MT invite wasn't the only thing players were after in this tournament. Many already qualified players competed for a part of the prize pool. It might not seem flashy in esports' big picture, but for an independent Hearthstone event, it was decent.
Who won the invite?
A strange situation occurred in the top 4 of the tournament regarding the Hearthstone Esports Masters Tour invitation. Two of the semifinalists, Pascoa and Germanshep, were already qualified for the next Masters Tour. This meant that in case any of them won the event, the invite would be passed down.
If things couldn't get spicier, both of them made it to the finals with, Germanshep crowning himself as champion. This meant that the third place of the Tournament would award the Hearthstone Esports invite. Yes, the players that lost in the top 4 had a chance to redeem themselves. In the end, Sensei6 defeated SElovetrapCN by 3-1 and got himself the Masters Tour invite.
How to apply for a Masters Tour Invite?
As Abar mentioned in his tweet, anyone that is hosting a Hearthstone Tournament with a prize pool of USD 1,000 or more can apply to have a Masters Tour invite attached to it. There are, however, some other requirements the tournament must meet to be accepted.
Hearthstone Esports Tournament Requirements:
Minimum Prizepool of USD 1,000.
Open Registration (no fees allowed).
At least 64 players.
Follows the Hearthstone Esportes Tournament rules.
Hearthstone Tournament organizers who feel they comply with the requirements can contact Abar on his Twitter to apply. The Hearthstone Esports scene and community has always vibrated with Third-Party Tournaments now you don't need to be a big corporation to run them.
Stay tuned to Esports.gg for more Hearthstone news and updates. See you next time, in the tavern.