The Hearthstone Battlegrounds game mode will get its first-ever season called Rise of the Naga on May 10.
This Hearthstone Battlegrounds update will arrive alongside the new Spellcraft keyword, Queen Azshara, plus minion pool updates. On top of that, Battlegrounds Buddies will be rotating out from the game mode.
Naga Minions Enter Hearthstone Battlegrounds
Hearthstone Battlegrounds patch 23.2 will see the arrival of the Naga minion type. Drawn to magic, these minions have spell synergies that players can take advantage of during battle.
A couple of these minions include Snail Cavalry and Tidemistress Athissa. While Snail Cavalry can gain health after a player casts a spell, Tidemistress Athissa gives four friendly Naga minions a buff.
Queen Azshara Joins Hearthstone Battlegrounds
Of course, the Naga theme in Hearthstone Battlegrounds is not complete without Queen Azshara herself. She will be the newest hero to join the game mode, featuring the Azshara's Ambition passive. When a player's warband reaches 30 attack in total, Azshara begins her Naga Conquest, which lets her discover a Naga.
Spellcraft Keyword
A new keyword, Spellcraft, will also make an appearance in Hearthstone Battlegrounds. Minions with Spellcraft grant a temporary buff until the next turn. Some of these Spellcraft minions include Mini-Myrmidon, Shoal Commander, and Stormscale Siren.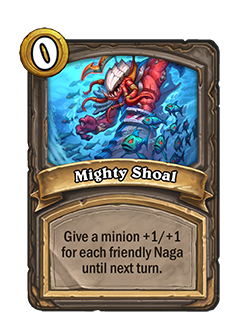 There are several ways to synergize the Naga minions with the new Spellcraft keyword. For example, minions with Spellcraft generate a Spellcraft spell every turn, and Spellcraft effects last until the next Recruit phase. These particular spells also leave a player's hand at the end of their turn, meaning a player will lose them if they're not used up.
At the end of your turn, your Spellcraft minions cast their spells on themselves.

Stormscale Siren card text
If a player's hand is full, then Spellcraft spells will not be destroyed or delayed a turn. Instead, they will wait until there's room in the player's hand. As for Golden Golden Spellcraft minions, they will create Golden versions of the Spellcraft spells plus double the effect. 
"Some Naga care about when you play spells. That includes Spellcraft spells as well as things like Coins, Blood Gems, and triple rewards," Blizzard Entertainment added in an announcement.
Minion Pool Updates and Minion Reveals
The announcement also noted the removal of five minions from Hearthstone Battlegrounds. They will be replaced with 16 Naga minions, five other new minions, plus two returning ones.
Tune in as some of your favorite content creators preview some of the upcoming minions and mechanics before all updates are revealed on May 9.

Patch 23.2 information
More Naga minions will be revealed in the next few days as well, and content creators such as Kripparrian, Educated Collins, CarryPotter, Kid Invincible, and NinaisNoob will take part in these reveals.
Below is the reveal schedule:
May 5, 12 p.m. PT/ 7 p.m. GMT – Kripparrian
May 6, 10 a.m. PT/ 5 p.m. GMT – Educated Collins
May 6, 12 p.m. PT/ 7 p.m. GMT – CarryPotter
May 7, 9 a.m. PT/ 4 p.m. GMT – Kid Invincible
May 7, 12 p.m. PT/ 7 p.m. GMT – NinaisNoob
The first one of those is already out. Kripparrian revealed the Glowscale card and had a chat with Dom, the Game Designer for Hearthstone Battlegrounds. Dom also confirmed that Battlegrounds Buddies will be rotating from the game mode when the Naga minions make their entrance.
Hearthstone Battlegrounds Ranking Reset
With the 23.2 patch arriving on May 10, Battlegrounds ratings will reset once again. This will coincide with the Battlegrounds Lobby Legends' competitive system thriving. Players will have from May 10 to May 31 to build up their MMR after the Battlegrounds reset.
It is worth mentioning that while the MMR you see will get reset, there's also a hidden rating that determines your Battlegrounds ranking, and that will not be fully reset. A benchmark to pair players from similar power levels is intended to help with matchmaking.
For more Hearthstone content, stay tuned on Esports.gg for news and updates.