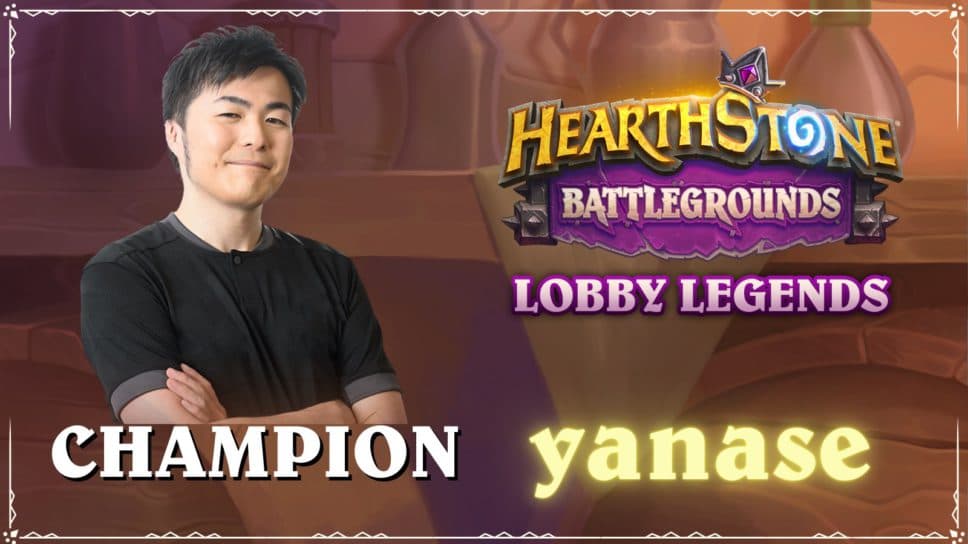 Battlegrounds Lobby Legends – Murlocized's recap: Asia a BG powerhouse, and a new controversy
The seventh $50,000 Battlegrounds Lobby Legends event demonstrated that Asia continues to be a superpower.
Bob's Tavern hosted a new Battlegrounds Lobby Legends event this weekend. The best 16 players in the world battled for a share of the $50,000 prize pool.
Once again, the game played a part in the final lobby, locking out a player from completing his turn. Let's go over the details in this Battlegrounds Lobby Legends recap.
Lobby Legends promotion – Image via Blizzard

Battlegrounds Lobby Legends Semifinals
Lobby Legends Murlocized, the seventh BGs competitive event, showed from Day 1 that Asia rules this game. The Top 16 included six players from Japan, two from Taiwan and the usual four Chinese slots.
After the initial stage matches, in which each group played three lobbies to determine the Top 4 players advancing to the Sunday finals, this trend intensified.
sleepyHS
, from the US, and the crowd favorite
XQN
, from Bielorussia, were the only competitors standing, besides the APAC and Chinese players.
Lobby A Semifinals results – Image via Blizzard

Lobby B Semifinals results – Image via Blizzard

The
Tavern Buddy Twitch extension
was also part of this Battlegrounds Lobby Legends show. With it, viewers could pick Fantasy Teams, predict battle outcomes and make other guesses to show off how much they know.
yanase Murlocized everyone in the finals
Faithful to this Battlegrounds Lobby Legends event's name, players went full Murlocs whenever they could. The finals were no different.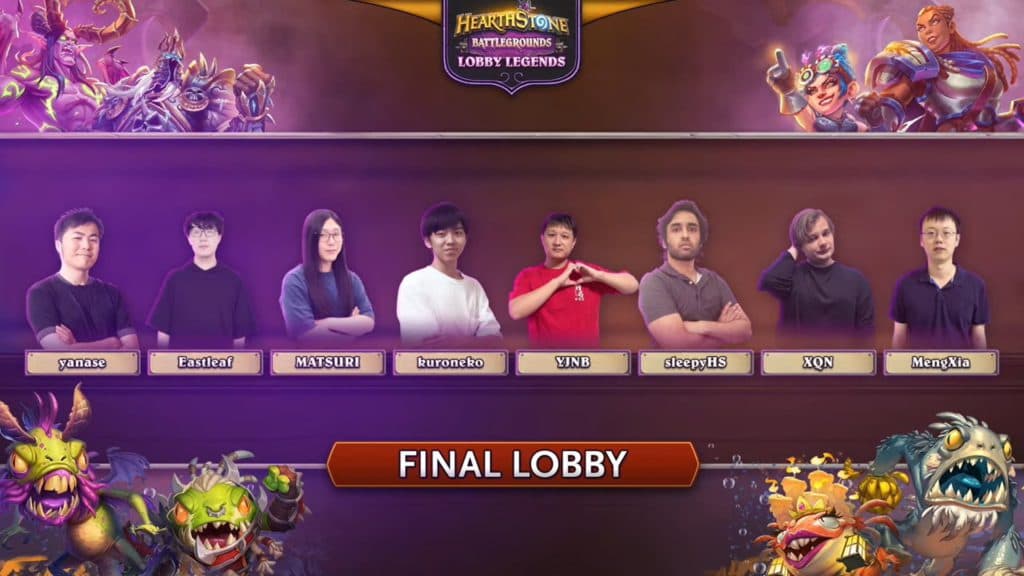 Competitors reaching the Finals – Image via Blizzard

yanase, the player with the most points on Day 1, kept his winning streak in the finals. Despite starting with fifth place in the first lobby, he redeemed himself in the following ones. Two first and a second place were enough to break the 20-point threshold and put the Lobby in check.
Remember that every Battlegrounds Lobby Legend finals go by the check format. In this format, players need to accumulate 20 points and then win a game to become the champion. Being the first to put the Lobby in check is a huge advantage.
At the same time, putting the lobby in check makes you a target. The other players will make their best for the event to keep going for them to have a shot at winning it. YKNB won lobby #5, and when yanase was tasting victory,
MATSURI
stood in the way on lobby #6.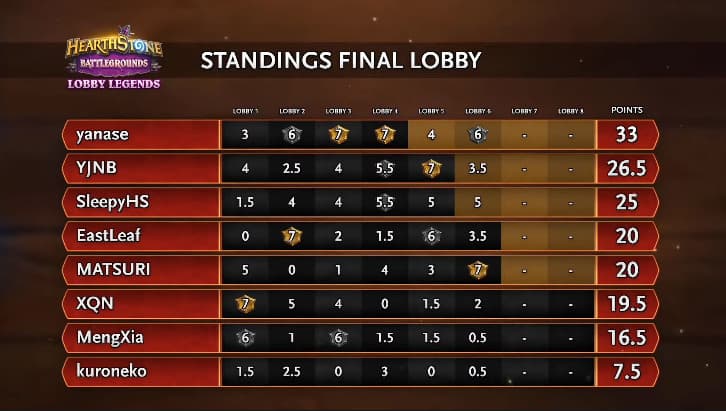 Standings Lobby #6 - Image via HS Esports
The point difference was substantial. However, that was not enough under Battlegrounds Lobby Legends' check format. Despite this incredible skill display, yanase needed to win a lobby before the other players that had +20 points to take the $10,000 first-place prize.
Lucky number 7
Finally, in lobby #7, yanase assembled an incredible board worth a championship. With Murlocs available, the Japanese player picked Sire Denathrius and got
Ghastly Mask
, with Young Murk-Eye as the first quest reward. As if this wasn't enough to lean towards Murlocs, on turn 3, yanase got
Snicker Snacks
.
These picks might seem greedy, but that is what you need to go for to win a lobby. By turn 10, yanase got an unstoppable Murloc composition that scaled insanely each turn just with the quests. If you are a Murloc enjoyer, you should watch this final clip.
Lobby Legends final standings - Image via HS Esports
With that win, yanase took Battlegrounds Lobby Legends: Murlocized event with an outstanding 5.7 points per game average. This final score sets up a new record of 11 points difference between the champion and runner-up in Lobby Legends.
New controversy in Battlegrounds Lobby Legends
This wouldn't have been a true Battlegrounds Lobby Legends event if there wasn't any kind of controversy. While this time wasn't something
as big as what ribapusa suffered
in Battlegrounds Lobby Legends #5 sleepyHS didn't quite enjoy his last game.
During the finals, in Lobby #7, sleepyHS had his "Another Hidden Body" quest reward online. After adding 6 cards to his hand, he could discover a minion of his current Tavern Tier. While this is a great reward, it comes with a huge downside: animation time.
This reward was removed from the game shortly after Hearthstone introduced quests due to its game-breaking animation time. While Blizzard sped up the animation, it wasn't enough for sleepy to finish his turn. While he might have lost anyways, there was a lot that could have gone sleepy's way to at least tie the fight and keep going.
What's next?
Battlegrounds Lobby Legends will have two more events in 2022. While the dates aren't confirmed yet, we know that the last one will have a
$100,000 special prize pool
.
We already know the 48 players that will be competing in Lobby Legends #8 qualifiers. October will be the last ladder month counting towards 2022 Battlegrounds esports and every pro player and streamer is doing their best to make it to the $100,000 final event.
Once again,
RDU
is well-positioned to be a part of Lobby Legends. He is
Top 16 on the leaderboard
, and his community is already celebrating. I hope this doesn't jinx his chances, he was so close last month.
Stay tuned to
Esports.gg
to know how this story continues. Check our Hearthstone section for more
news and updates
. See you next time in Bob's Tavern.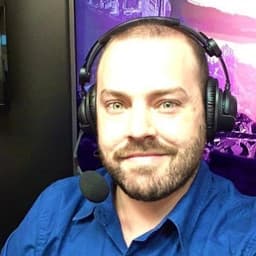 Manuel "Rane" Delgado
Manuel "Rane" Delgado is an experienced Hearthstone caster, content creator, and tournament organizer from Argentina. He started his career on Esports casting his own tournaments, now he currently casts the Hearthstone Esports circuit for the LATAM region, among other content creation and tournament organization.