How did XunYu beat poison Murlocs with Elementals to win Battlegrounds Lobby Legends Hallow's end? Check it out in this Esports.gg recap.
Battlegrounds celebrated Hallow's end with the eighth Lobby Legends event in 2022. The top 16 players fought for the lion's share of $50,000.
The tournament schedule starting at midnight PT made it difficult to follow. However, as always, we are here to bring you everything you need to know about Battlegrounds Lobby Legends: Hallow's end.
Battlegrounds Lobby Legends: Top 16
The event started with the semi-finals in which the 16 players were divided into two lobbies. Each lobby played three games and the top 4 earners from each lobby would advance to the Lobby Legends Hallow's end finals.
Day 1 results showed that Asia-Pacific and China still dominate Blizzard's auto-battler. Oliech from Belgium and Slyders from France were the only two western finalists.
All the eyes were on SeseiSei. He was Battlegrounds Lobby Legends #6 champion, and after missing the last main event he was going for his revenge.
SeseiSei was by far the crowd favorite. An astonishing 78% of viewers participating in the Fantasy Team pick of Tavern Buddy twitch extension picked him for their roosters.
XunYu went big and took it home
I've been noticing a trend lately. In every event, more players abandon the "arms-crossed" pose. For this last Battlegrounds Lobby Legends event, "every player who didn't do a crossed arms pose made it" to the finals, PockyPlays realized.
Jumping into Day 2 action, you must remember that Battlegrounds Lobby Legends finals run under the "Check Format". Players need to get to 20 points and then win a game to become champions.
XunYu, the player with the most points in the semifinals, started with the right foot. Despite not winning any of the first 5 games, he passed that 20-point threshold and put the lobby in check. His high-risk / high-reward playstyle paid off, especially in this format.
Despite his great performance, XunYu wasn't the point leader. Sola, another Chinese player, also put the lobby in check at the same time.
If either of them won Lobby number 6, Battlegrounds Lobby Legends would have a new champion. However, the rest of the players were just a couple of points behind. Given one or two more games, most of them would also surpass the 20-point check threshold.
XunYu: Battlegrounds Lobby Legends champion
With a target in his back, and most of the players only points away from also putting the lobby in check, XunYu knew he didn't have much time. Fortunately, in Lobby #6, he got Gallywix, an amazing Hero to highroll a game with Elementals.
Despite Murlocs being in the lobby, Gallywix can easily outscale poison via Crackling and Wildfire elementals. The superb economic advantage that Gallywix gets when cycling minions was key for XunYu to take the win against Gongi's poison Murlocs.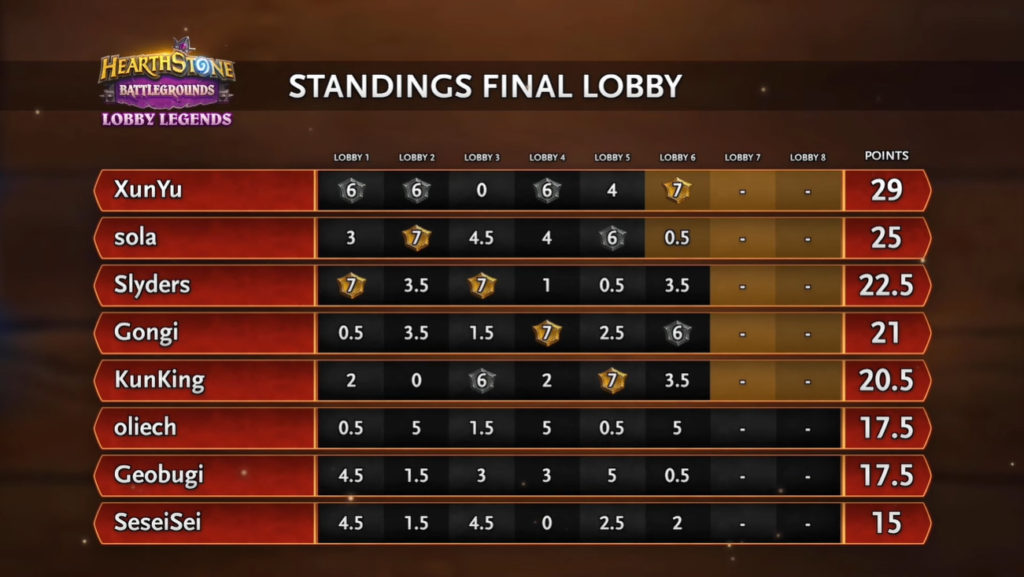 That win made XunYu Battlegrounds Lobby Legends: Hallow's end champion. Faithful to his "go big or go home" style, he took the event at the first chance he got.
Next stop for Battlegrounds Lobby Legends
Battlegrounds competitive scene will have one more Lobby Legends event on December 3rd and 4th. With $100,000 in prizes, everyone wants to be part of the main event.
Qualifiers for Lobby Legends #9 will take place on November 19th. The 48 players coming from the Americas, European and Asia-Pacific ladder will fight for the 12 tickets to the main event. On top of them, the event will have 4 players coming from the Chinese qualifiers.
Make sure to stay tuned to Esports.gg for more Hearthstone news and updates. See you next time in Bob's Tavern.