The Blizzcon 2023 broadcast schedule is out, so come take a look at when you need to tune in and find out what's next at Blizzard!
It's the most wonderful time of the year, at least for fans of publisher Blizzard. We're a week away from the return of BlizzCon and that includes reveals, panels, packs of in-game items, and more. We now know the full BlizzCon 2023 broadcast schedule, revealed today on social media. It's a jam-packed two days of information if that's what you're here for.
Let's take a look below the jump and see when Blizzard announces a Heroes of the Storm revival will be revealing it's various announcements.
What is the BlizzCon 2023 broadcast schedule?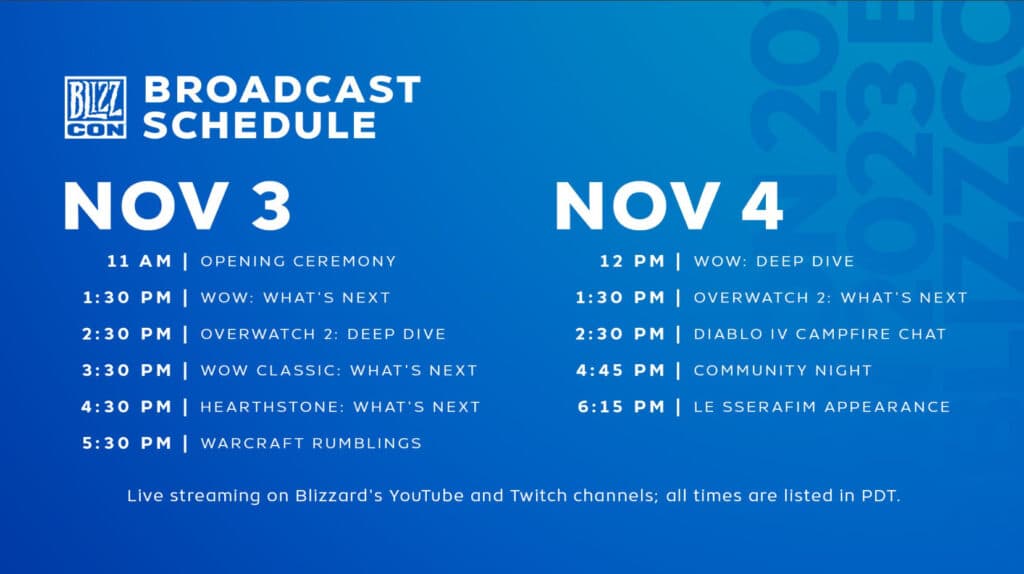 Available on Blizzard's YouTube and Twitch channels, the two days of BlizzCon 2023 broadcasts kicks off on Nov. 3 at 2 p.m. PST. Here's that day's schedule, all times in PST:
11 a.m.: Opening ceremony
1:30 p.m: World of Warcraft: What's Next
2:30 p.m.: Overwatch 2: Deep Dive
3:30 p.m.: WoW Classic: What's Next
4:30 p.m.: Hearthstone: What's Next
5:30 p.m.: Warcraft Rumblings
And here's the Saturday, Nov. 4 schedule:
12 p.m.: World of Warcraft: Deep Dive
1:30 p.m.: Overwatch 2: What's Next
2:30 p.m.: Diablo IV Campfire Chat
4:45 p.m.: Community Night
What can we expect at this year's BlizzCon 2023 broadcast? Rumors continue to be about, with everything from the next WoW expansion to a HOTS revival even the first Diablo IV expansion.
Only time will tell what we're going to see. Bookmark this page to keep track of the BlizzCon 2023 schedule and we'll see you on Nov. 3 for all the fun, festivities, and HOTS more!
Stay tuned to esports.gg for esports news and Heroes of the Storm information.