Developers reel as Unity unveils pay-per-install model
Unity's new fees have the potential to cost developers thousands of dollars per month.
Unity, one of the most utilized game engines in the world, has announced new fees that will charge developers each time a game using the platform is installed. The latest pricing, revealed in a post on Unity's website, is set to start from January 1, 2024.
Charges will begin when game sales reach $200,000 over 12 months or 200,000 installs. The charges will reportedly be $0.20 per install. Some licenses of Unity, such as Unity Pro, and Unity Enterprise, will reduce the costs per install down to as little as $0.01, but only after one million downloads have been achieved.
*Updated with additional statements from Unity*
The news has sent game developers reeling at the potentially devastating costs of the change in model. Thousands of games, including many high-profile and popular titles, utilize Unity. This includes Hearthstone, Fall Guys, Marvel Snap, Cuphead, Hollow Knight, Cities: Skylines, RimWorld, Untitled Goose Game, and many more. The potential ramifications of this new fee structure affect a huge swath of the games industry, from small indie developers to large publishers such as Activision Blizzard, Epic Games, and Paradox Entertainment.
In response, developers from several studios have taken to Twitter/X to air their grievances. Garry Newman, of Garry's Mod fame, explained that the game Rust alone would cost them around $40k a year:
Game developer Rami Ismail immediately predicted a worst-case scenario where users could use Unity's new fees system maliciously. "Instead of tanking your Metacritic score with a mass review campaign, they can now straight-up tank you financially by organizing a mass install campaign." As per a previous confirmation, Unity will charge a studio every time a player deletes and re-installs a game. If a player deletes a game and re-installs, that's two installs and two charges for the company.
Studio Super Aggro Crab released a damning statement about the changes anticipating an "enormous dent in our income" that "threatens the sustainability of our business."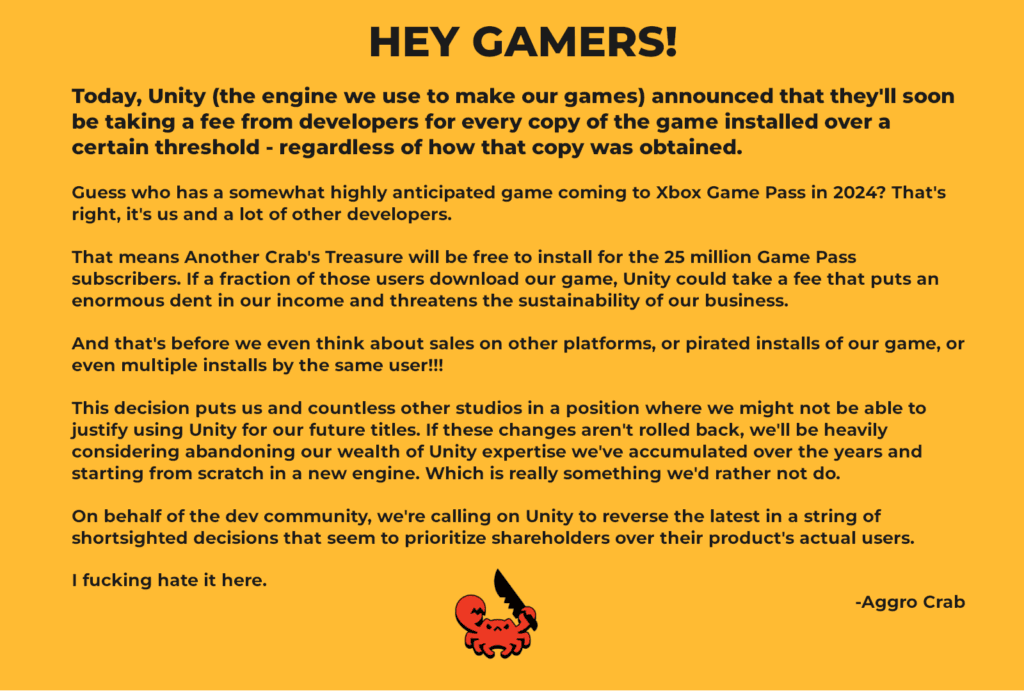 (Image via Aggro Crab)
Among Us developers, Inner Sloth, also echoed the sentiment: "This would harm not only us but fellow game studios of all budgets and sizes."
(Image via Innersloth)
There appears to be universal condemnation of Unity for the planned introduction of these fees.
Why is Unity adding fees?
Unity Software laid off around 8% of its staff in May 2023, the third and largest of a series of layoffs the company has gone through in the past 12 months. The company appears to be in financial difficulty, citing a slowing economy as the reason for its layoffs.
It's already speculated that Unity Software may become the subject of a class-action lawsuit from game developers. Whatever happens, hundreds of game developers will now be preparing for a huge hit to their margins should this new policy come into force.
UPDATE: Unity attempts to clarify its plan
Speaking to Stephen Totilo for Axios Gaming, Unity have clarified that only the initial installation of a game triggers a fee, demos will reportedly not trigger fees, and Microsoft, Valve, Epic, etc., not developers, will be responsible for games released for free on GamePass, Epic Games Store, and Steam.
Its still brings huge numbers of questions, and it will be interesting to see to Microsoft's and the rest of the platform owner's reaction to this.
---
For more gaming news, keep your eyes peeled to esports.gg!