TSM's gaming facility is nothing you would see in a typical esports headquarters. Let's check out the magnificent TSM HQ tour!
The giant esports company, TSM just released an exclusive tour of its grand esports gaming facility in Los Angeles, California. With the purpose of building "performance, innovation, and content creation," TSM introduces you to the 25,000 square feet facility, housing areas for TSM athletes to compete, train, and relax. Let's take a look into "the most expensive gaming facility in North America."
TSM flaunts its grand HQ in a YouTube tour
TSM's latest boot camp tour definitely made our gamer senses tingle. The whole facility is built and designed for gamers. Whether you're a serious, professional player or a lowkey gamer – it is a heavenly hub.
The first look into their grand facility is in their lobby. The lobby displays trophies and accolades of TSM's greatest achievements. There is also the red room, or what looks like a mini-theatre, where TSM members watch entertainment, content reviews, or even do watch parties. The main body of the first floor is the office pit where dozens of sleek computer setups line up. This space is often used by everyone in general including TSM players, staff, and even blitz.gg members.
TSM's HQ also has its own kitchen and professional chefs. Every day, they supply players and employees lunch and dinner, accompanied by snacks and drinks. Players also have their own kitchen upstairs.
Training Ground
Now, let's get into the good stuff! The primary training ground is on the upper level. TSM shows their stacked practice rooms from various esports divisions where players practice, build teamwork and improve their skills.
This is the scrim room for TSM's League of Legends (LoL) division where they scrim and compete throughout the LoL Championship Series (LCS).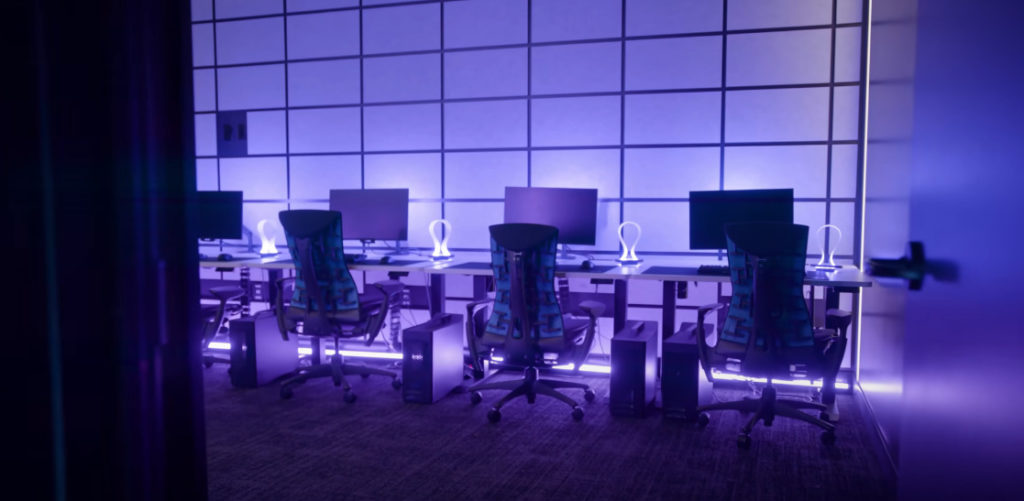 All the rooms for practice and scrim surround the central area which serves as a place to relax. In-between scrims and tournaments, players can hang around there and even play table tennis or chess.
When players are competing, coaches sit on the other side of the room and watch their matches on a big screen. If players and coaches want to do game reviews and data collection, they go to the Lenovo Legion Lounge.
Spa and a Dream Pod
Next, we have the additional cherry-on-tops. TSM's HQ showed us their wellness center, a first in the industry. The wellness center has a spa and even a dream pod where players can isolate and relax. And of course, they did not exclude the gym. TSM's gym provides all types of training equipment ranging from simple dumbells to complex cardio contraptions.
Merch Room, Content Studio, and More in TSM's HQ
What else do they have? A custom Logitech room where new TSM athletes can test out all the different types of peripheral to find their comfort product. Moreover, a merch room is also available, containing even the unreleased products. TSM also presents the content studio, built for photography and video content. And finally, they showcase the streamer rooms where everything is made efficient to stream including the sound dampened walls and fully rigged double PC streaming setups.
They certainly didn't come to play and a lot of us surely enjoyed the exclusive look inside TSM's HQ!
Stay tuned to Esports.gg for more news and updates.