The Finals game is getting a cross-platform open beta.
The Finals is an upcoming first-person shooter (FPS) game that lets players team up and interact with a dynamic environment. This means players can alter and even destroy the virtual arenas. Read on for The Finals open beta release date, download, and more.
The Finals open beta release date
According to the game's official social media page, the open beta release date is Oct. 26. This open beta will be a cross-platform event, which means that players on Steam, Xbox Series X|S, and PlayStation 5 will be able to join the fray. The open beta will end on Nov. 5.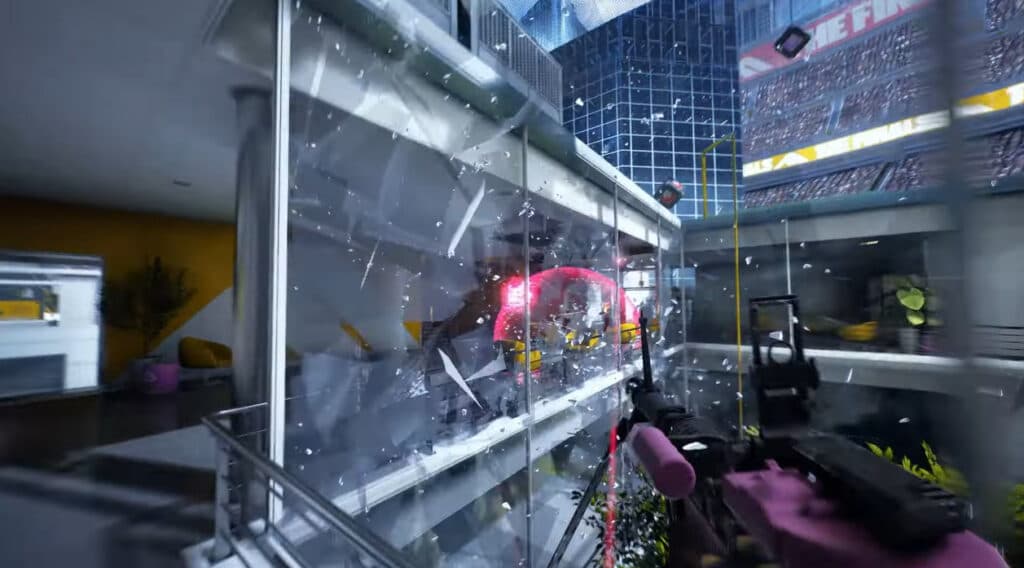 The Finals gameplay screenshot (Image via Embark Studios)
Where can I download The Finals open beta?
Here's how to access and download the open beta:
Visit the store on PC or console
Search for "The Finals" on the platform
Wait for the beta to go live
Download the free-to-play game
Enter the game to test it out
Screenshot of the game (Image via Embark Studios)
What to expect in the open beta
The Finals open beta will feature different arenas such as Skyway Stadium, Monaco, and Seoul. There will also be new and updated game modes to check out, including Bank-It, Unranked Tournament, Ranked Tournament, Quick Cash, and the Practice Range.
| | |
| --- | --- |
| Skyway Stadium | Experience the ever-changing Skyway Stadium, which is a treacherous playground. |
| Monaco | Play through the cobblestone streets of Monaco. It's perfect for destruction and close combat. |
| Seoul | Fight atop towering skyscrapers in downtown Seoul with fast-paced, vertical gameplay. |
| | |
| --- | --- |
| Bank-It | Four teams of three battle it out for coins in a casual-friendly, combat-focused mode. |
| Unranked Tournament | A Cashout mode where four teams of three compete to find cashboxes and deposit them in vaults. This game mode features an unranked tournament format with three rounds and 24 players in total. |
| Ranked Tournament | A Cashout mode with four teams of three in a ranked tournament format with four rounds and 48 players in total. |
| Quick Cash | A casual-friendly variant of Cashout in a 3v3v3 format. This mode has longer matches, faster respawn timers, faster extraction times, and only one vault at a time. |
| Practice Range | A place for contestants to test weapons, gadgets, movement, and more. |
There will be some progression as well. The Finals Open Beta Battle Pass will feature five master levels per weapon plus 16 rewards that will get transferred to the full game. As for league progression, each tier will receive permanent rewards. Diamond players will get a legendary weapon skin.
The Finals screenshot (Image via Embark Studios)
Additionally, the open beta will boast 20 weapons, 26 gadgets, nine abilities, plus improvements to performance, teamplay, movement, and more.