While your Animal Crossing island may need some TLC, these collabs over the years were just the boost we needed to grab our Switch and play again!
If like us, you are a fan of the cozy game Animal Crossing, then you'll know they've had a fair few collaborations. Especially their most recent announcement of collaborating with LEGO! Today we are going over some of their other major collaborations and if items are still in circulation.
We didn't know we needed these AC collabs - image via Nintendo
Colourpop x Animal Crossing (2021)
Never had I considered the need for Animal Crossing to decorate my face, but Colourpop knew we needed it. First announced in 2021, was the Colourpop x Animal crossing collab which saw an Animal Crossing themed line of makeup released.
The line included eyeshadow palettes inspired by specific NPC characters such as Blathers the Owl and Isabelle the Shih Tzu. There were also lip tint crayons inspired by the various fruit that could be found on your island or that of your friend's!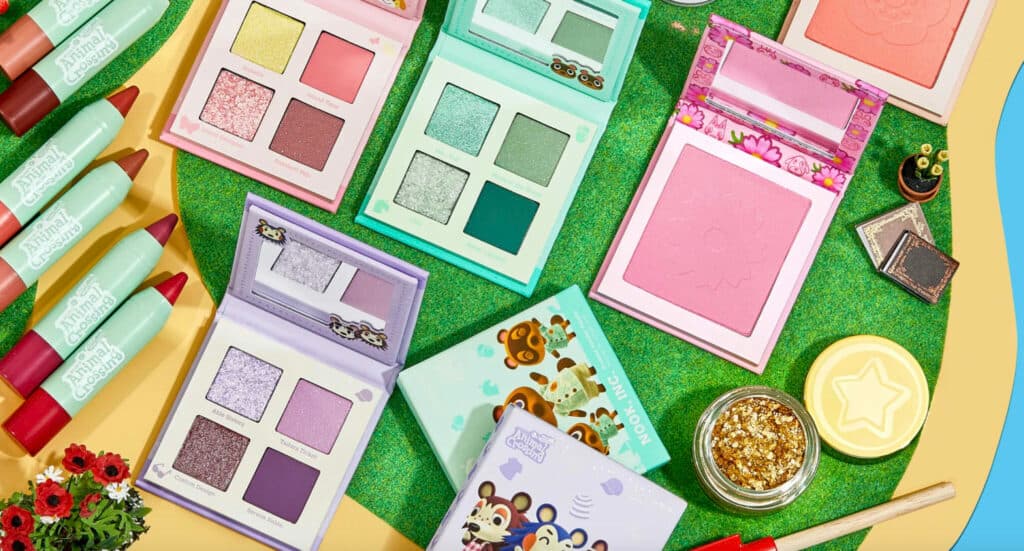 Colourpop x Animal Crossing 2021 collaboration - image via Colourpop
As part of this collaboration - which was released January 2021 - players could visit Colourpop's very own Animal Crossing island on the date of the launch, which was also streamed on Twitch. Sadly this collab is now all sold out, but Colourpop does have a range of other pop culture reference lines including Sailor Moon and Harry Potter.
Animal Crossing x Build A Bear (2021)
Do you remember all those memes about adults saying they would have a Build A Bear birthday if there was an Animal Crossing line? Me too. And wouldn't you know, Build A Bear listened and delivered. First launched in April 2021, Isabelle and a few other friends made their way into fluff to be taken home and loved fur-ever.
The Animal Crossing core three got the plane over to Build A Bear - image via Build A Bear official EU site
The launch which was popular in Europe and North America, included voice clips of Animalese for all your Animal Crossing island needs. While at the initial launch there was a need to sign up online to queue to buy, the products are still available in Europe to purchase - though there are now less clothing options than at the original launch. But we'll still be getting our Isabelle for some Animalese lessons between island hopping.
Animal Crossing x LEGO (2023)
The most recent addition to the Animal Crossing collabs we didn't know we needed? The announcement of a collab with LEGO, that's right, those little bricks will now feature Animal Crossing characters! First announced in October 2023, while this collection hasn't unveiled just yet everything that will be included, the Twitter teaser post has our interest!
The official LEGO x Animal Crossing Collab - image via Game Informer article 2023