The tacticians for the TFT Fates Global Championship are ready to compete for their share of $250,000. Here is what you need to know about the event.
The TFT Fates Global Championship is scheduled for April 7-9. The tournament will upgrade their previous 16 tactician pool to 24 tacticians. As a result, more regions will receive representation at the $250,000 event and as the event begins to near, here is what you will need to know for the three day event.
TFT Fates Global Regional Qualification Breakdown
Eight regions will be present at the TFT Fates Global Championship and the player makeup will divided as such.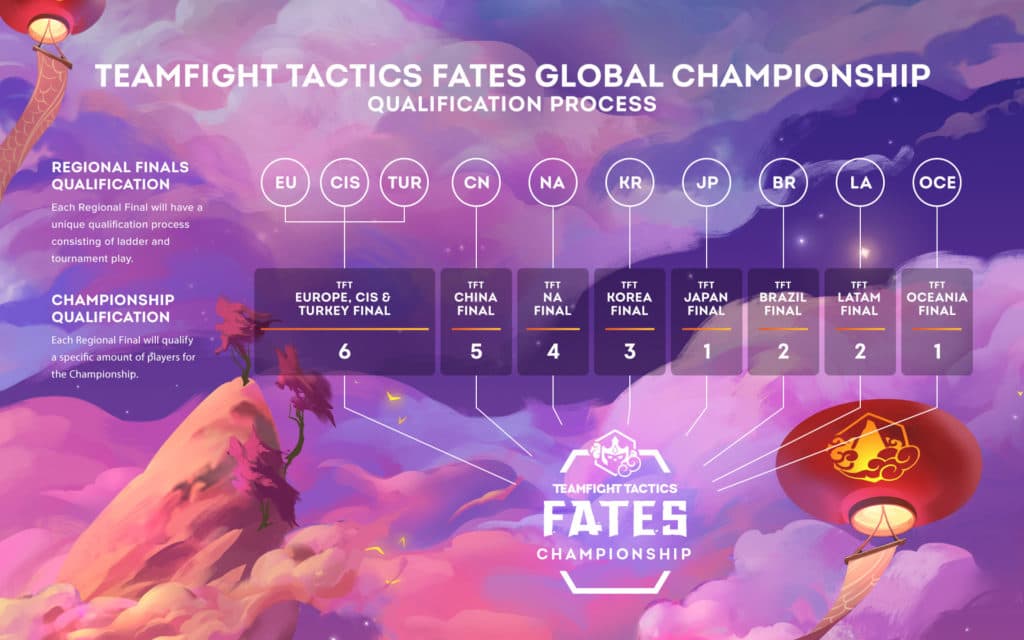 The TFT Fates Global Championship
6 European, CIS and Turkey Representatives

Pas De Bol
Lyyyress
Bränk
ZyKOo
Ginggg
Lallana
5 Chinese Representatives

Juanzi
Huanmie
Luoyi
Kezi
Saopimi
4 North American Representatives

Mismatched Socks
Kurumx
DQA
RamKev
3 Korean Representatives

Palchaseon
Ting Ding
Gangcheondung
1 Japanese Representative
2 Brazilian Representatives
2 Latam Representatives
1 Oceanic Representative
The Frontrunners of the Tournament
Teamfight Tactics is a very sporadic game where upsets have happened in the past. Europe will look to maintain a strong hold on the tournament. The six European tacticians will aim to retain the championship once more.
Europe will have more competition this year defending the championship. Meanwhile Korea now have 5 representatives versus their previous 2. North American tacticians are also strong as three new tacticians will join Mismatched Socks, NA's lone representative last tournament.
Mismatched Socks is a high ranking player in North America and will return to the TFT Fates Global Championship. Image via twitter.
While there are favorites, matches will be determined by their rolls. Unit selection and luck in rolls will play a big part in determining placements each game. If a player is able to find the units they need, an upset becomes a possibility.

6 Keepers is a popular composition to track during TFT Fates Global Championship. Image via Mobalytics Alan Hoang.
Popular compositions to look out for in the tournament will be Dragon Soul Mages, Assassin Reroll, Tristana Reroll and 6 Keepers.
Fates Championship 3-day Swiss Format Explained
Day 1: Players will be sorted 24 to 16 across 5 rounds of Swiss play. Players will be sorted into three lobbies based on their regional performance.
Day 2 the field will once again narrow from 16 to 8 across 5 Rounds of Swiss play. Players will then be sorted into two lobbies based on their performance on Day 1.
Day 3 players will race to accumulate points, with the first player to secure a win after aggregating 18 points declared the TFT Fates Champion.
Each playday will eliminate 8 tacticians from the TFT Fates Global Championship. On the third and final day, the last 8 players will be grouped into one pool. From there it will be a race to accumulate 18 points. Whoever gets to the 18 point marker first will be declared the TFT Fates Global Champion. While there can only be one winner, all the competing tacticians will receive a share of the $250,000 prize pool
TFT Fates Global Prize Money Distribution
Every tactician competing will earn a piece of the total $250,000 prize pool.
First: $41,500
Second: $26,000
Third: $18,000
Fifth: $14,000
Sixth: $13,000
Seventh: $12,000
Eighth: $11,000
Ninth: $9,500
10th: $9,000
11 to12: $8,000
13 to 14: $7,000
15 to 16: $6,000
17 to 18: $5,500
19 to 20: $5,000
21 to 22: $4,500
23 to 24: $4,000
Stay tuned to Esports.gg for the latest TFT news and updates. We will keep you posted on the events that take place during the Championships.