A list of everything shown in Sony's Summer 2022 State of Play.
Sony's newest State of Play wasn't incredibly long, but it was packed with a ton of announcements that fans have been waiting for. This included information about the titles coming to the PS VR2 and information about the elusive Final Fantasy XVI.
Every game announced during the June 2022 Sony State of Play
There were quite a few new games announced during the State of Play, including some that are coming to Sony platforms for the very first time. Below are the games and release dates, if any were given.
Resident Evil 4 Remake: March 24, 2023
Street Fighter 6: 2023
Horizon Call of the Mountain
Rollerdrome: August 16, 2022
Tunic: September 22, 2022
Season: A Letter to the Future: Fall 2022
Eternights: 2023
Along with these standard titles, several games were announced for or to work with the new PS VR2. You can watch the full presentation here on Sony's official YouTube channel.
Every PS VR2 Game Every game announced during the June 2022 Sony State of Play
A new list of games has been revealed that will support VR gameplay.
Resident Evil 4
Resident Evil: Village
Horizon: Call Of The Mountain
No Man's Sky
The Walking Dead Saints & Sinners: Retribution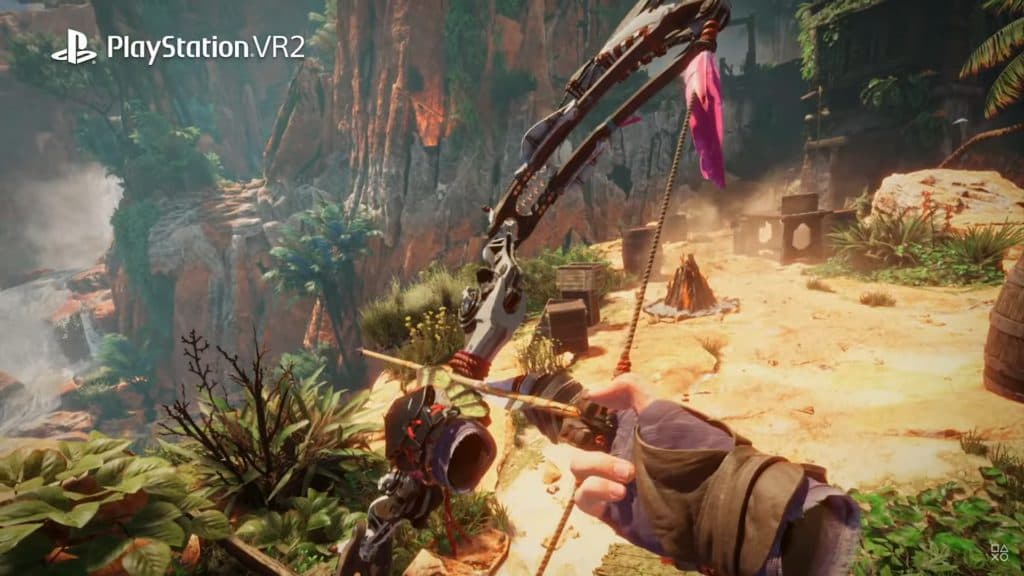 Horizon: Call of the Mountain is a brand new game for Playstation VR2
Resident Evil 7 was also a VR game and showed how successful VR horror games could be. Resident Evil 4 and Village will likely follow in this path and make use of the more powerful hardware. These games don't yet have a release date for their VR content as it's still in development.
Horizon: Call Of The Mountain and The Walking Dead Saints & Sinners: Retribution are all new games.
Everything Else Announced during the June 2022 State of Play
Along with the new games and VR projects, there were several updates on previously announced titles. Here is what was announced for each title during the June State of Play.
Stray: A new trailer, along with a released date of July 19, 2022, was announced.
Spider-Man Remastered: This game will receive a PC release on August 12, 2022.
The Callisto Protocol: A new trailer was shown, and a release date of December 2, 2022, was given.
Horizon Forbidden West Update: This includes the ability to play new game plus, try a harder difficulty, switch outfits, reset your skills, and play in performance mode. This launched on the same day that the State of Play debuted.
Final Fantasy XVI: A new trailer was shown, and the game has a release date of summer 2023.
What was the biggest surprise?
The biggest surprise was the amount of Final Fantasy XVI details we received, along with the game finally getting a release timeframe. The release of a free update for Horizon Forbidden West was a bit surprising, but it promises to add more playtime for players who enjoyed their first run-through of the game.
Along with the games above, Sony announced that Stray will be a day one addition to their new PlayStation Plus platform. This marks the first of many announcements that will occur for the platform and is keeping good on Sony's promise to provide a robust service.