Sony announces second major system update for the PlayStation 5 which comes with a whole host of new features. The update is set for launch on September 15th.
New update will include 3D audio for TV users, SSD storage expansion and new UX features - plus some PS4 buffs too
Sony's ever-popular PlayStation 5 continues to be hard to find on store shelves. For those lucky few that already have one, a major new update is on the way. Hideaki Nishino, PlayStation's Senior Vice President for Platform Experience, detailed the update in a new blog post. The second major system PS5 update will go live on September 15. The announcement comes just after the latest PlayStation Showcase event.
PS5 3D audio
One newly added feature is 3D audio capabilities. This improvement lets players transform the 2D audio on their TV into a three-dimensional sound. This audio feature has been around for a while for players who use headsets, but this is the first time TV users can experience this sound. Headset users don't fret, they didn't forget you. Pulse 3D Wireless Headset users will now also be able to adjust their sound levels using equalizer settings.
Another major improvement is the addition of extra storage capabilities. Before, the PS5 wasn't capable of accepting high-speed M.2 SSD cards. Now, with the new storage update, users can install M.2 SSD storage giving them added benefits. Players will be able to download, copy and launch games through an M.2 SSD.
PS5 UX improvements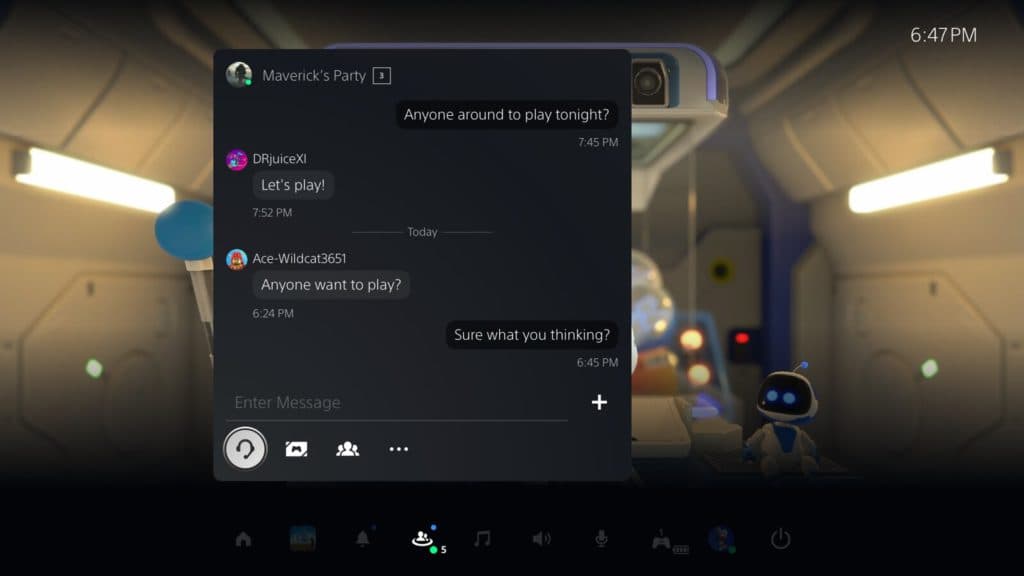 Player chat box improvements
New UX updates are among the most impressive of the PS5 upgrades. Players will now be able to customize their Control Center by adding or removing certain buttons. You will also be able to talk to friends more easily through messages in the Game Base. The home screen received a quality of life upgrade as well. You can now see indicators that notate which of your games have been transferred from your PS4.
The player accolades section has never been a huge selling point for gamers. This is the area that offers trophies and badges when you complete challenges in-game. With the new PS5 update, however, the PS5 will automatically record your "personal best" accomplishments. After all, a clip you can share on socials is far cooler than a sticker that sits on your home page.
PS Remote Play and PS4 improvements
Remote Play has been a welcomed addition to the PlayStation catalog. This cool feature lets players stream their games from the PS5 onto their PC, Macbook or smartphone. However, users were required to use WiFi to do this. With the new PS5 update, players will finally be able to access Remote Play over cellular data on Android and iPhone.
PS4 users are also getting a few upgrades. Trophies are now able to be viewed on both consoles if you're switching between the two. In addition, PS4 users no longer have to remove individual players to disband a party. Party owners will now be able to break up their party with one click of a button.