Hands on with HYENAS, SEGA's zero gravity heister: Gameplay, details, first impressions
Thinking about trying out HYENAS, SEGA's new zero gravity heist game? We've got a hands-on impression with the closed beta.
The closed beta for SEGA's upcoming zero gravity heist-'em-up, HYENAS, started on August 31, and after a day with the game esports.gg is sharing our insights on the title. Stick with us as we break down the game, its gameplay loop, and our first impressions.
HYENAS is currently in closed beta, and as such is subject to change before release. Any impressions below were formed while the game was in beta, and as such, still in development.
HYENAS first impressions
(Screenshot by esports.gg)
Pros

Great gunplay
Awesome art style
Tongue-in-cheek humor

Cons

Character's abilities somewhat underwhelming
Limited gameplay loop (at present)
HYENAS is a smooth and stylish shooter with satisfying gunplay, and responsive controls. We tried both controller and keyboard and mouse schemes, but found most success with the latter, where the game plays just like a classic WASD shooter. The closest analogy for the movement and feel of the gunplay is probably something like Apex Legends, although the weapons and gun shots feel a little less weighty.
The character spread is diverse and interesting, in design and motif. We felt instant kinship with Canadian rocker Digits, and were entranced by ballerina Prima, who were our main HYENAS. But having tried all eight available HYENAS, we'd love to see more impact from abilities, which sometimes felt underwhelming. Perhaps this is a conscious decision to focus on gunplay over abilities, which is definitely admirable if this is the case.
Taking on Murfs in HYENAS can end in disaster (Image via SEGA)
At present gameplay will either see you take on PvE mode VS Murfs (Murfs being a cloned security force for these space stations) or four other teams of three HYENAS in Plunder Riot. VS Murfs is pretty softball in its difficulty, and we've completed almost every run without a death or even coming close.
PvP on the other hand is brutal. You need to prioritize well with your fellow HYENAS, grab equipment, and ideally don't immediately start cracking vaults. Instead, it might be best to gear up and search for another party that's gotten itself caught up with a patrol or Murfs, or a SWAT response. The NPC enemies essentially mean you can third-party opponents who have just bitten off more than they can chew. And the fact you steal loot from fallen enemies makes this style of play even more appealing.
We really liked PvP, and it's the meat of the game at present. However, almost all of the matches devolve into one well-equipped team beating a worse-equipped team, then steam-rolling the other two teams. A solid game that we look forward to seeing additions and more modes added to in the future!
HYENAS, SEGA's heist game closed beta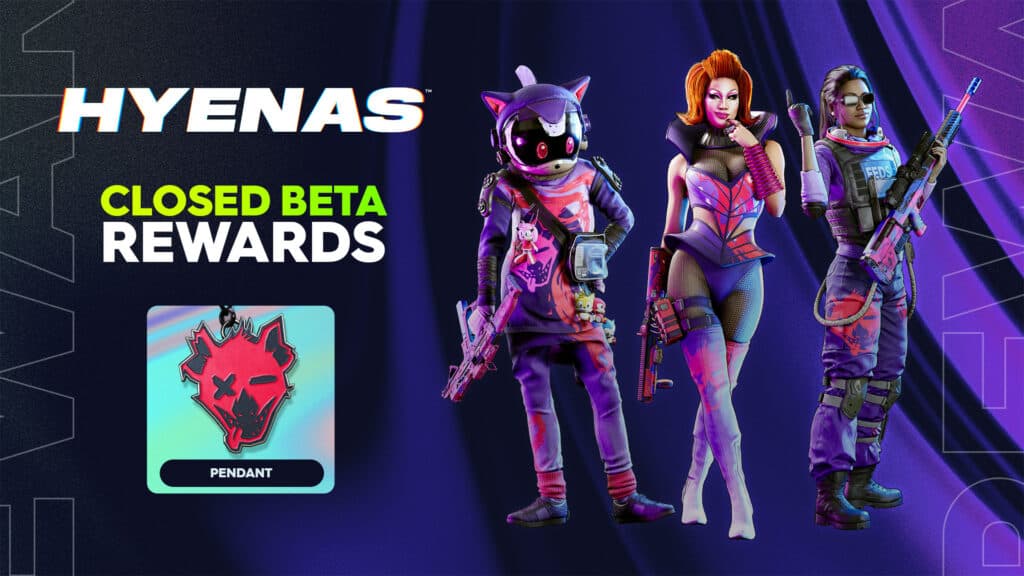 (Image via SEGA)
The Hyenas closed beta will run from August 31, 3:00 p.m. BST (7 a.m. PT) and close September 11, 9:00 a.m. BST (1 a.m. PT). During this 12-day beta, SEGA and Creative Assembly are unleashing eight different HYENA characters, and around a dozen space stations for you to rob blind.
HYENAS game release date
(Screenshot by esports.gg)
Currently, HYENAS doesn't have a full release date, but we'd expect to see it either in the latter part of 2023, or early 2024, based on how far along development appears.
HYENAS platforms: PS5? Steam?
HYENAS will be released on PC, PS5, Xbox Series X/S, PS4, and Xbox One.
---