After being forced to sign a new roster just days before their biggest event ever, Veronica7 proved all the doubters wrong to qualify for the PUBG Global Championship.
28 teams attended the PUBG Weekly Series: East Asia Phase 2. Half of those came from regional qualifiers in Taiwan and Japan: teams that had proven themselves as the best from their region. A further 12 Korean teams were invited to the event. Every top org in Korean PUBG was among this list, including titans like T1, Gen.G, and DWG KIA.
And finally, there were a measly two spots for teams from a Korean open qualifier. The first was claimed by an orgless mix by the name of "SeungYong and Babys". For PWS: EA Phase 2, they were picked up by a small PUBG org called Veronica7.
The team was full of teenagers, some no older than 15. But throughout the event, they proved that they had what it took to compete. They managed to squeeze past elimination multiple times, and eventually found themselves in the grand final. There, they'd claim the eighth and final spot for PCS5 qualification - beating Griffin by a single kill.
The dream was complete. This team of young underdogs would be representing Korea at one of the biggest events of the year, going up against star-studded top Chinese teams. There was just one large problem.
A Sudden Roster Rebuilding
PWS: EA Phase 2 was run by AfreecaTV in partnership with PUBG Corp. This meant PUBG's global ruleset didn't have to be followed to the letter. PCS5, on the other hand, was directly a PUBG production. For Veronica7, this meant one big change: no participant was allowed to be under 18.
That left the small org grasping at straws. Of the seven players they used throughout PWS, only one, Seong "Tosi" Yoon-mo, was eligible. With big talent all locked up to organizations - most having qualified for PCS5 themselves - this left them in a tough spot. Given the situation they were in, their options naturally weren't great.
Tosi at Veronica7's media day. Image via Veronica7 on Facebook.
Perhaps the most established player they brought in was Kim "Heaven" Tae-sung. He played PCS4 with emTeK StormX back in June, retiring after the event. While that was a rather middling team, he was still a player proven to be capable of holding his own at this level.
Next was Park "Corn" Chan. Corn had been retired for nearly a year, and even before retirement hadn't been much. He was a sub on DWG KIA, and bounced around a few other forgettable rosters. V7 also brought in Kim "ZEAREM" Hyeon-seong. A former V7 player, he had never even played in a regional event like PWS. But his old organization came calling for PCS5; he would be their sub, mainly getting playtime in week 2.
To finalize this ragtag team, Veronica7 brought in Jung "Americano" Young-hun. Americano had shown potential playing in Japan, but that was a solid step behind Korean play. He actually reached out to V7 first, he told Esports.gg, thinking it would be fun to get to play the big event. He had recently signed with Japanese organization Donuts USG; Donuts allowed V7 to loan him.
"Honestly, my expectations were low," PUBG caster Clinton "Paperthin" Bader told Esports.gg. "To think that these players would be able to put it together on short notice with their lack of pedigree was rather shocking."
Veronica7's Unlikely Core Comes Together
With their squad of rejects, tier two players, and retirees assembled, Veronica7 had just a week to get them practicing together. Then, it was time. One of the biggest events of the year was beginning. Veronica7 would be facing the best from Korea, Japan, Taiwan, and China. Their only goal was to keep up and not finish last. No one was prepared, though, for what happened next.
Veronica7 scored 3 match wins, more than any other team in the lobby. At the end of week 1, they found themselves at number 1 on the leaderboard. This secured themselves $17,000 in prize money and a great start to the event.
"Honestly, it felt like irrational self-confidence in week 1 during PCS5 Asia," said Paperthin. "Corn was aggressively scouting, sniping, and looking for picks, and often finding them. Not to mention he was hitting nutty good AR shots.
"Americano was just plain nuts all around, and Tosi was landing some huge grenades. They were able to create a lot of space for themselves, take fights when they needed to successfully, defended their positions well, and shotcaller Corn made good late game decisions."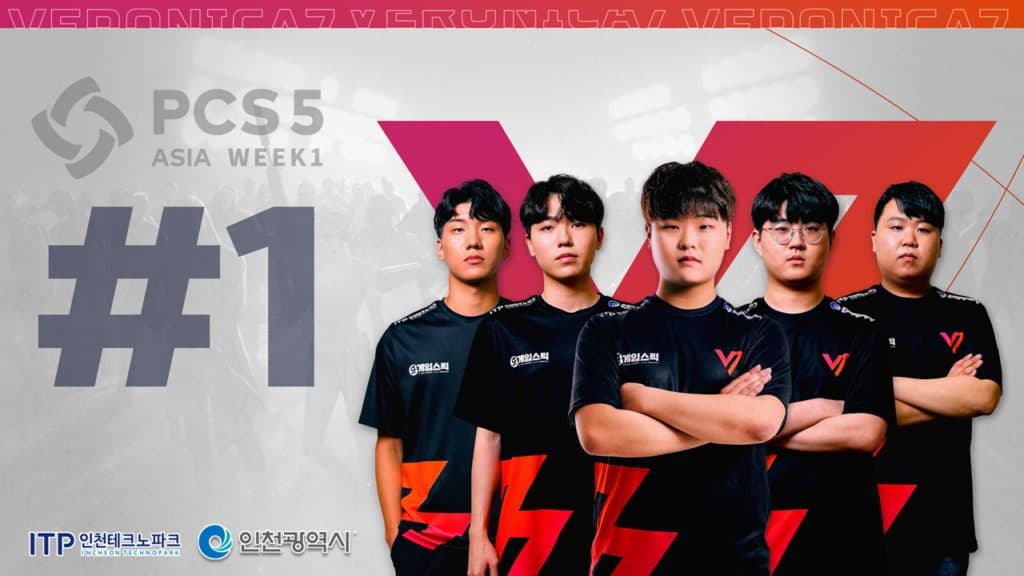 Veronica7's graphic after their Week 1 win. Image via Veronica7 on Facebook.
The following weeks would not go quite so well for V7. In week 2, a single match win saw them finish in eighth place, grabbing another small amount of prize money. In week 3, they'd finish out of the prizes altogether. But their early performances still saw them finish 5th overall.
That gave them 96 points towards attending the PUBG Global Championship. V7 had nabbed one of two open qualifer spots for PWS, they'd claimed the last spot for PCS5 by a single kill. Now, they were going yet another step further. Those 96 points were enough to secure themselves 7th in the overall Asian rankings, and a spot at PGC.
Looking ahead to Global Competition
Image via PUBG Esports on Twitter.
Fans and experts counted Veronica7 out against Korean competition, and even more so against Asian competition. But now that they'll be facing the best of the best from all over the world, that mistake isn't being made again.
"I think against global competition, V7 can do well if they can muster that magic they had in week 1 of PCS5 Asia, but will be tough when they run into the likes of Soniqs and Virtus.pro," said Paperthin. Soniqs are the reigning World Champions, while Virtus.pro are Europe's champions and first seed.
"I am not sure they are quite as skilled and organized as some of the top squads in the other regions, but they have some time to prepare and practice, so you never know. They very well could do well enough to find themselves in the top half of the event!"
Some questions still surround V7's participation. It's unknown whether Donuts will allow Americano to be loaned again for the main event, though Americano told Esports.gg that he's confident it will happen. No matter what, though, it'll be the culmination of a crazy journey. They've earned their spot on the global stage, and will certainly be making the most of it.
---