Elon Musk's offer to buy Twitter was accepted. The richest man on earth will acquire the social media platform for $45.5 Billion.
After almost a month of discussions between Twitter's board and Elon Musk, the company's directors finally accepted the purchase offer of $45.5 Billion. Shortly after rejecting a seat on Twitter's Board of Directors, Elon Musk offered to buy all outstanding shares at a 38% premium for $54.20. Today, Twitter's board accepted Elon Musk's offer.
The history behind Elon Musk's Billionary offer on Twitter
Elon Musk, the richest man on earth, disclosed on April 1st that he already had a 9% stake in Twitter. This made him one of the largest shareholders of the social media company. Shortly after, Twitter's CEO, Parag Agrawal, invited Musk to join the company's Board of Directors. A sweet offer that had a catch.
If Elon Musk accepted the seat on the Board, his Twitter position would be capped at 14.9%, according to the SEC filing. Despite initially responding positively to this invitation, a week later, Elon Musk declined. Twitter's CEO, Parag Agrawal, shared a note regarding this event.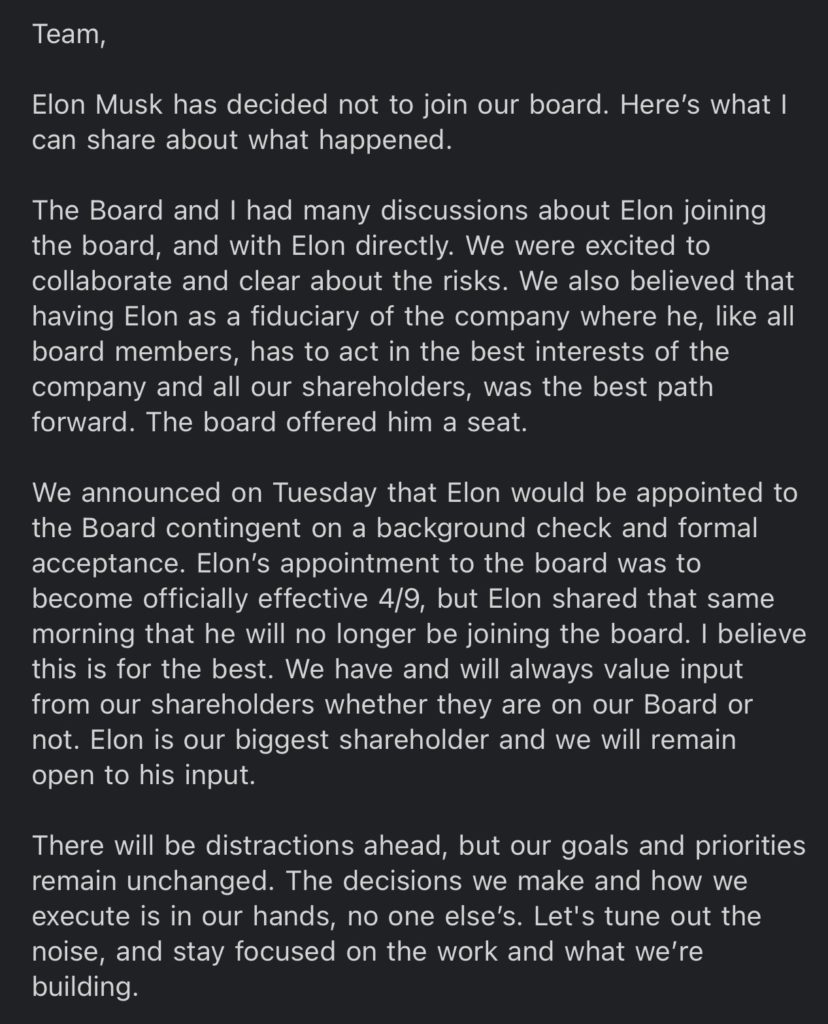 Then, on April 13th Elon Musk made the $45.5 Billon offer to buy Twitter. Under the fear of this turning into a hostile acquisition, Twitter's board instituted a "Poison Pill" measure to block Musk's plans. This measure gave shareholders the right to purchase more stocks at discount, diluting the shares and preventing any takeovers.
Despite this Twitter measure was initially seen as a complete stop to Elon Musk's intentions, on the other hand, the preventive measure didn't forbid the Board from accepting the acquisition proposal.
Today, Elon Musk and Twitter got to an agreement, and the billionaire will finally own the social media platform. Paying a 38% percent premium compared to the price the shares had when he disclosed his 9% position, Elon Musk will disburse $45.5 Billion.
Elon's intentions
It is no secret that Elon had his concerns about how Twitter moderation worked. Musk defines himself as a Free Speech absolutist, and now the eyes are on him and how would he moderate the platform.
"Free speech is the bedrock of a functioning democracy, and Twitter is the digital town square where matters vital to the future of humanity are debated."

Elon Musk about free speech
Moreover, Musk has already made promises regarding what new features he will try to bring to Twitter. In a tweet last week, he said: "If our Twitter bid succeeds, we will defeat the spam bots or die trying!". On the same topic, he also talked about authenticating all real humans.
The Twitter edit button is something that has been in the works for some time, however, Elon Musk wants to wear that medal himself. 
Now that this Twitter novel has come to an end, Elon Musk will be able to focus on more important things. Timthetatman already made an irresistible offer to the new Twitter owner.
Circling back to our main topic, we are on the edge of a new Twitter era. And as it happens with every change, many people are deeply unhappy with Elon Musk's purchase. Time will tell how Twitter will evolve after this huge event. We might be witnessing a turning point for the internet as we know it.
Stay tuned to Esports.gg for more news.