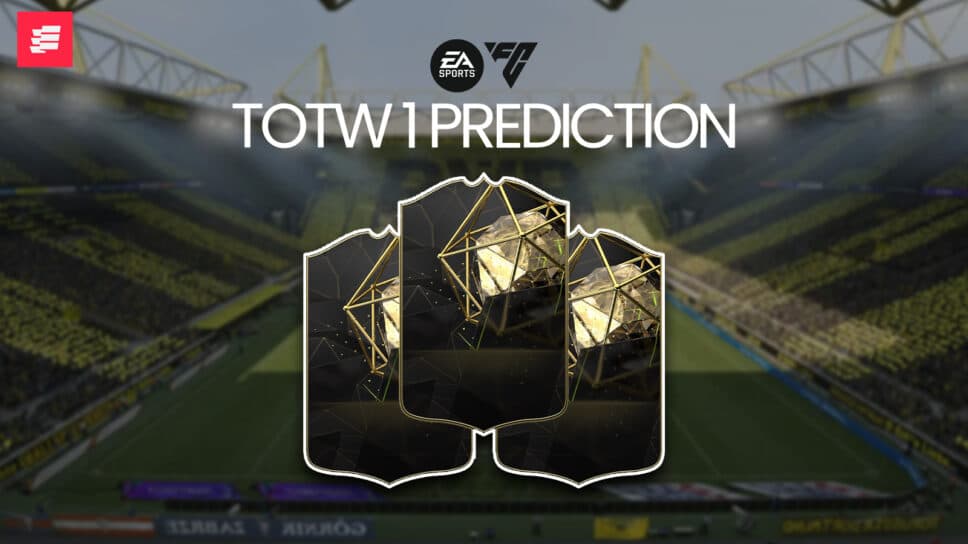 EA FC 24 TOTW 1 Prediction: Renard, Robertson and Lewandowski could headline
Who's in? Who's out? Let's speculate wildly, as all normal people should.
EA FC 24 is finally here and the first Team of the Week (TOTW 1) of the season is coming. We'll know all of the players featured in the TOTW before the game releases for Early Access on September 22, 2023 but here's our best guess on who will feature in the first TOTW of the new game.
Team of the Week is getting some significant changes in EA FC 24, with the biggest of them being the inclusion of the top five women's leagues in Europe for selection. Will any of those players make our selection?
EA FC TOTW 1 Prediction
Goalkeeper: Lukas Hradecky (Bayer Leverkusen)
Leverkusen may have drawn 2-2 against Bayern in the Bundesliga on the weekend but Lukas Hradecky is almost single-handedly responsible for that. He had nine shots on target against him from Bayern, making seven saves, salvaging a point for the team.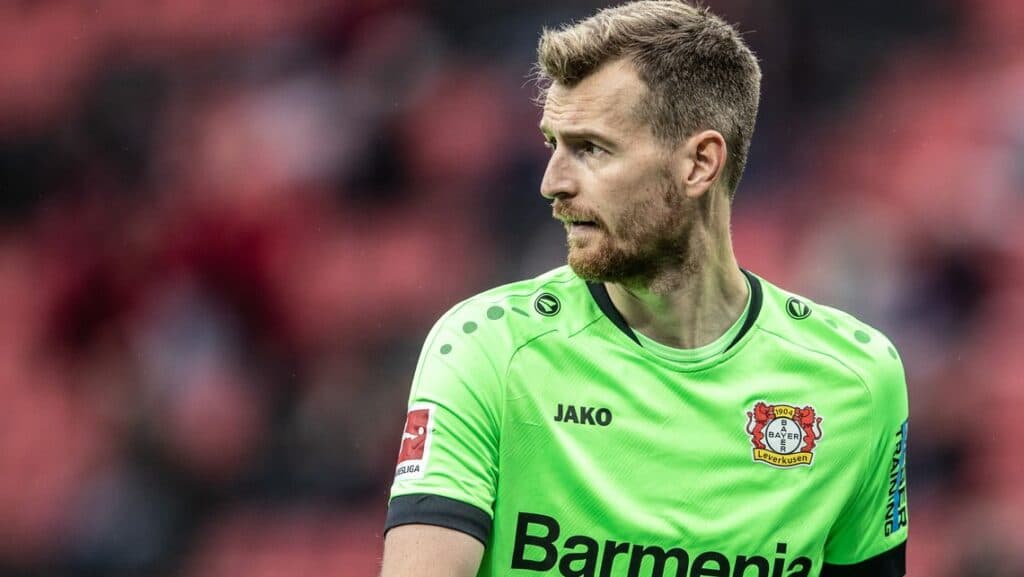 LEVERKUSEN, GERMANY - SEPTEMBER 26: Lukas Hradecky of Leverkusen looks on during the Bundesliga match between Bayer 04 Leverkusen and RB Leipzig at BayArena on September 26, 2020 in Leverkusen, Germany. (Photo by Lars Baron/Bundesliga/Bundesliga Collection via Getty Images)
Defender: Andrew Robertson (Liverpool)
The Reds had to do it the difficult way against Wolves at Molineux on the weekend. Jurgen Klopp's team came from behind to win and thanks in no small part to Andy Robertson's goal.
Scottish fullback Robertson darted forward on one of his now effectively patent runs into opposition territory to slam the Reds into the lead and basically win them all three points against Gary O'Neil's side.
Defender: Wendie Renard (Lyon Women)
Lyon enjoyed a dominant win away against Le Havre in Division 1 Feminine last weekend. Wendie Renard more than played her part in securing the win. She pounced on a Vanessa Gilles header to nod the ball into the back of the net to score Lyon's second of their four against Le Havre.
Wendie Renard's goal could get her into TOTW 1. (Olympique Lyon, 3); Porträt, Einzelbild, photo via Steffen Prößdorf.
Defender: Sakina Karchaoui (PSG Feminine)
PSG travelled to Bordeaux last weekend for their season opener in D1 Feminine and they got off ot the perfect start. Three goals in three minutes dismantled Bordeaux. Sakina Karchaoui got that spell started from the penalty spot, with the fullback showing calmness from 12 yards for her side.
Midfielder: Xavi Simons (RB Leipzig)
A goal and an assist in RB Leipzig's 3-0 win over Augsburg on September 16, Simons has enjoyed a fantastic start to his loan spell at Die Rotten Bullen. He earns a rightful spot in TOTW 1 to celebrate his impact in the Bundesliga.
Midfielder: Bernardo Silva (Manchester City)
Bernardo Silva helped Manchester City to a comeback win against West Ham at the London Stadium this weekend. His goal gave them the lead with less than 15 minutes to play and then his assist for the enigmatic Erling Haaland put the game to bed. More than deserving of a spot in TOTW 1.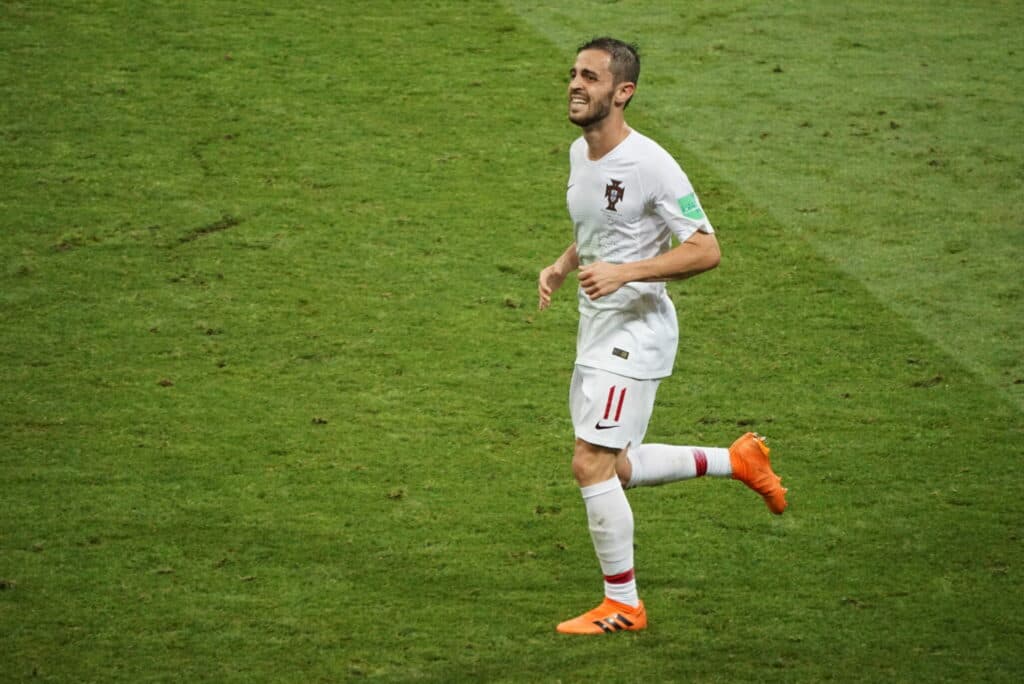 Bernardo's goal and assist should be enough to land him in TOTW 1.
Midfielder: Henrikh Mkitaryan (Inter)
Inter showed their dominance of the San Siro against their housemates AC on the weekend. Armenian midfielder Henrikh Mkitaryan scored two of the FIVE goals that Inter came away with in their resounding derby day win.
Midfielder: Muhammed Kerem Aktürkoğlu (Galatasaray)
Galatasaray had to fight harder than expected to get past early Super Lig strugglers Samsunspor. Two goals from Muhammed Akturkoglu was enough to help them on their way to a 4-2 win. They are just about keeping pace with Fenerbahce at the top of the Turkish league.
Forward: Joao Felix (Barcelona)
You could pick any number of Barcelona players to fill this spot after their 5-0 thumping of Real Betis this past weekend. Joao Felix is the one we've gone with based on the pure electricity and energy that he has brought to the Barcelona team since joining in the summer. His goal against Betis shared that exact energy and puts him in our TOTW 1 prediction.
Forward: Dusan Vlahovic (Juventus)
Serbian Dusan Vlahovic had a tough time in his maiden Juventus campaign last season but if he can keep up with his early season pace this year, he'll have no trouble. A brace (two goals) against Lazio was enough to earn his side all three points at home.
Vlahovic could make TOTW 1. Photo via Getty Images.
Forward: Terem Moffi (Nice)
Not even Kylian Mbappe could stop Terem Moffi from getting his Nice side a historic win at Parc des Princes in Paris on Friday. Moffi scored twice to lead Nice to a 3-2 win over defending French Champions PSG.
Reserve players:
Neto (GK, Bournemouth); Tarik Lamptey (DF, Brighton); Bernard (MF, Panathinaikos); Melissa Kossler (FW, Hoffenheim Frauen); Ewelina Kamczyk (MF, Fleury Feminine); Tim Kleindienst (FW, Heidenheim); Victor Gyokeres (FW, Sporting Club de Lisboa)
EA FC TOTW 1 Countdown
TOTW 1 will release at 1 p.m. EDT (6 p.m. BST) on September 20, 2023. It will coincide with the release of the EA FC 24 Web App, where players will be able to start their teams in EA FC 24 for the first time. Here's a countdown to the release of TOTW 1:
That's it for our prediction for TOTW 1 in EA FC. Do you agree? Do you think we'll see someone else get in? Let us know on X @esports. Stay tuned to esports.gg for all the latest news and guides for EA FC 24.