From the qualifiers to the top. Consus defeats Blinky to become the first Geoguessr World Cup champion!
On October 14, the first-ever GeoGuessr World Cup concluded with Dutch player, Consus, crowned as champion. Consus came as an underdog who made it through a qualifier to play amongst the invited. He steadily climbed his way through the tournament to finally defeat French player, Blinky, in the grand finals.
Here is the winning moment for Consus in the GeoGuessr World Cup!
GeoGuessr World Cup finals recap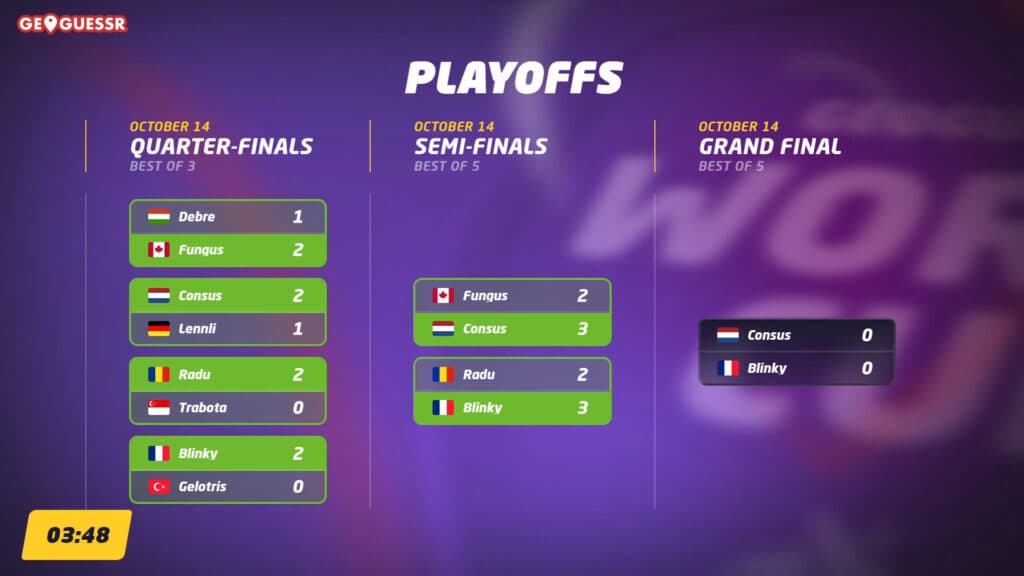 Playoffs bracket for GeoGuessr World Cup.
(Image via GeoGuessr)
Game 1 - Blinky wins
In the Grand Final, Consus had a shaky start as Blinky kept throwing punches. Blinky made very accurate guesses to deal critical damage to Consus' health. The first game ended with a massive health difference at 0 to 5906. This means Blinky only suffered about 94 damage throughout the whole first game!
Blinky defeats Consus in Game 1 with 5906 health to spare.
(Screenshot from GeoGuessr Twitch)
Game 2 - Consus wins
The second game went incredibly smoothly for Consus as he landed early consecutive wins. But the biggest shock comes at round 6 as Blinky landed a far guess which cost him all 4400 of his remaining health. "Death by New Zealand," the casters said.
Game 3 - Consus wins
The third game sees Consus pick up his momentum. He carefully but accurately made guesses, slowly depleting Blinky's health. Game 3 ended at round 10 with Consus having about 3500 health to spare.
Game 4 - Consus wins
The fourth and final game was incredibly intense. Both players took massive jabs at each other and one would take the lead after another. Consus even fell to 1800 health on round 5 while Blinky sat comfortably with 4300 health.
But the Dutch player did not let the disadvantage discourage him. He made a comeback in the final rounds to win the finals against Blinky 3-1.
GeoGuessr World Cup gets its first champion
GeoGuessr isn't exactly a new game, but it slowly gained traction over the past few years. And following its spiraling popularity last year (thanks to Rainbolt and Tik Tok), GeoGuessr makes it big enough to have pooling interest.
The GeoGuessr World Cup gathered twenty-four of the world's best GeoGuessr players in Stockholm, Sweden - the home of GeoGuessr headquarters. This $50,000 prize pool event featured an exciting live crowd in the Space Arena from October 13 to 14.
Consus walks away with $15,000 USD and an exclusive trip by Mission: Impossible. This trip will bring Consus to "race through streets in a vintage Italian car, pilot their own helicopter, speed through the canals of Venive on a private speed boat tour. All in the footsteps of Ethan Hunt and the film's explosive locations in Italy." On the other hand, Blinky bags home $7,000 USD and a slice of the $20,000 USD shared prize pool.
GeoGuessr esports is here
GeoGuessr might not be your typical esports. But we are so here to be mesmerized by giga-brain players flexing their map skills! This geography game also has a lot of interest worldwide. This is apparent as the livestream of GeoGuessr World Cup accumulated almost 50,000 concurrent viewers on Twitch! This impressively puts them on a similar level to many other esports out there!