BlizzCon will also be livestreamed for free.
Blizzard just revealed that additional BlizzCon 2023 tickets will be available. An official announcement also provided more details on what attendees can expect during the event!
BlizzCon graphic featuring different games (Image via Blizzard Entertainment)
Additional BlizzCon 2023 tickets go on sale
These tickets will go on sale on Sept. 29 starting at 12 p.m. PDT, according to Blizzard. The tickets will be available through the AXS website, and those who don't already have an account there should make one before the start of the sale.
It should also be noted that you can only get a maximum of two tickets per transaction. This will be the third wave of ticket sales after the two that happened back in July.
BlizzCon Tickets Wave 1: Saturday, July 8 at 10 a.m. PDT
BlizzCon Tickets Wave 2: Saturday, July 22 at 10 a.m. PDT
BlizzCon Tickets Wave 3: Friday, September 29 at 12 p.m. PDT
Tickets Website: AXS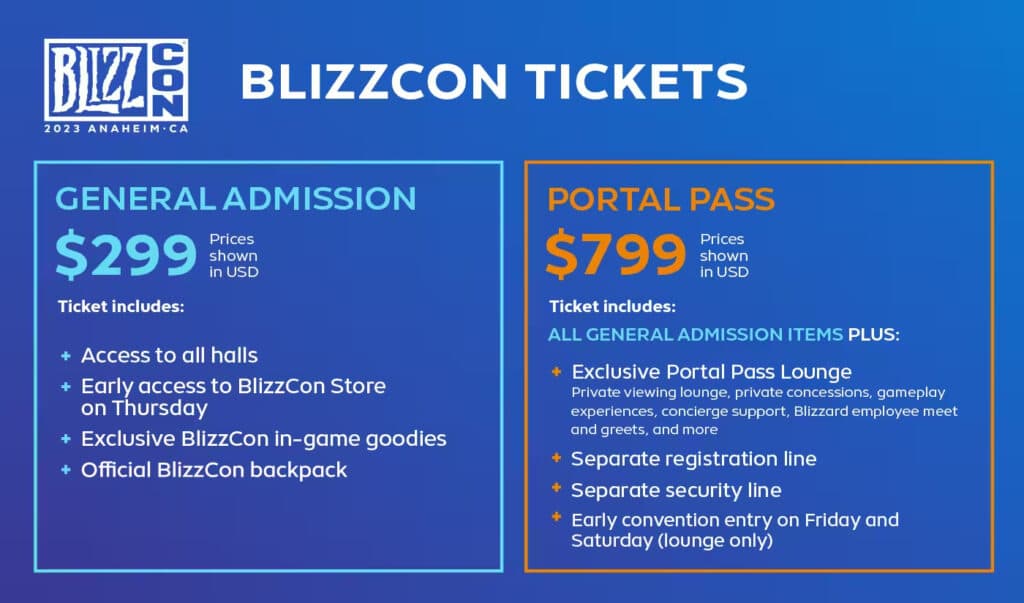 BlizzCon 2023 tickets cost (Image via Blizzard Entertainment)
BlizzCon 2023 details and events
The latest announcement also included a graphic featuring what attendees can expect during BlizzCon 2023. Some of the activities include watching the Overwatch World Cup, meeting the new tank hero in Overwatch 2, and participating in a community night.
Here is the text version of the graphic:
Opening Ceremony: This year's biggest news and key reveals
Overwatch World Cup: One team will take home the cup
Shareable Moments
Community Night: Watch the community take the stage
Spend Time Together: Meet friends and share stories
March of the Murlocs: Join the tradition
Hell's Ink: Get the Dark Lord's mark (Diablo 4)
Meet the New Hero: Tank (Overwatch 2)
Play Upcoming Content: For Dragonflight and Classic (World of Warcraft)
Duel-A-Dev: Challenge Us! (Hearthstone)
Rumblemania: Exhibition Matches (Warcraft Rumble)
Guild Clash: Who will come out on top? (World of Warcraft)
Buff Your Inventory: Leave with a free BlizzCon backpack
Inclusion Nexus: Celebrate what connects us
Darkmoon Faire
Horadric Library
And More: To be revealed
BlizzCon 2023 schedule, events, and details (Image via Blizzard Entertainment)
"If you can't make it to the show in person to catch the action, don't worry, BlizzCon 2023 will be live streaming all content from the arena for free," the announcement also stated.
BlizzCon 2023 will happen between Nov. 3 and Nov. 4.