Gears 5 Esports just celebrated its most highly viewed Pro League Major since the game launched almost 2 years ago. Falloutt spoke to Blaze about the success, and the magic of the Gears Esports community, from diversity to trash talk.
With the recent announcement of a Season 3 (2021-2022) of Gears Pro League, Esport.gg's Falloutt sat down with Gears Esports caster Guy "Blaze" Spencer. Blaze is a former Professional Gears of War player, who is now a full time caster for the esport. Together, they discuss Gears of War's history as an esport, and the current Pro League's recent return to 4v4 and the upcoming 3 game-mode cycle.
The passion shown by the players is a direct result of the personal, close quarter combat that is unique to Gears of War. This emphasis on close quarter combat and individual playmaking is what leads to the hype moments and the trash talking, and is a big reason people fall in love with the esport. These qualities that represent the core of Gears Esports have been there from the early days of console esports in MLG, and remain present to this day.
Gears Esports has a diverse community
"We were competing for a little change out there...we were talking trash, making best friends, and we were bonding with other people. That's what is core to Gears of War, and as it's evolved over the years, that has stuck with us." said Blaze, in reference to the community organized LAN events from the early years of gears esports.
Gears of War has one of the most diverse esports communities. This diversity has been a major factor in the scene's growth over the years.
"We had culture in Esports at an early age. That was something that was really special about Gears, and why it was so diverse." says Blaze.
Gears of War and Gears of War 2 were part of the MLG Circuit, which began in 2007. When Gears of War 3 wasn't picked up by MLG in 2011, this diverse community came together to keep the scene alive.
"The community members came together and created Hypefestation….It was these community run events, and everybody showed up. We put up the prize pools, we found our sponsors...and the community came together to hustle and create this awesome event." recalls Blaze.
The Hypefestation events ended up lasting multiple years, spanning the lifetime of Gears of War 3. Hypefestation was the building blocks for the eventual revival of the Esport when Microsoft acquired the rights to the franchise, and the new studio The Coalition announced a new trilogy of games along with a Pro Circuit in 2016.
Blaze on Gears of War's reputation for trash talk
Gears of War tends to bring out the personalities in players. A lot of big personalities began as Gears of War competitive players, such as: NickMercs, CDN, High Distortion, and many more.
"As a Gears community, we have always had these big, bold personalities…life outside of Gears, these guys have flourished. They have blown up to become some of the biggest streamers and biggest personalities in esports." says Blaze, regarding some of the former Pro Gears players that have grown their own platforms.
With big personalities, comes the trash talk. Gears is notorious for its trash talk. The clips speak for themselves, but as Blaze states, it all stems from the core of Gears Esports:
"As other Esports change, and try to become more mainstream, and franchised, and become more buttoned up, Gears is always gonna stick to the core of what esports began with...just letting their raw energy and their personality showcase," said Blaze.
Latin America and Mexico are defining examples of this passion for Gears. As one of the top games in Mexico, esports events held in Mexico regularly sell out. As Blaze says, it's an "S-Tier" esport for the region, and a major part of the current success of the scene.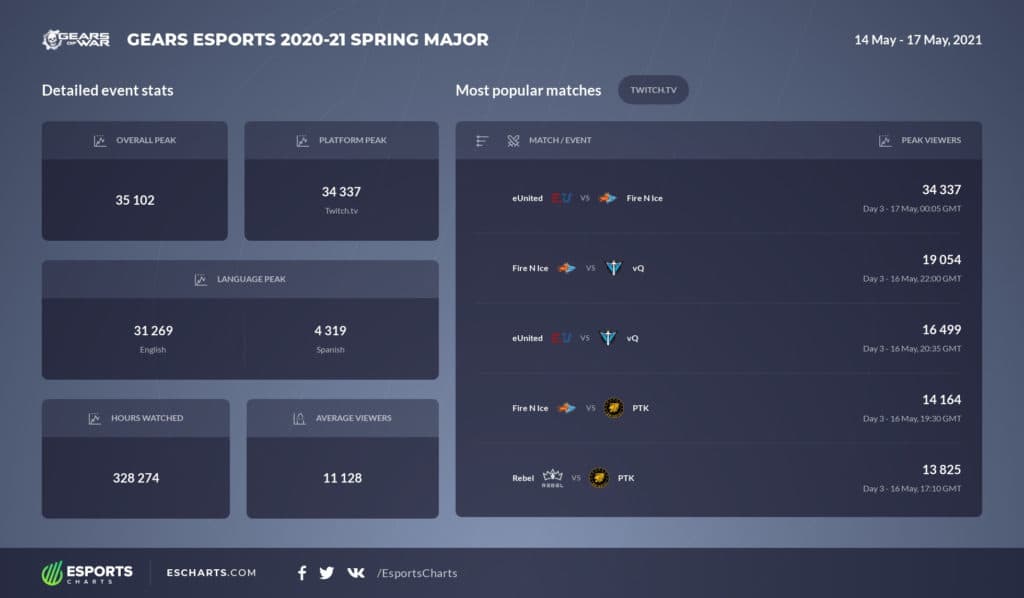 Viewership figures for the Pro League Major from May 2021. The event peaked at 35,102 viewers on Twitch (Source:
EScharts
)
What is Gears of War like now?
With Gears of War: UE, Gears 4, and Gears 5, the esport has had some of its biggest seasons ever. Currently in Gears 5, the most recent Pro League Major had the highest viewer amount since the game's launch in September of 2019. A large part of this is due to The Coalition and Gears Esports organizer UMG's commitment to improving the game and the competitive scene.
In particular, the esport, which had changed to 5v5 Escalation in Gears 4, has recently returned to 4v4. They have also brought back upgraded versions of the classic modes that were the foundation of the game and esport. The new 3 mode cycle for the upcoming season will consist of: Execution 2.0, Control, and Escalation.
Execution 2.0 is the upgraded, single life mode that Gears was founded on.
Control is an objective based mode, in which teams fight for control of a certain area (similar to Hardpoint in Call of Duty).
Escalation is a domination style mode in which teams fight for multiple areas on the map at once.
"We had one of the highest numbers we've ever had in our last finals, and we're moving on to a better season coming up...it's only up from here." says Blaze, regarding the success and new format for the future of Gears Esports.
With this return to the core elements of Gears Esports, and the announcement of a Season 3 run by UMG that will play through 2022, the future is bright for Gears Esports.