A new Dragon Ball Z Budokai Tenkaichi fighting game was announced?
A Dragon Ball franchise seemingly left in the 00s, a new Budokai Tenkaichi game is in the works. Here's the footage.
The year of fighting games continues, with a seemingly long-dead franchise coming back. Shown after the Dragon Ball FighterZ World Tour finals was the trailer for a new Budokai Tenkaichi
Dragon Ball Z
game.
Uh...Sure? Did they show the wrong game? Was this supposed to be an announcement for the wildly popular, critically acclaimed fighting game for which said livestream was going on? We guess not.
Now, this may confuse you on multiple levels, as the last time a Budokai Tenkaichi game came out Barack Obama was still a presidential hopeful. Check out the trailer below and let's think about this some more.
A new Budokai Tenkaichi? Really?
For those out of the loop: The Dragon Ball Z Budokai Tenkaichi franchise was a PlayStation 2-era fighting game series known for massive rosters and somewhat button-mashy mechanics. While not on the mechanical complexity of your Street Fighters or Mortal Kombats, DBZBT brought a cinematic feel to one-on-one encounters that made it stand out.
Also, if we're being blunt: It was an anime game that didn't suck during a time when oh-so much anime shovelware existed.
This new Budokai Tenkaichi appears to be from the same developer as the disappointing 2020 release Dragon Ball Z: Kakarot. Regardless, the trailer appears to indicate that this new game has married the visual fidelity of Kakarot and DBFZ to what we can only assume is a new fighting game.
The last game in the series was the 2007 PS2 and Wii's Budokai Tenkaichi 3, which received above-average scores from the major outlets. As someone with a real love for Dragon Ball FighterZ it's a bit disappointing for this announcement to not be more of that game.
However, as most fans of franchises known for less than stellar game quality, I'll gladly give it a shot in the hopes that this new Budokai Tenkaichi can break the curse.
But, seriously: Add Orange Piccolo to Dragon Ball FighterZ. Please.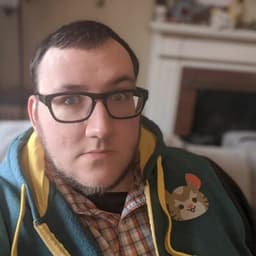 Will Jagielski-Harrison
Will has over a decade of print and digital journalism experience, with bylines in Polygon, The Escapist, The Toledo Blade, The Austin American-Statesman, and more. He's also the host of the World of Warcraft lore podcast Essence of Azeroth, loves Murlocs just a bit too much, and owns too many cats.