Twitch Rivals' Fortnite event at TwitchCon San Diego was an ultimate success. Read below to know more.
Fortnite proved once again why it holds the heart of many, as Twitch Rivals hosted an incredibly successful in-person tournament during TwitchCon 2022 in San Diego. With competitors such as Tfue, SypherPK, and more big names participating, the show was an event to remember.
As players took the stage, fans sat in the crowd, anticipating what was to unfold before them. The stadium was packed and the vibes were immeasurable. Even the people watching at home were biting their nails in anticipation.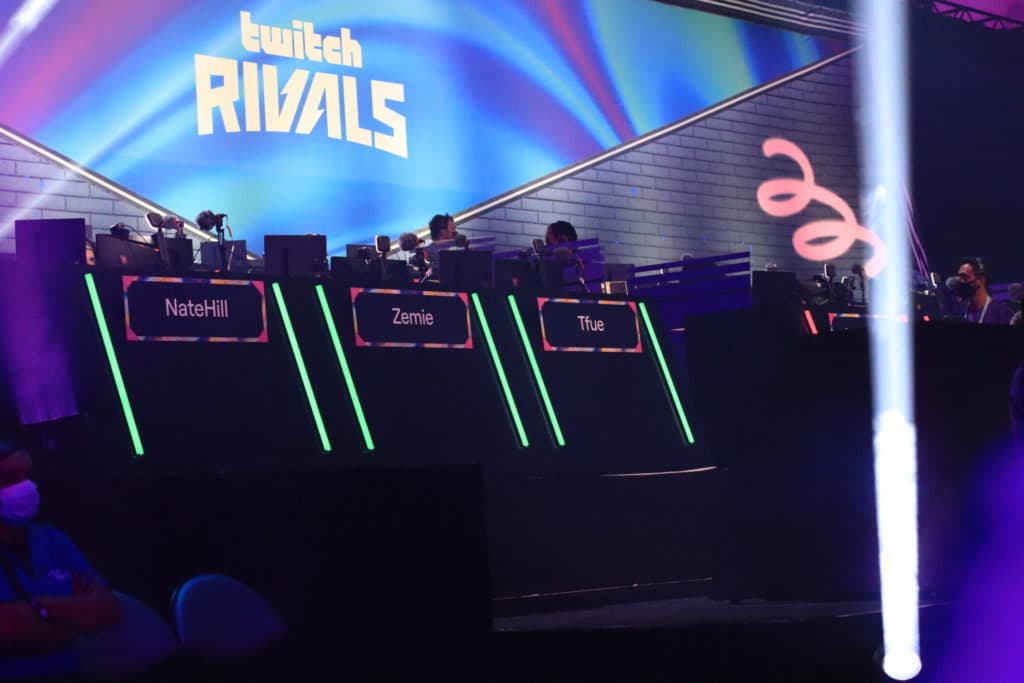 Fortnite Twitch Rivals, Tfue, Zemie, and Nate Hill via Esports.gg
With $200,000 USD on the line, competitors were prepared to fight for the win
60 players sat in front of everyone, ready to compete for a piece of the large $200,000 prize pool. With a heavy goal in their foresight, each competitor had to evaluate a strategic plan to walk home with some cash.
Some of the most prominent names in gaming approached the stage as fans throughout the arena screamed in excitement. Even though many names were large to others, Twitch also provided an opportunity for smaller players to compete.
Throughout the past few months, Fortnite has been holding a series giving players a chance to win a spot in the final event.
Teams from the NA region, the LATAM region, and the EMEA region gathered together for this iconic event. Each team leader had to pick their team carefully in hopes of having the most successful tournament.
Prize pool breakdown
Large prize pools like this are always exciting to see others compete for. Here is a breakdown of the prize pool and its distribution.
1st: $42,000
2nd: $27,000
3rd: $21,000
4th: $15,000
5th: $13,500
6th: $12,000
7th: $10,500
8th: $9,000
9th: $7,500
10th: $6,000
11th-12th: $4,800
13th-15th: $3,900
16th-20th: $3,000
With only 20 teams competing, this means that every single trio walked away today with some cash in their pockets.
The final outcome is here!
Each moment in today's event was electric, giving people a decent expectation of what to expect for future LAN events. As each player played their hardest, at the end of the day, only one team can come home with that first place.
Latin America proves to be number one in the Zero Build scene, as Team Palermo wins the entire Twitch Rivals tournament.
The future is bright for LAN events!
The Twitch Rivals Fortnite tournament during the TwitchCon San Diego event is an example of why people should be looking forward to the future of Fortnite tournaments.
As more and more in-person events start to take place, we'll finally start to see more tournaments pop up again.