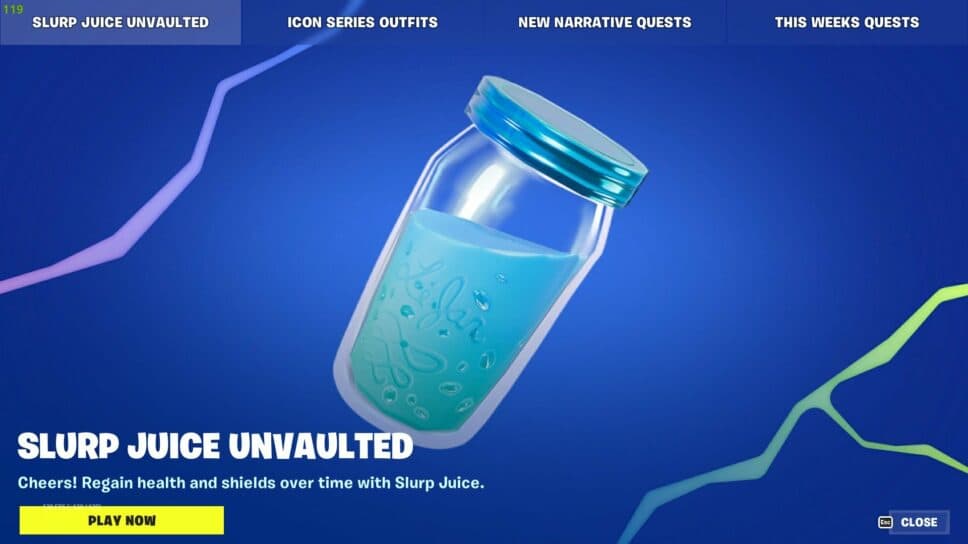 Slurp Juice returns to Fortnite; An item that hasn't been in-game since Chapter 1
Slurp Juice is returning to Fortnite. Read below for more information.
It is always an exciting day when you find out an OG Fortnite item is being added back to the game. Today, popular leakers such as HYPEX and more, announced the official return of Slurp Juice.
So what makes Slurp Juice so iconic? The popular item has not been in the game since Chapter 1: Season X, which was 3 and a half years ago.
What is Slurp Juice and how does it affect the current state of Fortnite?
Slurp Juice played a vital part in players' inventories back in the day. The item provided gamers with quick health while running around the island.
Giving the player who drinks it 75 HP, whether that be health or shield, was key to staying alive. The item only took a couple of seconds to guzzle down, and would slowly regain a player's health.
With multiple additional health items being included in the game since it begs the question as to why people would be so excited about this component to return.
Well, the answer is simple: nostalgia.
We have all heard the complaints before, as so many people have begged for Fortnite to return to its old state. Obviously, this is not a feat that would be comprehensible for Epic Games, as people would end up regretting their wishes after a week or two.
What people really want, is the feeling Fortnite gave them back in the day, when the game was so fresh.
Adding items that were included during these times helps give gamers that excitement they first had when dropping off the Battle Bus.
Hopefully, Fortnite continues to cater to its fans
With situations like this, it is simple to see that Fortnite just wants to please its fan base. As the game continues to truck along, we should expect to see a mix of old and new items fill the loot pool.
Regardless of your thoughts on Slurp Juice's effectiveness on the battlefield, it is still exciting to see such an old item return to the Battle Royale.
Stay tuned to Esports.gg for more Fortnite news.
Bryson Maddock
Bryson Maddock is an avid esports enthusiast and writer who has developed a strong connection with the world of esports. Outside of writing, Bryson also is a professional esports caster and developed twitch streamer.