The yearly Fortnite Comp Awards recognize the best of the game's competitive scene.
Competitive Fortnite has evolved immensely since its first official tournament occurred in 2018. Players nowadays are constantly pushing the limits of what's possible in the Battle Royale landscape while competing for millions in prize money. However, it's no secret that the competitive scene rarely gets the recognition it deserves from the broader esports landscape. That's where caster, content creator, and analyst Taylor "Somebodysgun" Yates and the Fortnite Comp Awards come to the rescue.
Esports.gg had the chance to speak with the Comp Awards owner Somebodysgun ahead of the 2023 ceremony, which promises to be the biggest one yet.
From humble beginnings: The Comp Awards and what they mean to Fortnite
Established in 2020, the Comp Awards has been self-funded and organized by content creator, commentator, and analyst Somebodysgun (SBG). The yearly ceremony recognizes the best that Fortnite has to offer, from players to organizations and everything in between.
When asked why he decided to bring this idea to life, SBG said he appreciates the community. Additionally, the Comp Awards provide validity to the Fortnite scene.
"So the biggest thing for me is, like, I love the game, and I appreciate the community. It's given me a full career to do what I love to do, and this is the one thing that I could do to give back and really recognize how special some of these players, coaches, and organizations are," said SBG.
Kami and Setty - Duo of the Year 2022 (Image via Epic Games)
"We need to have some recognition, especially in Fortnite when it's really like a win-or-go-home kind of mentality. No one really remembers who came second or third in events, but ultimately, that player could be the best player throughout the year. And I think they deserve the praise and the awards that come with that."
What started as an idea has blossomed into a yearly community event, with participation from commentators, analysts, journalists, and more. SBG said there were some considerable hiccups along the way, which meant the first year laid the foundation for what would come later.
"At first, the whole organizational structure is kind of tough one. You need to get a bunch of people who are fairly big names to participate in this. You need players, organizations, and managers to actually buy in and care about these things," he said. "The first year was kind of a dud. I got lucky because the NRG owner tweeted out they won an award. Then, last year, Reno from Become Legends showed us a lot of love because their players did really well. Deservedly so."
Somebodysgun explains the obstacles with running the Fortnite Comp Awards
Funding has become an issue for the Comp Awards, but that hasn't stopped SBG from financing the operation. He explained that finding sponsorships is challenging, but the show must continue.
"This is not a cheap thing to do. And last year, it came all out of my pocket. This year, it's looking like it's all coming out of my pocket. We'll see, though. I've had some discussions with different parties to, hopefully, get some funding or get some sponsorships. And one of the nice things is that I can work with people because of how many eyeballs we get."
Although money is a challenge, the community still comes together for this yearly event. Beyond the financing issue, SBG elaborated on the other problems with the Fortnite Comp Awards, especially the decision-making process.
"I guess decision-making again because it's all myself. I definitely second-guessed some decisions. You know, when you're sitting alone, in your bed at night, while all this is going on, you're like, is this the best way I could have done this? So, I'm second-guessing it just because I want it to be as good as it can be," he said.
SBG further explained that the voting process and panelists have created a roadblock because certain biases are involved in the Comp Awards.
"As far as the panelists, we're doing it differently this year. In the past, we've done it where everyone sees one another's votes. And I think that's played a huge influence on who voted for what versus if it was more anonymous. Granted, there'll be some skewed things in different directions. But I think that is kind of something that has bugged me because I don't think it's gone as well as it could have."
The panelist selection process and navigating regional bias
Selecting panelists for the Comp Awards has evolved considerably since 2020. At first, the goal was to exclude players and managers to remove any possibility of bias from an organizational perspective. Then, SBG learned that including some players and managers was possible under the right circumstances.
"I wanted to avoid players and people that work directly for organizations because they have an inherent bias, and you can't get rid of that regardless of what you want them to do. They're always going to be skewed towards themselves or their own players. So that was the first starting point," he said. "And then the next year, I was like, 'Okay, we can kind of include these managers or include the coaches because who's going to know what's going on better than these people?'"
SBG approached this by eliminating vote eligibility for categories with a personal bias. For example, SBG, as a caster, could receive a nomination for Caster of the Year, but his vote would not count toward the category.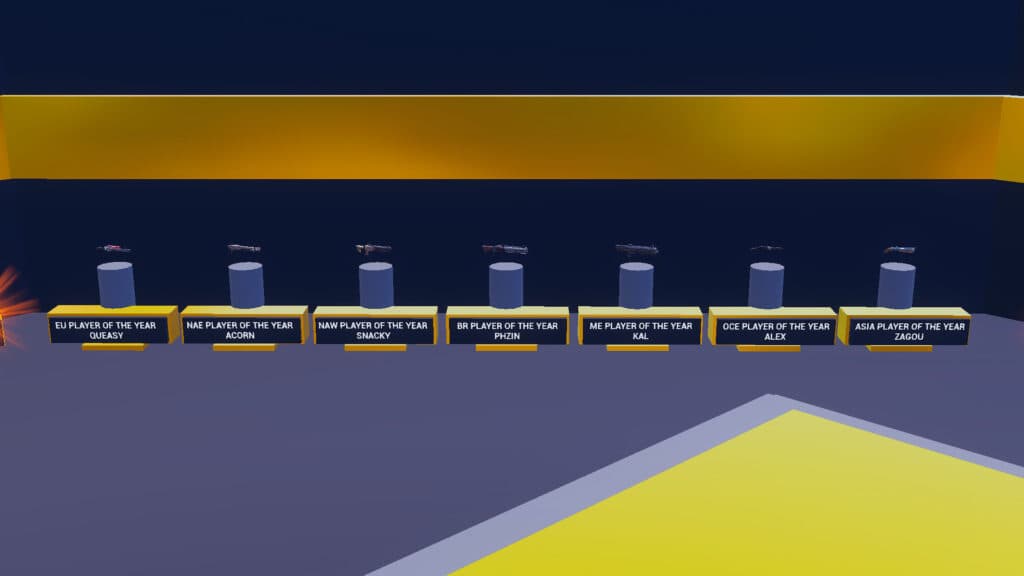 Each region crowns a Player of the Year (Image via the Fortnite Comp Awards)
He clarified that players outside of the well-known European and North American regions deserve a share of the spotlight. The Comp Awards aim to recognize the world's best players, so he has made strides to give Asia, Brazil, Oceania, and the Middle East their due.
"I've tried to get regional influence with at least three people from each region. That's the goal again this year because not only do we have the overall awards, we also have regional awards. I don't want those to be voted on purely by people in North America and Europe. That makes absolutely no sense to me."
SBG aims to crown a Player of the Year for all six competitive regions with the help of worldwide panelists. This approach will give each of the world's best players credit.
The five-year plan and a teaser of the 2023 ceremony
Fortnite esports (Image via Epic Games)
Following its inception in 2020, SBG has helped expand the Comp Awards beyond what anyone would have expected. The Comp Awards' X account is rapidly approaching 5,000 followers and receives impressions from the players and community it represents.
With this steady growth in consideration, SBG has high hopes for the Comp Awards. Ideally, SBG says, the show could occur in person, with players and the community welcome to join. Additionally, the Fortnite commentator would like to mail out physical awards to the winners.
"I would love for this to be an in-person event on a stage to invite the players out. Obviously, we're a long way away from there. The next step is to actually create trophies and send them out to the winners," SBG told esports.gg. "That may or may not happen this year. I can't promise it will. I think of the Heisman award ceremony — something like that would be awesome."
SBG's plan to further legitimize the Comp Awards may include a Fortnite Hall of Fame at some point. We wanted his thoughts on what a Hall of Fame would entail for the Battle Royale, but he believes it's too early for that.
"I toyed with that this year, and it's something I discussed with several people," he said. "But I do think it's too early. I think it should be done eventually, but I don't think that it should be done just yet."
When asked to clarify which players and personalities would be considered, SBG mentioned names such as Arkhram and Zayt–two of the all-time greats who have since moved on.
What you can expect in the 2023 Fortnite Comp Awards
Graphic for the 2022 event (Image via the Fortnite Comp Awards)
Back to the present day, SBG reaffirmed plans to expand upon the Creative Map designed for the 2022 Comp Awards, adding playable elements and even hosting an event on the map.
"We did a creative map last year that was really well made. We plan to add to that. So, similar to Legends Landing, this is going to be a continuous thing that is built upon itself. But this year, we're actually going to have some playable aspects to it. And we're going to be hosting some kind of event within the tournament or the map. People will actually get to play with some of the top professionals around the world in the map created either before or during the award ceremony."
After another successful year for competitive Fortnite, all eyes are on Chapter 5 and what Epic Games has in store in 2024. To round out 2023, SBG plans to host the 2023 Comp Awards ceremony on Dec. 21, but a firm date will follow.