Forbes released their official Top Creators of 2023, naming Ninja as 31st.
Celebrity streamer and creator, Tyler "Ninja" Blevins, was listed in Forbes's Top Creators of 2023 as number 31 out of a list of 50. The gamer, was one of the few streamers/video game creators that made the list, certifying him as one of the greats within the gaming world.
The list consisted of 50 popular creators, from YouTubers to TikTokers and more, allowing Ninja to stand out amongst all the other creators.
Forbes Top Creators 2023: Ninja listed as one of the few gamers
Ninja, who first broke the internet back in 2018 during the early Fortnite years, was officially named as one of the Top Creators of 2023 on Forbes. The streamer has been dominating the gaming community since the early years of Twitch while making jumps to different streaming platforms throughout this time period.
The streamer took a massive deal with Mixer back in 2019 and found himself streaming on Twitch again only a year later after Mixer announced it was shutting down.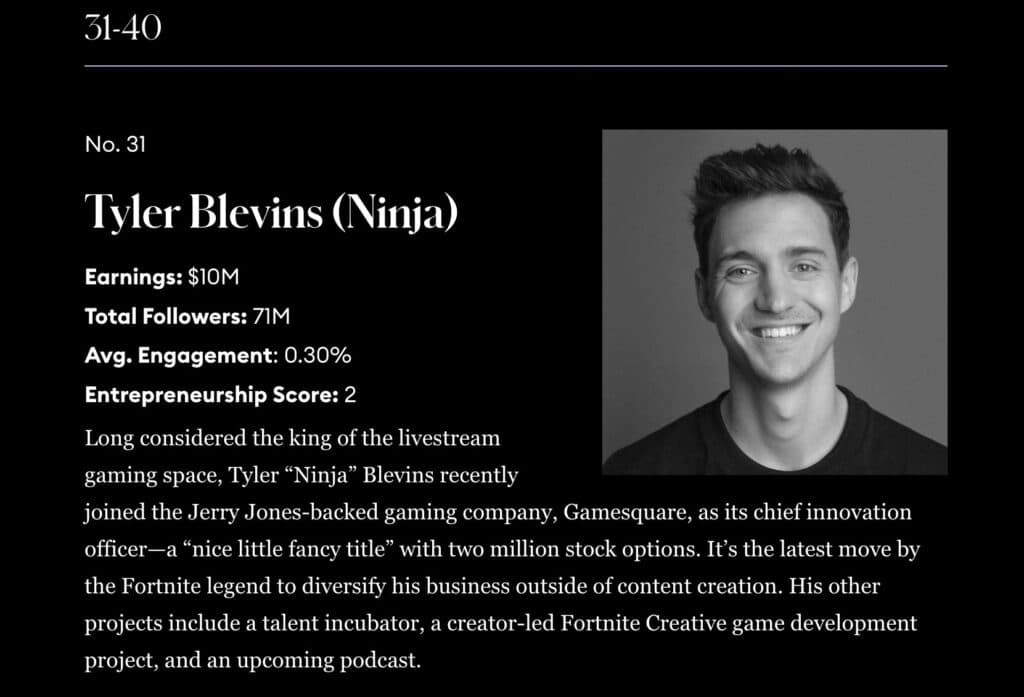 Ninja: Forbes Top Creators 2023 (Screenshot taken on Forbes)
Ninja has seen different waves of popularity in his streaming career, as a majority of creators do. 2023 was actually one of his lower years in numbers, as he made a huge switch to streaming on multiple different platforms at once.
This was a bold move for the streamer, as it caused him to lose his partnership with Twitch. Yet, it seemed as if his move to multiple platforms at once had not gone unnoticed.
Ninja's airtime sees lower numbers in 2023
According to streamschart.com, Ninja's airtime on Twitch has decreased by quite a bit since 2021. In the previous 30 days, the streamer had only streamed for a total of 57 hours, which averages around 14 hours a week.
Ninja's average airtime (Image via streamscharts.com)
As you can see in the image above, Ninja's airtime has decreased DRAMATICALLY since 2021, when the steamer was active for more than 100 hours a month.
So has this affected the streamer's average viewership?
In the recent year, Ninja has seen a large influx in viewership changes. Recently the streamer has averaged far less than in the past, putting himself at around 7,300 average viewers. This still seems like a lot, right? In the past, Ninja was peaking at over 100,000 viewers in his streams. His drop in viewership possibly correlates with his lack of streaming in recent months.
Ninja's Average viewers per month (Image via streamscharts.com)
Regardless, Ninja's lack of streaming has yet to be a barrier for him in popularity. The streamer making the Forbes Top Creators 2023 is a huge feat for Ninja AND the gaming community.
Other popular gamers on Forbes's list
While there were few gamers mentioned on Forbes's list, that does not mean Ninja was the only one. Here are a few other honorable mentions that made Forbes's Top Creators of 2023.
Dream
Amouranth
PrestonPlayz
Jacksepticeye
Stay tuned to esports.gg for more Streamers and esports news.