NASCAR driver Alex Bowman to race Fortnite car at Daytona
Here's a look at Alex Bowman's Fortnite-inspired car.
Professional NASCAR racer Alex Bowman will be behind the wheel of a Fortnite-themed car for this weekend's Daytona race. This sponsorship comes courtesy of Ally Arena–a Fortnite Creative map designed utilizing the state-of-the-art Unreal Engine for Fortnite (UEFN) platform.
The map creators teamed up with Hendrick Motorsports, the team that Alex Bowman represents. Fortnite players can queue into the Creative map and see the inspiration for Bowman's car design. You can also catch him driving the Fortnite vehicle when the race goes live this Saturday, August 26, at 7 p.m. EST.
What does Alex Bowman's Fortnite car look like?
Journalist Jeff Gluck, who covers racing for The Athletic, posted a comprehensive look at Alex Bowman's number 48 Fortnite car on Twitter. The vehicle boasts a pink, purple, and blue color scheme, and the Fortnite inspiration is noticeable.
Plastered on the car are various sea creatures you would have found in previous iterations of the game; the Stink Fish and Cuddle Fish. We also identified a paint canister commonly found in the Party Royale game mode.
You also will notice the name Ally Arena on the vehicle. That is the name of the Creative map that inspired the design.
Here's a closer look at Alex Bowman's Fortnite-themed car: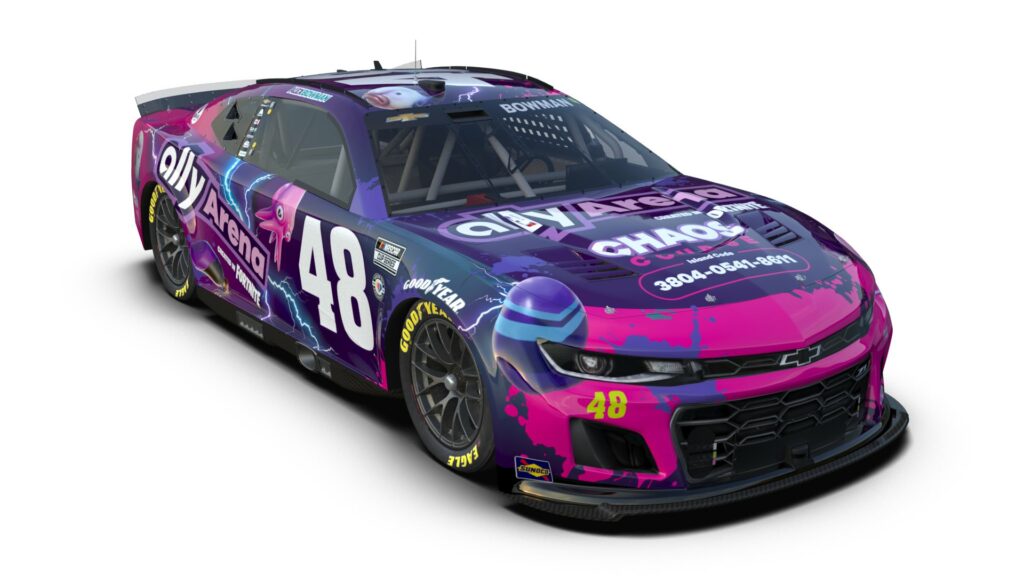 What is the Ally Arena map?
The Ally Arena Creative map features Rocket League mixed with Fortnite. You can experience the map by opening Fortnite, heading to the 'Discover' tab, and entering Island Code 3804-0541-8611.
"Feed your need for speed in Ally Arena's newest portal. We teamed up with Hendrick Motorsports to build a world inspired by the iconic No. 48 car and driver Alex Bowman. Drop into the portal to try four racing-themed minigames and experience the power of Epic Games' new Unreal Engine for Fortnite."
Check out the map the next time you're in Fortnite, and you can catch Alex Bowman racing his Fortnite car this Saturday.