From Viltrumite to the Battle Bus – here's what we know about the Invincible x Fortnite collaboration.
Not long after Omni-Man arrived in Mortal Kombat 1, a Fortnite x Invincible collaboration has been confirmed. This news surfaced during the latest Fortnite OG maintenance window. Many leakers have revealed all cosmetics involved in the crossover, including Omni-Man, Invincible, and Atom Eve skins.
As Fortnite prepares to release a collaboration with the hit Amazon Prime animated superhero series, here's a look at the cosmetics and everything we know.
What to expect from the Fortnite x Invincible crossover
Every relevant leaker in the Fortnite scene got ahold of the latest significant collaboration during the Fortnite OG downtime. The details included various cosmetics themed to the show 'Invincible,' which chronicles the story of Omni-Man—a superhero from the planet Viltrumite.
The Fortnite skins cover three heroes: Omni-Man, Invincible, and Atom Eve. Additionally, faithful viewers of the show will notice the various other cosmetics as nods to the source material.
Here's a showcase of all Fortnite x Invincible cosmetics via HYPEX:
Invincible Outfit

Invincible Hero WrapOmni-Man Outfit

Omni-Man's Cape Back Bling

Omni-Man's Emblem Cape Back BlingAtom Eve Outfit

Burger Mart Bag Back Bling

Atom Eve Emblem Back Bling

Eve's Cape Back Bling

Atom Eve Emblem Cape Back Bling

Subatomic Swords PickaxeThe Immortal's Head Back Bling

War Woman's Mace Pickaxd

Reanimans Arm Pickaxe

Guardians of the Island Loading Screen

Fastest Fastball Emote
When will Omni-Man, Invincible, and Atom Eve come to the game?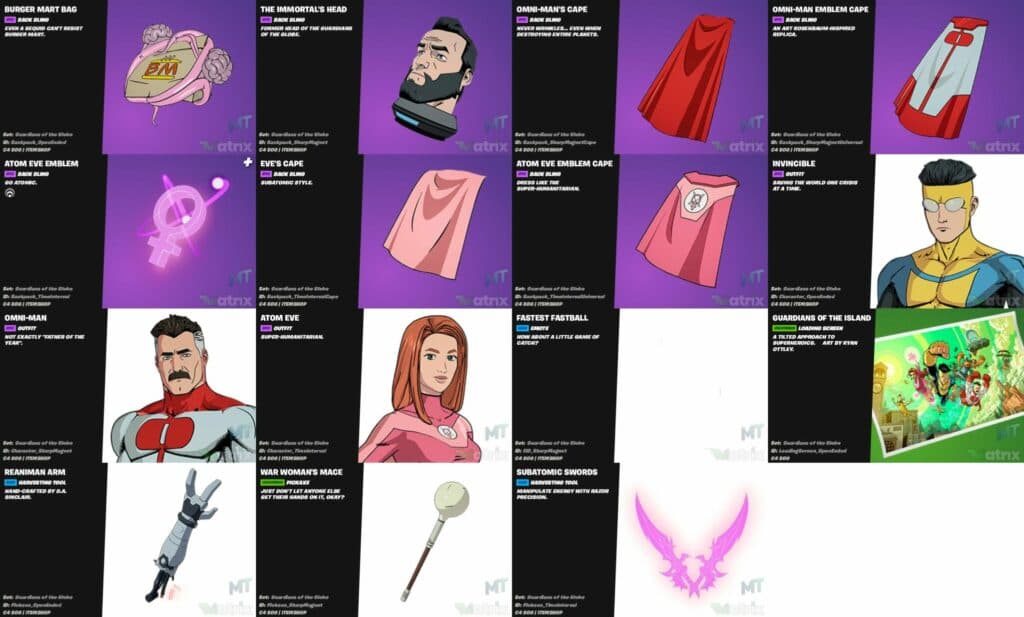 Image Credit: iFireMonkey
Fortnite leaker ShiinaBR has confirmed that the Fortnite x Invincible cosmetics, including everything listed above, will arrive in the Item Shop on November 24, 2023, at 7 p.m. ET.
We expect to hear more over the next few days since the crossover may appear in-game before Fortnite OG ends. Keep it here for more updates on the Invincible collaboration.