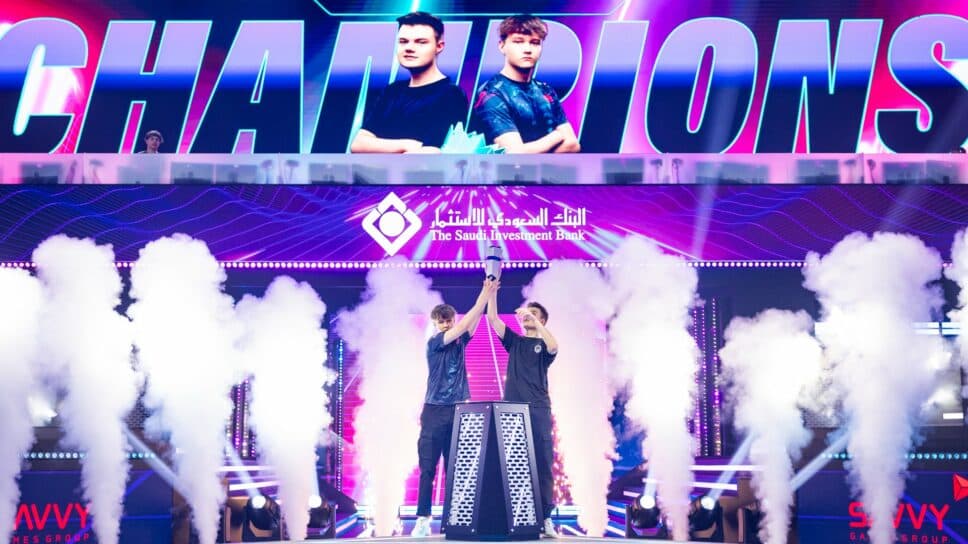 Gamers8 Fortnite 2023: Best moments and storylines
Here are some of the best moments and storylines from Gamers8 Fortnite 2023.
The action has concluded in Riyadh, Saudi Arabia, following four intense days of Gamers8 Fortnite Zero Build action. With $2M up for grabs, 44 talented duos played 18 matches across three days in pursuit of ultimate glory and the right to call themselves the Zero Build kings.
Here are some of the best moments and storylines from the Gamers8 Fortnite LAN competition.
Kami and Japko's brilliant strategy helped them win $500K at Gamers8 Fortnite 2023
The Polish tandem of Kami and Japko led after day one of the Gamers8 Fortnite Zero Build LAN and never looked back. While their two Victory Royales and 87 eliminations helped their cause, a healing strategy proved the difference maker.
Kami and Japko dropped at the Frenzy Fields point of interest (POI) and utilized the "Remedy" non-player character (NPC). This character continuously healed the two players while they endured storm damage.
In a post-tournament interview, Kami said the NPC was "important," the two were glad the Remedy moved from a different location to Frenzy Fields.
This strategy, combined with the two eventually sporting the Remedy outfit themselves, allowed Kami and Japko to compile placement points consistently, leading them to victory.
Kami is the Fortnite LAN king
Image Credit: Epic Games
While on the topic of Kami, it's worth discussing his incredible record at in-person events. Since DreamHack Summer 2022, Kami has been the most consistent LAN performer in the world.
His record includes a second, third, sixth, first, 15th, 19th, 16th, 11th, fourth, fifth, and first. Those impressive results give Kami an average placement of 7.5 across 11 Zero Build and Battle Royale tournaments.
Kami has proven himself in both game modes, making him the best LAN player in Fortnite.
Setty competes after a severe head injury and finishes 21st at Gamers8 Fortnite 2023
Professional Fortnite player Iwo "Tundra Setty" Zając had an unlikely start to the Gamers8 Fortnite weekend. Ahead of the tournament, the FNCS Invitational 2022 Champion suffered a severe head injury, requiring a hospital visit and headwrap.
Despite the setback, Setty and teammate Tai "Falcon TaySon" Starčič put their best foot forward. After two less-than-ideal days, Setty and TaySon earned a Victory Royale in game 17. Ultimately, Setty and TaySon finished 21st, earning them $8.1K each.
While it may not be the desired result, Setty's resilience through an untimely head injury proved his unrivaled determination.
Middle Eastern duos came to play
The overabundance of North American and European duos led many to believe both regions would dominate the Gamers8 Fortnite LAN. However, a pair of Middle Eastern tandems had different plans under the massive spotlight.
First, we have Hero and FHD, a pair that earned their spot in the tournament on Thursday via the last-chance Middle Eastern qualifier. The two players won three of five matches on Thursday to qualify and carried that momentum into a second-place result and $300K in prize money.
Escdark and GntL is the other Middle Eastern duo delivered in the Gamers8 Fortnite Zero Build Finals. After winning two matches on day two, the pair sat second on the leaderboard. Another solid effort on day three landed Escdark and GntL in third, netting them $100K each.
---