Fortnite x The Kid LAROI Wild Dreams concert revealed with Icon Series set
The highly-anticipated Fortnite x The Kid LAROI collaboration has been revealed, including a concert, Icon Series set, and tournament.
Get your finest outfit combination ready for the upcoming Fortnite x The Kid LAROI collaboration. Following weeks of rumors and leaks, Epic Games has unveiled The Kid LAROI's in-game concert, dubbed "Wild Dreams." The event is set to begin on Jan. 27 at 3 p.m. PST. Additionally, Epic Games has revealed The Kid LAROI's Icon Series collection. 
Here are all the details regarding the artist's Fortnite set and what you can expect in the Wild Dreams and the Kid LAROI Cup, where players can unlock the skins early.
How to attend The Kid LAROI's Wild Dreams concert + Afterparty 
The Australian hip hop artist, known best for his chart-topping track "Stay" alongside Justin Bieber, joins
Fortnite Battle Royale
on Jan. 27. In what Epic describes as a "sonic experience," the Wild Dreams concert documents the Kid LAROI's journey to superstardom. 
New tracks from LAROI are expected to debut during this event, including "Love Again" and three unreleased songs. The concert is available to all Fortnite players from Jan. 27 at 3 p.m. PST until April 27 at 3 p.m. PST. Afterward, you can stick around for the Afterparty to continue listening to the Wild Dreams setlist and explore the landscape.
Sprays & Lobby Tracks
Loading Screen
Players can also complete The Kid LAROI's Wild Dreams Quests to earn XP, two Lobby Tracks, a Loading Screen, and two Sprays (pictured above). These Quests will be available in the Wild Dreams concert (island code 2601-0606-9081) and Afterparty (island code 4294-0410-6136) from Jan. 27 at 3 p.m. PST until Feb. 3.
Fortnite x the Kid LAROI Icon Series set revealed
Fortnite's Icon Series, which also features Ariana Grande and J Balvin, has added The Kid LAROI as its latest member. The Australian rap artist collaborated with Epic Games to produce two separate outfits and various accessories. You can pick up any of these items beginning Jan. 26 at 7 p.m. EST.
While the cost is unknown, we can expect them to ring in between 1,200 to 2,000 V-Bucks. Here's a look at the Fortnite x The Kid LAROI Icon Series:
The Kid LAROI Outfit + accessories
The Kid LAROI outfit with an Electrified style
Get My Bag Back Bling with Left Alone style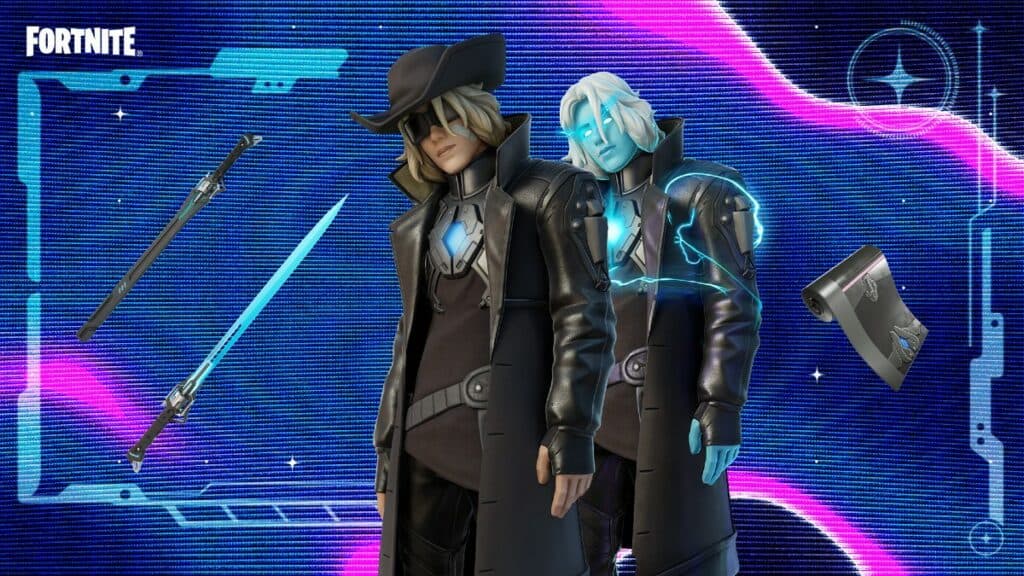 The Rogue LAROI Outfit + accessories
The Rogue LAROI outfit with Electrified style
Tragic BLADE Back Bling and Pickaxe
LAROI Free Style Wrap
The Kid LAROI Lobby Track + Emotes
Stay Afloat Emote
Heart of a King Emote
Stay Lobby Track
Wild Dreams Loading Screen (included in LAROI's Party Starter Bundle)
Play in The Kid LAROI Cup to earn an in-game set early
Grab a duo partner for Fortnite's The Kid LAROI Cup, where you can unlock the Icon Series before they hit the item shop. The tournament goes live on Jan. 24. Participants can play up to ten matches across three hours. Those who place highly in their region will receive the following items as a prize (also pictured above):
The Kid LAROI Outfit (+ Get My Bag Back Bling)
The Rogue LAROI Outfit (+ Tragic BLADE Back Bling/Pickaxe)
Additionally, competitors who earn at least eight points will unlock the LAROI Banner Icon and Smile Emoticon.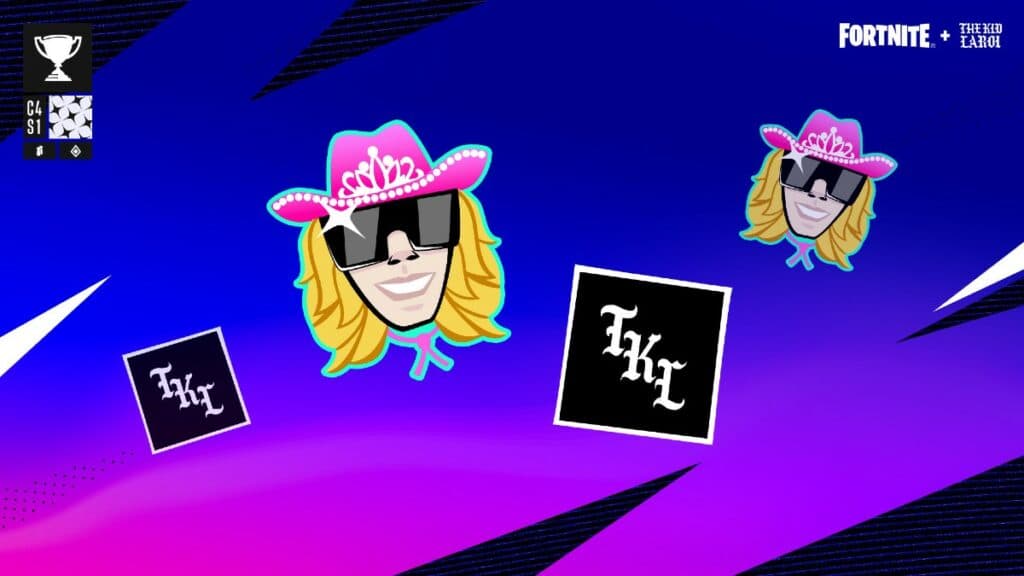 Unlock these items by earning eight points in the tournament
Here's a look at The Kid LAROI Cup's scoring system:
Victory Royale: 25 Points
2nd: 22 Points
3rd: 20 Points
4th: 18 Points
5th: 17 Points
6th: 16 Points
7th: 15 Points
8th: 14 Points
9th: 13 Points
10th: 12 Points
11th: 11 Points
12th: 10 Points
13th: 9 Points
14th: 8 Points
15th: 7 Points
16th: 6 Points
17th: 5 Points
18th-19th: 4 Points
20th-21st: 3 Points
22nd-23rd: 2 Points
24th-25th: 1 Point
Eliminations: 1 Point each
You can check out the tournament's
complete rule set
for more information. Remember, to be eligible; you must have two-factor authentication (2FA) applied to your Fortnite account.
---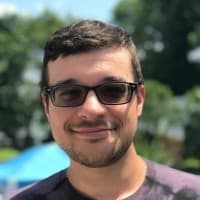 Matthew "MJP" Pryor
Matt "MJP" Pryor began following esports in 2008 when Halo 3 was on top of the world. He is now a Fortnite fanatic who has watched the game's casual and competitive development since the 2019 Fortnite World Cup. Matt plays the game often while reporting on everything from skin collaborations to tournaments and everything in between.