Learn how you can participate in the Fortnite Refer-A-Friend program, where you can complete tasks to unlock free rewards.
The Fortnite Refer-A-Friend program is back, and it's your chance to earn some free rewards. Starting today, active Fortnite players who bring back friends via the Refer-A-Friend program can unlock a unique cosmetic outfit and more. Furthermore, participants have a whopping six months to meet the program's criteria and thus secure the various rewards.
Today, we'll explain how you can enroll in Fortnite Refer-A-Friend in 2022 and what you'll need to accomplish to earn those cosmetic items. Here's everything you need to know about the program.
Fortnite Refer-A-Friend 2022: How to register
Beginning today, as long as you're an active Fortnite player, you can head to the Refer-A-Friend website and start your journey. First, you must log in to your Epic Games account and click the "Earn the Outfit" button, which will require you to enter your account information. Next, you'll see a list of tasks available to complete — each of which earns you a specific cosmetic.
Before we get there, here's a quick recap of how to enroll in Refer-A-Friend:
Log in to your Epic Games account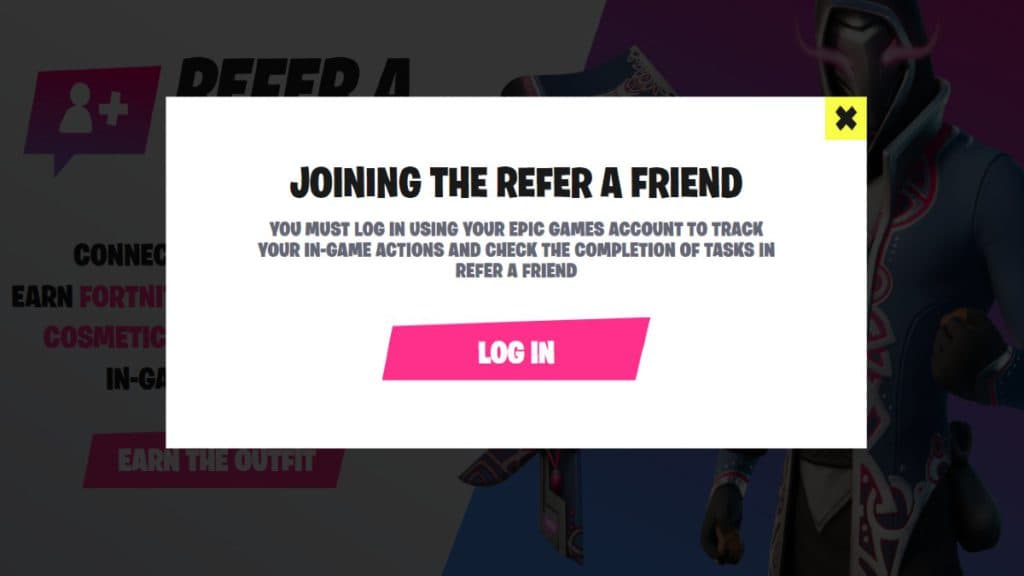 Ensure that you can see the various challenges listed on the website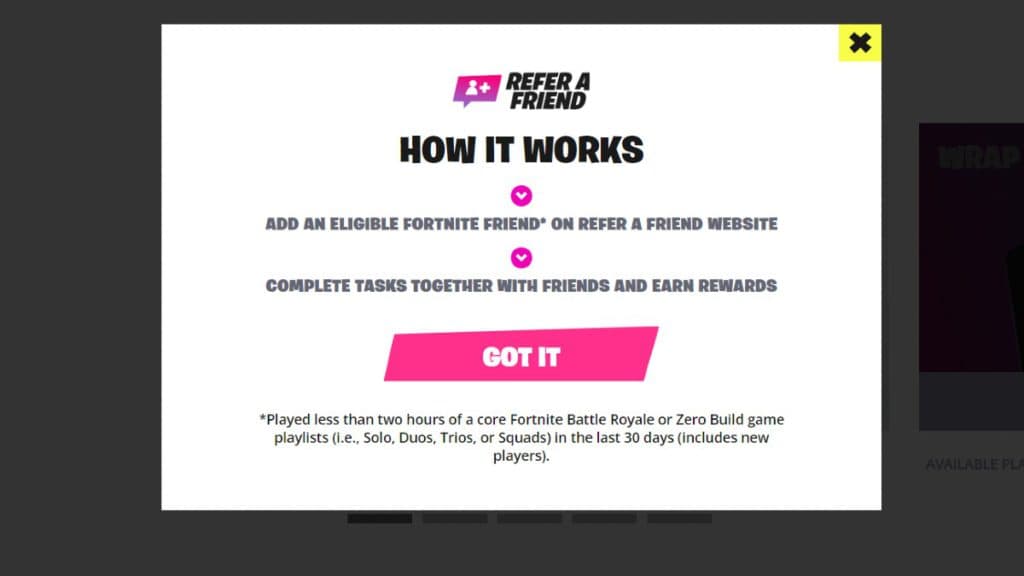 It's worth noting that your "referred" friend must have played less than two hours of a core Fortnite Battle Royale or Zero Build game playlist in the last 30 days for eligibility.
How to unlock every reward
The Fortnite Refer-A-Friend program rewards
You can acquire five cosmetic items via the Refer-A-Friend program this year. The tasks listed include friending someone who meets the prerequisite listed above. Moreover, it may take some time to unlock all five items due to the challenging quest to secure the Xander outfit.
Here is a complete list of the Refer-A-Friend rewards and how to get all of them:
Spray: Create a connection
Wrap: Play one game of Fortnite with a referee
Back Bling: Place top ten six times with your referee
Pickaxe: Eliminate 45 opponents with your friend
Outfit: Gain plus 60 levels on your own and wait for your referee to gain plus 60 levels
Remember, you have six months to complete the program. As a result, that should give you plenty of time to bring a friend back to Fortnite and knock out the five tasks. It's unclear whether these cosmetic items will be available in the Item Shop or outside Fortnite Refer-A-Friend 2022. Regardless, be sure to capitalize on this opportunity, and perhaps you'll find a few friends who will rekindle their enjoyment of Fortnite Battle Royale or Zero Build.