DreamHack has announced two Fortnite LAN competitions bolstering $100K prize pools at their Atlanta and Winter events this November.
The two events will occur in November, respectively, in Atlanta, GA and Jonkoping, Sweden. These three-day events feature the usual bring your own computer (BYOC) tournament format and is open to all players. Furthermore, the Fortnite competitions at DreamHack Atlanta and Dreamhack Winter offer $100K USD prize pools.
As Fortnite continues its triumphant return to LAN, there's a lot to digest, and you can expect the best players to compete for a victory.
DreamHack Atlanta and Winter to feature $100K Fortnite Battle Royale competitions
After going quiet following the success of DreamHack Summer, the tournament organizers returned today with an unexpected announcement. Fortnite is back on LAN at the well-received DreamHack festivals in the usual BYOC setup.
"We know you've been asking and we've been listening so today we're excited to announce Fortnite will be at 2 events this year – DreamHack Atlanta, and DreamHack Winter! $100,000 will be up for grabs at each of the festival stops, allowing anyone who joins us on-site with a BYOC LAN ticket a chance to win the lion's share of the prize pool!"
DreamHack statement about upcoming Fortnite competitions
Unlike DreamHack Summer, these events will not feature a Zero Build tournament. Instead, DreamHack is set to host only traditional Battle Royale competitions at the Atlanta and Winter events.
Tournament format, prize breakdown, key dates, how to register & more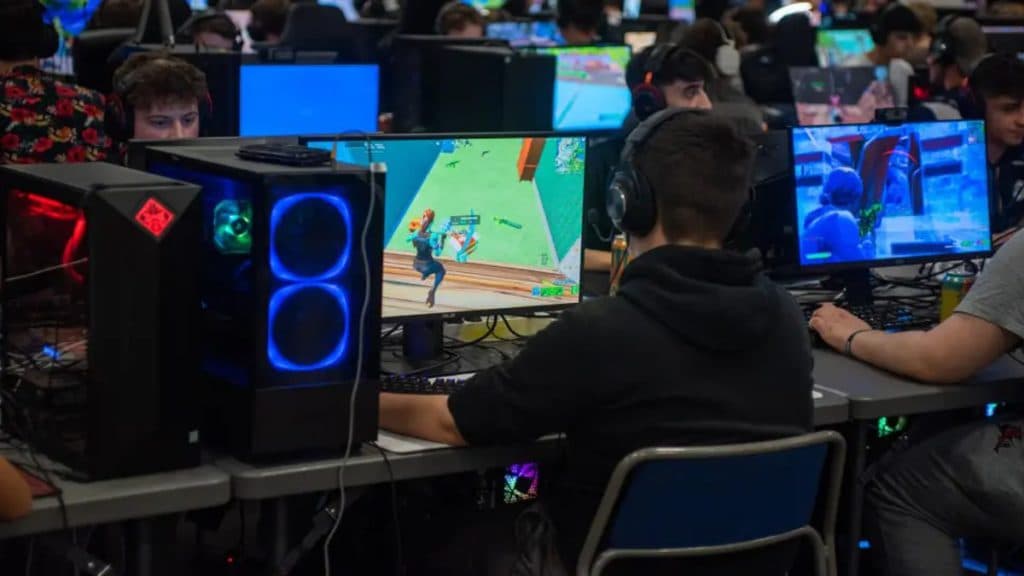 The competition at DreamHack Summer
Those looking to attend cannot sign up for the tournament until mid-October, according to DreamHack's website. However, you will need a LAN ticket and a computer to compete in the DreamHack Open featuring Fortnite. Check back later this month on DreamHack's website to register.
DreamHack provided details regarding each tournament's format, point system, and prize pool. Here is what we gathered from the information:
Format
Solo tournaments
Four preliminary heats
The top 25 players per heat advance to the Finals
Dates for Fortnite DreamHack Atlanta
Location: Georgia World Congress, Atlanta GA
Heat 1 & 2: Friday, November 18th
Heat 3 & 4: Saturday, November 19th
Finals: Sunday, November 20th
Dates for Fortnite DreamHack Winter
Location:
Heat 1 & 2: Friday, November 25th
Heat 3 & 4: Saturday, November 26th
Finals: Sunday, November 27th
Heats Point System
1st – 60
2nd – 53
3rd – 49
4th – 47
5th – 46
6th – 45
7th – 44
…
50th – 1
3 points per elimination
Finals Point System
1st – 60
2nd – 53
3rd – 49
4th – 47
5th – 46
6th – 45
7th – 44
…
50th – 1
5 points per elimination
Prize Breakdown
1st: $12,000.00
2nd: $6,000.00
3rd: $5,500.00
4th: $5,000.00
5th: $4,500.00
6th: $4,000.00
7th: $3,700.00
8th: $3,400.00
9th: $3,100.00
10th: $2,800.00
11th: $2,500.00
12th: $1,900.00
13th: $1,800.00
14th: $1,700.00
15th: $1,600.00
16th: $1,500.00
17th: $1,400.00
18th: $1,300.00
19th: $1,200.00
20th: $1,100.00
21-30th: $1,000.00
31-35th: $800.00
36-40th: $700.00
41-50th: $400.00
51-75th: $300.00
76-100th: $200.00
---