Combo Breaker officially returns in 2022! Organizers revealed the date, location, and game line-up for this year's FGC major. [Image: Combo Breaker]
Combo Breaker announced the date, location, and more information on this year's event. Created by new EVO General Manager Rick "The Hadou" Thiher, it's been an FGC staple of the Chicagoland area since 2015.
The event quickly evolved into one of North America's largest tournaments, attracting players from across the world. Combo Breaker has gone on to create many legendary moments that are now part of fighting game history. After today's announcement, the FGC can't wait for more in 2022.
When is the event taking place?
Fighting game players everywhere are clearing their schedules for Memorial Day weekend. Combo Breaker is set for May 27-29, just in time to kick off the summer.
The Renaissance Schaumberg Convention Center Hotel will host the tournament in a 24-hour venue. The hotel is Schaumberg, Illinois, just north of Chicago and only 12 miles from O'Hare International Airport.
Combo Breaker's Long-Awaited Return
This year will see Combo Breaker making its first appearance in the new decade. Due to the COVID-19 pandemic, organizers canceled each of the past two years. Now, the illustrious tournament is making its triumphant return in 2022.
Combo Breaker is a routine stop for competitive circuits like the Capcom Pro Tour, Tekken World Tour, and NRS Pro Series. With high stakes and prize pools, top players typically see it as a must-attend event.
Combo Breaker 2019 was the one of the most memorable fighting game tournaments ever. Along with many other highlights, it featured the most exciting Top 8 for Tekken 7 ever. A raucous crowd stole the show, displaying the FGC's intensity and passion. It even led to this iconic photo: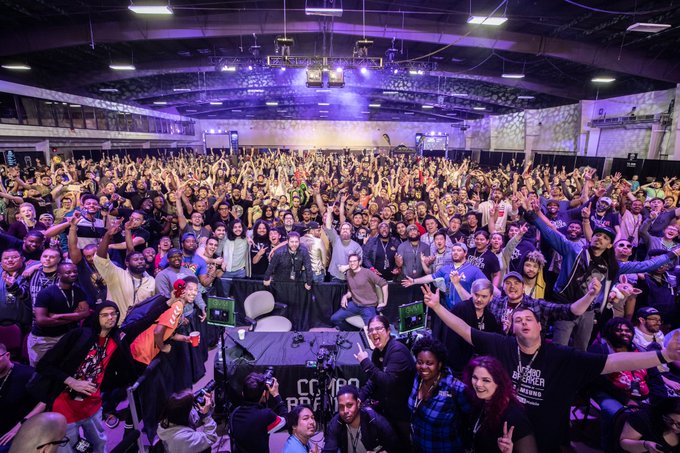 What Games will be at Combo Breaker 2022?
Players from across the United States are preparing to gather once again to compete in their favorite fighting games. If attendance for CEO 2021 is any indication, plenty of international players will also make the trip overseas. Expect to see many of the world's best competitors battling it out in bracket. Combo Breaker's open-bracket format even gives unknown players an equal chance at glory.
Here is the main game lineup for Combo Breaker 2022:
Street Fighter V: Champion Edition
Tekken 7
Guilty Gear -Strive-
Mortal Kombat 11
Dragon Ball FighterZ
The King of Fighters XV
Skullgirls
Ultimate Marvel vs. Capcom 3
Killer Instinct
Soulcalibur VI
Melty Blood: Type Lumina
Granblue Fantasy Versus
Under Night In-Birth
BlazBlue: Central Fiction
Super Smash Bros. Ultmate
Brawlhalla
Nickelodeon All-Star Brawl
Street Fighter II Turbo
Street Fighter III: 3rd Strike
TMNT x Justice League Turbo
Bloody Roar: Primal Fury
Them's Fightin' Herds
Also set to return is Chicago's Famous Mystery Game Tournament, where entrants play a different game each round. Other planned activities include over 60 setups for casual games, vendor and artist stations, and a cosplay contest. There will likely be even more community events, such as brackets for games not featured above.
Registry for Combo Breaker 2022 is now open. Hurry and register soon, as there is a cap of 6,000 total entrants. For more information on the entire event, visit Combo Breaker's official site.
For more FGC news and features, follow Esports.gg.