Evo 2022 kicks off this weekend, but for Fighting Game weebs, you'll want to wait a little longer.
Evo is the fighting game tournament that scores all the headlines, and for good reason. But if prefer your Melty Blood to your Mortal Kombat, and your Skullgirls to your Street Fighter, then CEOtaku 2022 might be for you.
Featuring 16 different games, CEOtaku 2022 takes place between September 23rd and September 25th, 2022, at the Wyndham Orlando Resort in Orlando Florida. The latest even into the CEO series of FGC events, directed by Alex Jabailey, CEOtaku does exactly what it says on the tin in catering to FGC fans who prefer the anime style of fighting game.
And this isn't just limited to video games. The event features, if you can believe it, an actual physical Beyblade tournament. Even if you've not got your own Beyblade to bring, the event's rules website assures us that "If you do not have your own Beyblade weapons of choice, we will have parts for free to borrow with a Photo ID." So get ready to "let it RIP!"
CEOtaku is more than just a FGC event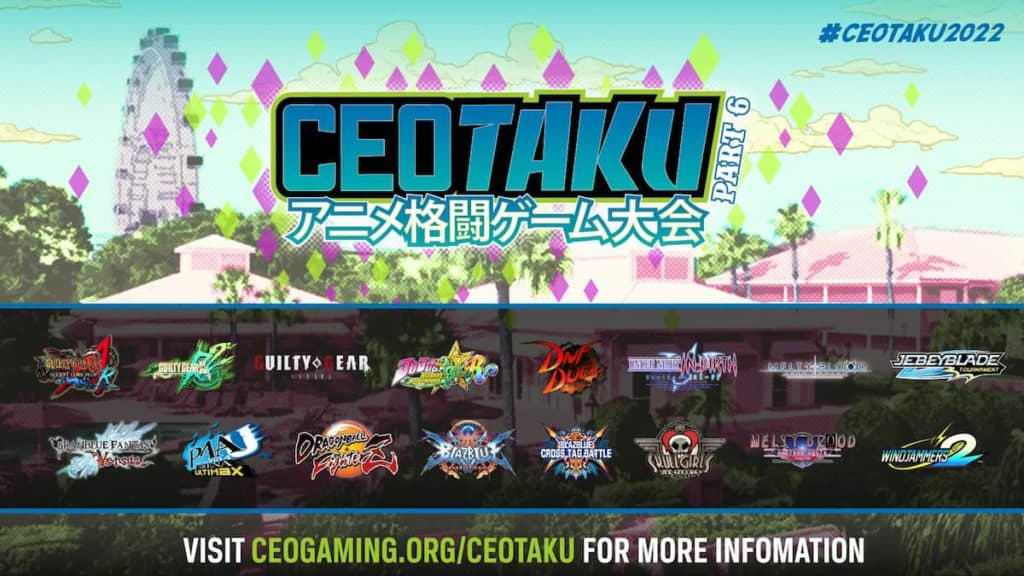 (Image via CEO Gaming)
Returning to video games, and you're certainly not starved for choice. The lineup includes:
BlazBlue Central Fiction (PS4)
BlazBlue: Cross Tag Battle (PS4)
DNF: Duel (PS4)
Dragon Ball FighterZ (PS4)
GranBlue: Fantasy Versus (PS4)
Guilty Gear Strive (PS4)
Guilty Gear XX Accent Core+R (PS3)
Guilty Gear Xrd Rev 2 (PS4)
JoJo's Bizarre Adventure: All-Star Battle R (PS4)
Melty Blood Actress Again Current Code (PC)
Melty Blood: Tyle Lumina (PS4)
Persona 4 Arena Ultimax (PS4)
Skullgirls 2nd Encore (PS4)
Under Night In-Birth Exe: Late[cl-r] (PS4)
WindJammers 2 (PS4)
With 15 different titles to enter, there's a plethora of game styles from recognisable classics, to modern relaunches. Persona 4 Arena Ultimax, a highly nuanced fighting game with some unique systems, recently got a re-release on PC and modern platforms, and has seen it's community grow since then. While Dragon Ball FighterZ is something that almost everyone even casually knowledgeable about the FGC would recognise.
But not to underplay the Otaku side of CEOtaku, the event is more than just games. A Cosplay Contest, Maid Cafe Experience, Artists Alley, Vendors, Open TableTop games, side events, and a lot more makes this event as much of an anime convention as it is a FGC event. Honestly, it sounds like a match made in heaven.