FIDE's $1 million World Chess Championship for Rapid and Blitz is coming soon. Find out more details and keep track with the countdown here.
Brace yourself for FIDE's $1 million World Rapid and Blitz Chess Championship - one of the biggest, speediest Chess tournaments of the year featuring the world's best. Among the participants are Magnus Carlsen, Hikaru Nakamura, and even the controversial Hans Niemann. The World Blitz and Rapid Chess Championship will arrive in Almaty, Kazakhstan this December 26th, 2022.
Countdown [🔴LIVE]
All about the World Rapid and Blitz Chess Championship
This prestigious championship, described as "the icing on the cake" of FIDE's 2022 calendar gathers 95% of the world's top Chess players. Over 300 Chess elites hailing from 50 nations would be in Kazakhstan for the event.
The World Blitz and Rapid Championship also provides a massive $1 million USD prize pool with $700K going to the Open category and $300K to the Women's category.
Participants
The top 40 players (Open and Women categories) for Blitz and Rapid are invited to the championship. Among the list are the most notable Chess stars including world champion, Magnus Carlsen and the Blitz king, Hikaru Nakamura. Reigning champions for the Women's category, Alexandra Kosteniuk and Bibisara Assaubayeva will also defend their title in this upcoming championship.
The pair might play against each other in this tournament and the community anticipates the collision, wondering if their matchup will happen at all. Because the last time they clashed, Carlsen resigned after one move.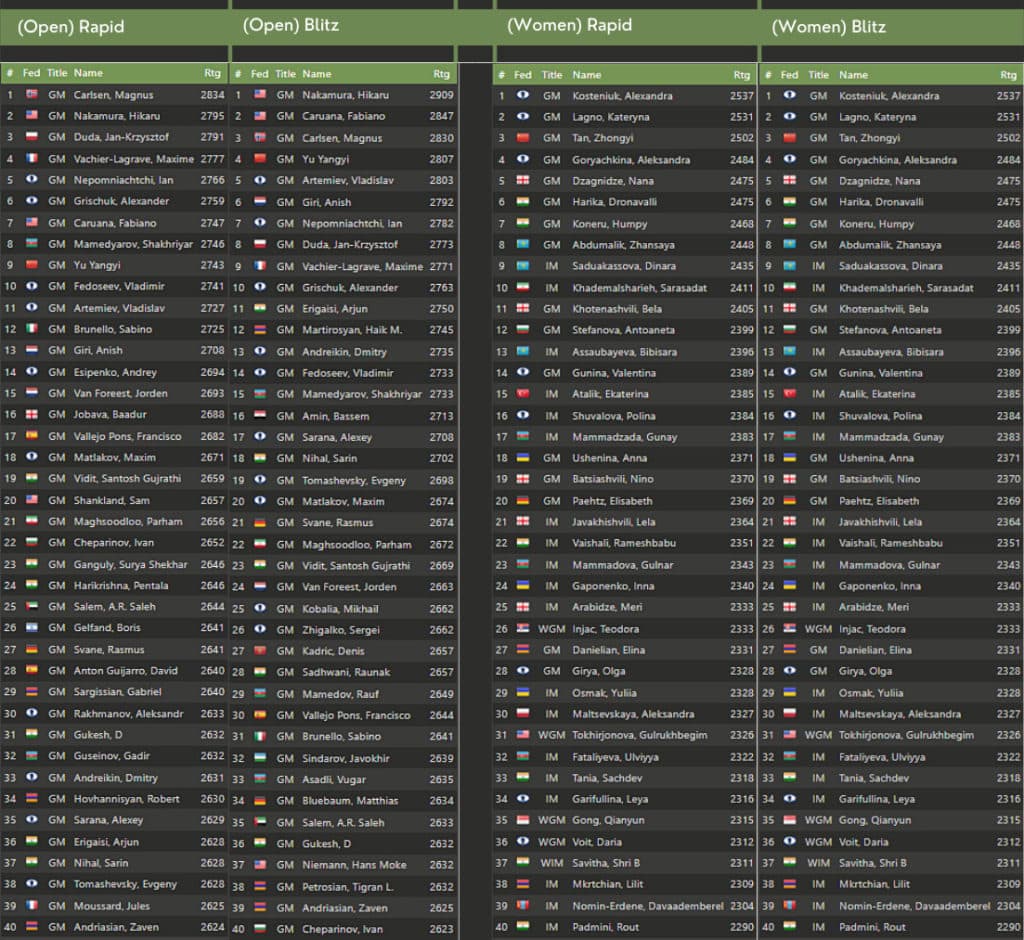 Compiled from Chess.com
There are also some notable players missing from the participant list. Top players like Alireza Firouzja and Wesley So are not taking part in the World Rapid and Blitz 2022.
Date and time
The championship will take place from December 26th to December 30th, occupying the final days of 2022 as per tradition. The opening and closing ceremonies will accompany the event a day before and after.
Opening ceremony - Dec 25th: 7:30 PM Almaty Timezone (9:30 PM SGT/5:30 AM PT)
Tournament - Dec 26th to Dec 30th
Closing ceremony - Dec 31st: 8:00 PM Almaty Timezone (10:00 PM SGT/6:00 AM PT)
You can find more schedule details for World Rapid and Blitz Championship here.
Where to watch