ESI co-founder and managing director Sam Cooke spoke to Esports.gg ahead of next week's ESI London 2022 event. #partnership
From September 5th until September 7th, ESI London 2022 will take place in the BOXPARK in Wembley, London, England. One of the largest industry festivals ever, the Esports Insider's London event represents one of the best opportunities in 2022 for esports industry networking, education, and progress.
This piece was powered by ESI London
We sat down with Esports Insider's managing director and co-founder Sam Cooke to talk about the upcoming ESI London 2022 event. He spoke about everything there was to look forward to, and some of the potential highlights. We also took the opportunity to ask Sam about some more general esports insights from someone who's specialized in the business side of the industry for years.
A primer on Esports Insider
Thank you for speaking to me. I thought I would start off the interview with just a bit of what is Esports Insider? What are you guys all about for people that might not know?
Sam Cooke: "Yeah, of course. So I guess these days, we try to be the home of esports business as best we can. We started off as esportsinsider.com, for which I think we're still best known, which is b2b coverage of the esports industry at large, as top to bottom as we can, and as globally as we can. That started off a good few years ago now we launched in August 2016. With myself as a journalist/editor, Oliver Ring, if you know him through Dota 2 circles or whatnot, and Michael "ducky" Moriarty was one of the first freelance writers we hired. And he's off with Wolves now.
That's how we started, that's how we started life. It was covering the business of esports. And in 2016 it was challenging in a different way. In that we had to kind of like, not scrap, but we had to try to find stories.
The likes of Story Mob and Swipe Right PR didn't really exist, or barely existed. And most certainly not in-house for the vast majority of esports companies. So it was looking on Reddit, Twitter. It was knowing people, it was being in the DMs, etc.
"In 2016 it was challenging in a different way. In that we had to kind of like, not scrap, but we had to try to find stories."
Sam Cooke on Esports Insider's early days
Finding these stories has certainly developed and changed over the years to an extent. Now it's like we have to be more selective to some degree with what we are able to cover in terms of resources and size of the team. We've got Victor (Victor Frascarelli) in Brazil, now we've got writers in the US, we've got people that are in SEA. So esportsinsider.com tries to cover the business of eSports as best we can.
Now there's the other two arms of the company. There's the media business, which esportsinsider.com is a big part of, but we have white label services as well. There's the events business, which again, is very b2b focused. And then there's Connect, which is the agency side of things. So brokerage, consultancy and strategy, and campaign content delivery as well.
The events have probably been the biggest bit of our monetization. The events has played a big role, at least it played a huge role up until COVID, where things obviously changed a bit. We started the b2b events about a year after we got going. And we spent the first year making a name for ourselves and meeting as many people as possible. Putting our name out there, basically. Then about a year in, we started the b2b events at fnatic when they had the bunker space that could be hired out quite easily.
"We've got behind closed doors roundtables. We've got the Clutch, our pitch investment competition, the Hall of Fame that's going on."
Sam Cooke on ESI London 2022
We did four of those I think that year. They were essentially afternoon through evening networking sessions where there'd be one panel. I think the first one was like football clubs and esports. Wouter Sljeiffers, who's now Excel was CEO, but he was one of the first people that I interviewed on camera. Yeah, and that was good. They were packed out. They were mostly networking focus, like very light on the content. But we always have at least one session, one panel session talking about one topic.
And then like about a year on from those, we started to grow those events out a bit into the more proper conferences, and that those have continued to develop. This year we've had Washington DC. We've had our first APAC event in Singapore. ESI London that's coming up is our biggest by far with like 15 main stage sessions, I think maybe more now.
We've got behind closed doors roundtables. We've got the Clutch, our pitch investment competition, the Hall of Fame that's going on. So that's been kind of the general growth of the business over the past five, six years."
Why an esports industry vertical?
As one of the founders of ESI, why did you feel like more of an industry-focused vertical was important as opposed to a more general outlet?
Sam: "It's a good question. So prior to ESI, how I got started, I was… I'm hesitant to use the word journalist. But I was a "content writer," at the very least. I was doing a bit of traveling after uni. I lived abroad in Taiwan and Hong Kong for a while. And around SEA and Europe. And just to earn a bit of money, like a bit of additional pocket money, essentially, as I was on the go. I was writing for a site called SBC News, which is a gambling industry b2b industry vertical.
For example when there's a new CEO at bet365, or when Betway partners with this football team or whatever, that's the kind of thing—SBC news, that's like their bread and butter. That's what they cover, I pitched to them to start covering esports through a betting lens, and through a b2b Betting lens around either late 2014, early 2015, something like that. When it was reasonably new, at least for many people. But then it was super new.
I started doing that for SBC. And then we essentially pitched the idea that we could do what SBC do, but for esports, and much more broad. So SBC did the b2b media events. They have about 10 to 12. And they did do some agency work, but it was the lighter touch. Because, honestly, gambling, I guess the way that it works is that the way money flows through the ecosystem is much more established, and everyone knows what it is right?
"So prior to ESI, how I got started, I was… I'm hesitant to use the word journalist. But I was a "content writer," at the very least."
Sam Cooke on his origin story
There's less of a need for those types of agency services in that industry than there is in esports, in my opinion. So essentially, it was born out of that. So I was already covering esports betting through a b2b lens for SBC, and then kind of noticed that there wasn't really that kind of thing or it was literally just getting started. But there wasn't really much going on in that way.
We obviously saw the growth of the wider industry through learning about how the bookmakers are starting to work with the teams, etc. And all these leagues that are popping up, and so on, and so forth. So kind of went from there.
And it just made more sense like knowing and having the foundation of SBC's business model to focus more on the b2b side with a site that would be revenue generating in and of itself for sure. That had the events element, which can be promoted via the site. And then which could be another, another vertical, which also I think was much needed, it still is much needed for the industry to continue to grow."
About ESI London 2022
(Image via ESI)
ESI London 2022 is being called one of your most important events yet. Do you have a few reasons why this year is so important and so big?
Sam: "Yeah, absolutely. I mean, like, going back a little while now to early 2020, we had eight events planned for that year. So we were going to have our second New York show. Our first New York show in 2019 was really good. And we had our second one booked, the venue was all booked, and it was good to go with the sponsors, etc.
So we were going to do New York, we were going to then have our first Asia show in Manila. We were planning a big ESI London that year. We were going to do—when TI was going to be in Stockholm—we were looking at doing a few cool kinds of differently positioned events around that as well. And we'd hired venues, booked, it's going to be great. And I was really excited about that, in particular, because even though that was not my game Stockholm is a great place. We had what was going to be our biggest breakout events year planned.
And then obviously COVID. And it was a case for a while of like, "oh, we'll just push New York to Q3 or Q4. Then before long, it was kind of like, "okay, we need to indefinitely suspend the events until further notice." So last year, we had ESI London in November, at BOXPARK. Wembley. But it was the top floor. It was the top floor only, where there was a separate room which we made our conference room. And it was good, it was. We were aiming for 400 attendees, and we surpassed that very late on.
Because everyone's ticket buying habits have definitely changed. Now, every event organizer from across different industries that were spoken to everyone, except sports, said the same thing. And I think that's a post-COVID habit change that people now buy their tickets a week before, a few days before, as opposed to like a month before. For business events at least, I guess that that fear of cancellations still is in people's heads to some degree even though it's like so unlikely now at least here and now.
"I think that's a post-COVID habit change that people now buy their tickets like, a week before, a few days before, as opposed to like a month before."
Sam Cooke on post-COVID ticket buying habits
So yeah, that was how ESI ended last year. And now we've taken over the whole venue for ESI London 2022. So BOXPARK Wembley, we have the exhibition zone downstairs, we have the main stage downstairs. That space that we used as the conference room last year is now the media lounge with the Story Mob, and a breakout sessions room for these roundtables. One which is on the push to go carbon neutral, initiatives like the Green Games Jam. And basically the environmentally friendly messaging going out and a commitment to that from Ubisoft from a lot of the big publishers and devs bringing it into their games. And trying to do something about it as an industry or as Esports as a whole.
We've got another one with Warwick University on higher education or eSports place in higher education institutions. And that's both curricular and extracurricular. So both the full on uni courses that we've seen, that have had issues, through to the modules, through to the unis that are just approaching it from an extracurricular stance, and so on. So that again, that will be a roundtable discussion, like, behind closed doors, so people can speak freely, like nothing they say, will be tweeted, or blah, blah, blah. And the aim for that is to establish best practices going forward.
We've got 30+ esports team execs/c-suite level employees attending and involved in speaking in some way, shape, or form. These roundtables, which we hope will be a new part of our events to actually spur some positive change. And, of course, networking. We always try to make sure the networking is fun.
And it's a friendly atmosphere. It's a welcoming atmosphere as well, in that we've got a safe space in a separate space, which will be available for people throughout the two days. For those that just need a bit of that downtime away from all that noise and madness. So that space is with WIGI and Swipe Right that will be monitored and managed throughout the two days. We've got the Clutch, the pitch investment competition, and the Hall of Fame. There's a lot going on"
The "can't miss" panel from ESI London 2022
So I mean, you've actually pre-empted my two next questions in a way which is fantastic because at least we know that the interview is flowing perfectly. But if you had to pick a preview of any one panel from ESI London 2022, perhaps that is going to be the must-see panel of the event, what would it be?
Sam: "It's a very good question. I mean, there's a couple that obviously depends on what angle you're coming at it from. But there's our opening panel, our keynote talk, but what is the opening panel is with Mario (Mario "DjMaRiiO" Alfonso Garrido) from DUX gaming. The topic of the actual panel session is called The Esports Team Identity Conundrum, right? So what actually defines an esports team? What is an esports team? What sets one apart from another and how does one define themselves? We've been clear on this that we don't want this to be focused on a sort of commercial lens. We're talking about brand identity and like who you are, why is someone a Team Liquid fan? Why is someone a FlyQuest fan? Why is someone a DUX fan?
So we've got some we've got Mario from DUX. We've got Claire (Claire Hungate) CEO and president at Team Liquid, we've got Heather (Heather Dower) from Hot Drop, and we've got Kelly (Kelly Ong) from Alliance, and Rory (Rory Nicklin) from Story Mob moderating. So it's a good strong session of speakers. That one I think will be really cool in that I think a lot of teams struggle with that, right is that there are so many esports teams.
I mean, it's obvious, we've always said this, a million times, but like I'm a Charlton Athletic fan, and I didn't get a choice in that, right? That was my granddad's team, he took me as a kid, and he was born there. And that was that and here I am now. But why is that? That was geographical, right? And that was family. And in eSports, obviously, that doesn't really exist, which is kind of cool, in a way. But then how does DUX separate themselves from Team Liquid? From Alliance?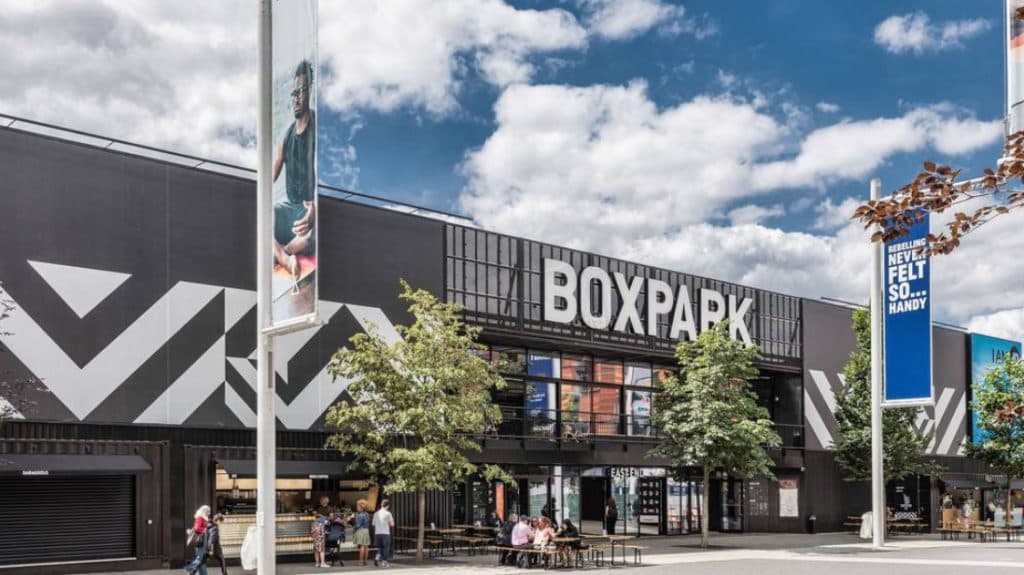 ESI London 2022's venue, the BOXPARK in Wembley (Image via WembleyPark.com)
Yeah, that session I think should be really cool. Because DUX, also I didn't realize this until very recently, on the football angle, DUX bought a Spanish football team that I think Courtois (Real Madrid goalkeeper Thibaut Courtois) is invested in. But DUX gaming started life as an Esports organization. Then they bought a football team, they bought a third-tier team. But this has barely been talked about, at least in English. I think a lot of the coverage is Spanish maybe. Maybe that's where all their fans are. So yeah, they bought a third tier Spanish football club that they're trying to build out now as an extension of their team, and that's quite cool. Part of their identity. Anyway, that session I think will be really good.
It does sound like an incredible event overall! I am hoping I will get myself down there. You've hyped me up incredibly for it! But moving away from the ESI London 2022 for a moment, I thought since I had one of the minds behind esports insider with me, Somebody who does appear on these panels. I'd take the chance to ask an esports industry question or two.
What's going wrong in the esports industry?
So one thing, it's hard not to notice, in general, at the moment has been a slight contraction in the industry, a lot of esport orgs making large layoff posting losses moving towards being sold. Do you feel this as an issue within eSports? Or is it a wider economic issue that everyone is facing?
Sam: "Yeah, that's a very good question. I think both to be honest with you. From my side, and this is certainly not me being like, "Oh, I knew this all along! Haha guys!" But I think this has been obvious to most people for a while, right? Like they've worked in this space. And it's unfortunately not that surprising to see.
I mean, I think this blew up whenever Overwatch came out, and then they announced the League about three days later. When that happens, off the back of that, the repercussions of that, and what the teams were valued at, and the insane height and level of expectation. And projections of like audience size, growth and revenues and such. I think that it is always going to be a problem for the industry, right? Because the industry was suddenly everywhere.
"It's unfortunately not that surprising to see."
Sam Cooke on recent esports industry issues
And then that was almost like it doubled down on with COVID. COVID stopped conventional sport meaning that esports was very much front and center and had more of a spotlight on it than it otherwise would have. I personally see this period as kind of an unfortunate, but also not unexpected course correction after esports blew up.
Some of these team valuations and other company valuations too. Don't get me wrong, but team valuation has been I guess, the juiciest bit that's making the headlines, right? These valuations are insane, like 40x of expected revenue is absolutely insane. And I think that is a problem. And obviously, player wages have climbed. To a ridiculous level that player wages have outpaced the wider revenue generation of teams and of the esports industry generally. Which makes it pretty unsustainable to run these teams.
Esports teams are expensive to run at the best of times. Like we can get into the whole media rights conversation, blah, blah, blah, and don't want to go down that rabbit hole. But that's obviously one big missing piece, essentially, for teams in terms of revenue generation. And then when they're having to pay ever higher wages to be able to compete at the top. And then when there's now these fees, franchise fees to compete in the top competitions, which you know, you have to be in if you want to get like EE, or Barclays, or whoever as your sponsor.
"To a ridiculous level that player wages have outpaced the wider revenue generation of teams and of the esports industry generally. Which makes it pretty unsustainable to run these teams. "
Sam Cooke on issues within esports as a whole
So part of it is the wider recession we find ourselves in or that is certainly coming in. I'm sure that will have an impact. And I'm sure sports will struggle as well. Especially that football clubs outside the Premier League should struggle, right? But esports because it grew faster than it maybe should have. And valuations grew faster than they should have. Certainly, in my opinion, for the most part. That is it's more of a problem in esports, for sure. But I don't think esports isn't going to suddenly stop exist then overnight, right? There'll be a bit of course, correction. I'm sure there will be some teams that don't make it."
The current state of esports journalism
The other thing I wanted to slightly pick your brain on is esports journalism and the models behind it. Esports Insider obviously has its online news platform, which is combination of like short, snappy industry headline pieces and longer form. But then you also have your premium outlet, which is the Esports Journal. Is that model self-sustaining? Do you think any esports journalism can be self-sustaining?
Sam: "Yeah, I mean, for us, because of our weird little niche of b2b esports I mean, who else really does that? Apart from the Esports Observer? Obviously, Observer was bought by Advance and is increasingly a part of the SBJ. And they do a very, very good job to be clear, in my opinion. But with us, the Journal, like the magazine, and like this site (esportsinsider.com), it washes its own face for sure. Is it making us a crazy ton of money? Hell no.
Obviously, we have the wider media business, we have the events business, and we have the agency business which kind of tie in in a very nice way. Alongside the site, the Journal, one kind of backs up and helps validate the other.
The dream for me, I guess one, one barometer, one indicator of when, when esports has, has "made it," whatever that means, would be something like the version of The Athletic working for esports content.
Sam Cooke on his personal measure of when esports has "made it"
So I think we're it's a very different conversation and talk about an esportsinsider.com as it is to a consumer and esports fan-facing outlet. Yeah, I think that the former, like where we are, it's certainly not easy. Don't get me wrong, but it's, we're differently positioned. Whereas I think for the latter like we've, we've seen it right, but so many sites have come and unfortunately haven't quite made it work and what it will take to make the change…
The dream for me, I guess one, one barometer, one indicator of when, when esports has, has "made it," whatever that means, would be something like the version of The Athletic working for esports content. Where that model is, to some degree, at least self-sustaining, where people are willing to pay for good written and video podcast content. When will that happen? I really don't I don't know. I hope so. But yeah, certainly it's a concern in time for journalism in space."
---
(Image via ESI)
ESI London 2022 will take place between September 5th and September 7th. Esports.gg is an official media partner of the event, and will be on-site to report and engage with the event.