4D Esports just dropped the dates of the upcoming Lima Major which will take place on February 22 until March 5. Read more to find out ticket sales date and the Major location!
The highly anticipated Lima Major for Dota 2 will conclude the Winter Tour where it pits the world's best Dota 2 teams together for lucrative prize money and hefty DPC points. In the midst of Winter Tour's week one of Dota Pro Circuit (DPC), 4D Esports, the host of Lima Major, finally dropped the tournament dates and location.
What are the dates for Lima Major?
The dates of Dota 2's Lima Major are February 22 - March 5, 2023.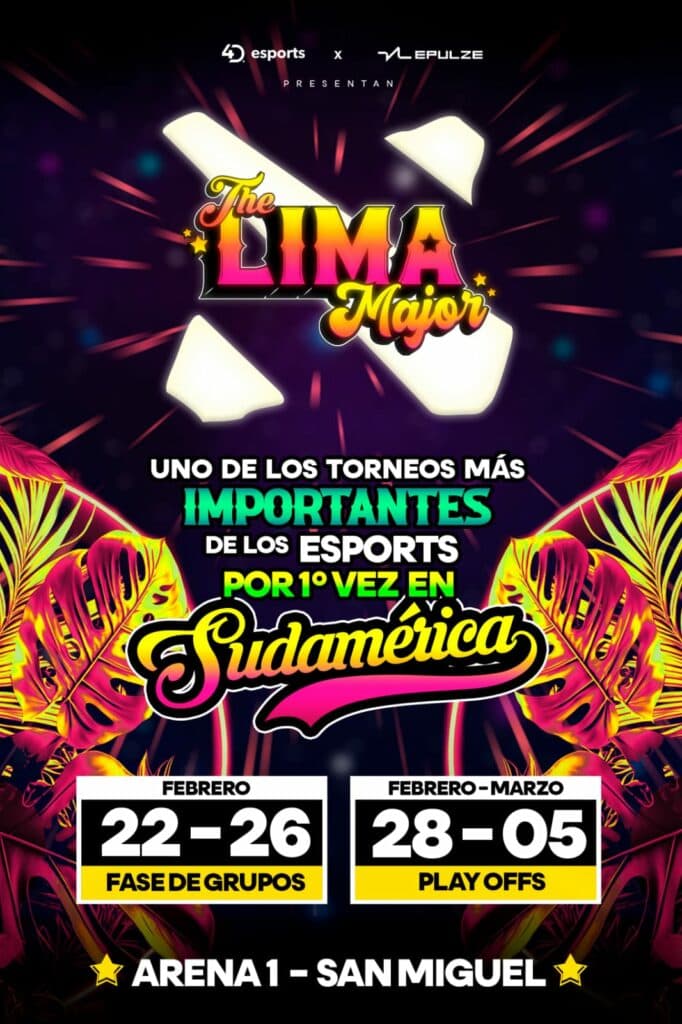 The official poster of Lima Major in the Spanish language.
4D Esports is working with EPULZE, the Swedish gaming organization, to host the first-ever Dota 2 Major in South America. On Twitter, the Spanish gaming community unveiled its plans to showcase the vibrant Peruvian culture in the upcoming Lima Major. The tournament commences on February 22 and the Major final will be on March 5, 2023.
Ticket prices for Lima Major
The tickets for Lima Major will go live on sale on Friday, January 13, 2023. Crack your knuckles and fasten your seatbelt because Lima Major tickets will likely sell out fast.
The Dota 2 Lima Major receives overwhelming reception.
UPDATE: The Lima Major's ticket prices have been revealed. The tickets will be in bundles and there is also an option to purchase a VIP bundle. 4D Esports stated that ticket purchases for individual days will be available in the days nearing the event. For ticket sales, there are four phases and the ticket prices slightly increase in each phase.
Phase 1 [Jan 1 - 19]
Tue-Fri bundle: $37 USD
Sat-Sun bundle: $42 USD
VIP full-week bundle: $132 USD
Phase 2 [Jan 20 - 26]
Tue-Fri bundle: $42 USD
Sat-Sun bundle: $50 USD
VIP full-week bundle: $159 USD
Phase 3 [Jan 27 - Feb 2]
Tue-Fri bundle: $50 USD
Sat-Sun bundle: $58 USD
VIP full-week bundle: $185 USD
Phase 4 [Feb 3 - Feb 5]
Tue-Fri bundle: $58 USD
Sat-Sun bundle: $66 USD
VIP full-week bundle: $212 USD
Lima Major will take place in Arena 1, Lima
The venue of Lima Major, where the crowd can spectate the event live, will be Arena 1, Lima - one of the biggest venues in the city. Arena 1 has a massive capacity of 15,000 attendees. If all tickets are sold out, which they will likely be, the crowd will be larger than TI11 in Singapore's Indoor Stadium which held around 12,000 attendees.
Take a look at how the venue looks below!
More info to be revealed
We are 42 days away from the exciting Lima Major and there is a sea of DPC matches waiting to fill the gap. 4D Esports will gradually release information regarding the event. Until then, stick around Esports.gg for more Dota 2 news!