The WePlay Animajor is the second Dota 2 Major of DPC 2021. There are eighteen teams competing for valuable DPC points and a $500,000 prize pool.
The WePlay Animajor is the second Dota 2 Major of the 2021 DPC season. After a lengthy season, the world's best Dota 2 teams have already arrived at Kyiv for the Major.
The WePlay Animajor will feature an anime-based theme Here's all you need to know about the anime-themed Dota 2 Major.
What is the WePlay Animajor format?
The Animajor has eighteen teams competing on LAN. The second LAN event of the Dota Pro Circuit Season features three stages: Wild Card, Group stage and playoffs. Each stage has six teams from the different regions.
The Wild Card stage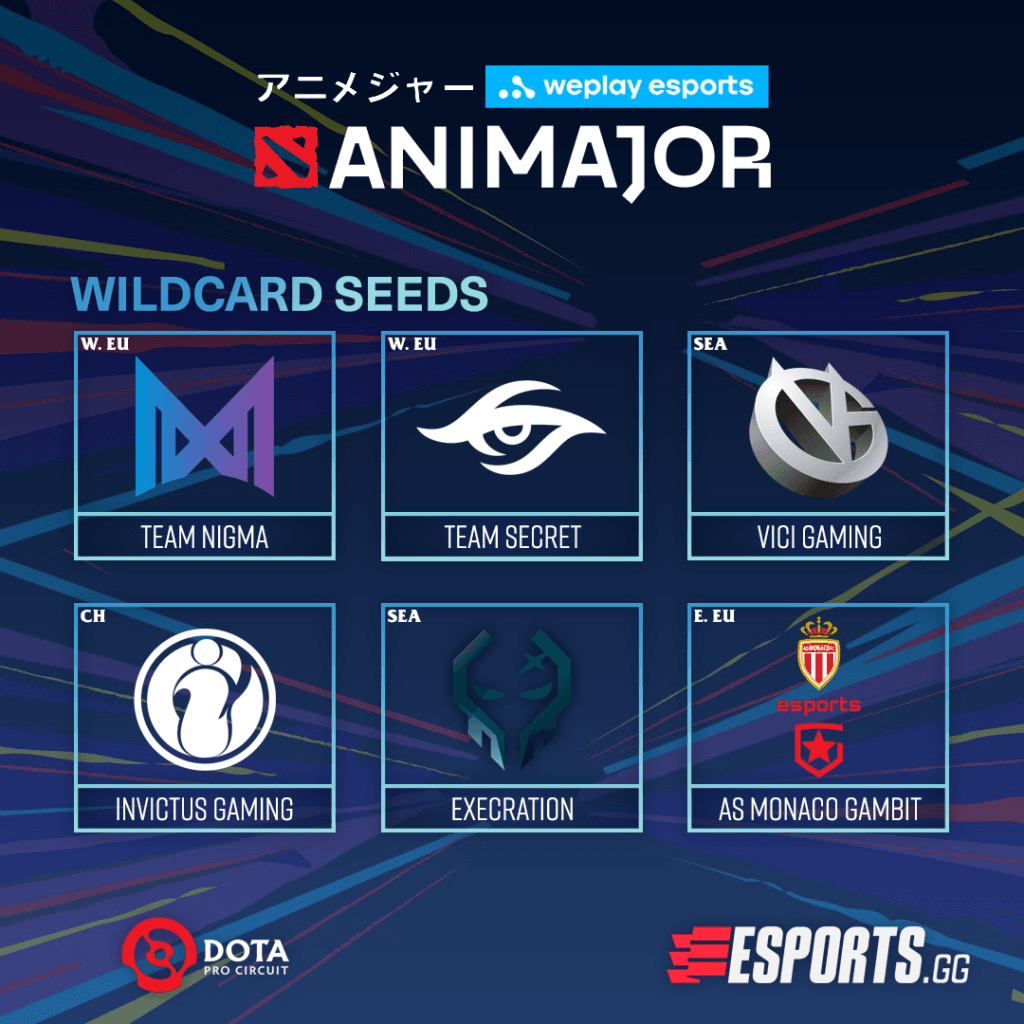 The WePlay Animajor Wild Card teams.
There are six teams that play in a round-robin group stage. The Wild Card stage features teams that could not make it to the top two in the regional competitions for the DPC season 2. Two teams from Western Europe, two teams from China, one from Eastern Europe and one SEA team comprise this stage.
The top two teams from the Wild Card stage advance to the group stage. The remaining four teams
The Group stage
The WePlay Animajor Group Stage teams.
The next stage, the group stage, has eight teams playing in a round-robin format. The group stage features the second-best Dota 2 teams from each of the six regions. The teams play best-of-two matches and the top two advance to the upper bracket of the Major playoffs. The next four teams will move on to the lower bracket of the Major.
Playoffs
The WePlay Animajor Playoffs teams.
The Playoffs upper bracket feature the best teams from each region. Joining these six teams will be the top two teams from the group stage. The lower bracket of the playoffs will be the last chance for the 3-6th placed teams from the group stage. The playoffs use a double-elimination bracket where all matches are best-of-three series.
When is WePlay Animajor?
The WePlay Animajor kicks off on June 2 and will continue till the 13th. This tournament is the last chance for Dota 2 teams to earn DPC points for The International 10.

Earlier this month, Valve announced that TI10 will take place in Stockholm, Sweden. The tournament boasts a $40 million prize pool and is the pinnacle of Dota 2 esports.
Esports.gg will be covering the Dota 2 Major with team previews, match updates and interviews. Stay tuned to esports.gg for the latest Dota 2 news and updates.