One of the meta heroes of TI12 is renamed to celebrate Team Spirit's second TI victory.
The annual Dota 2 The International (TI) just crowned Team Spirit their second TI title following a dominant 3-0 Finals against Gaimin Gladiators. To celebrate the two-time TI victory, Valve released Champion Stickers for fans to purchase. Interestingly, they also renamed the notorious hero, Spirit Breaker, to Team Spirit Breaker for funsies.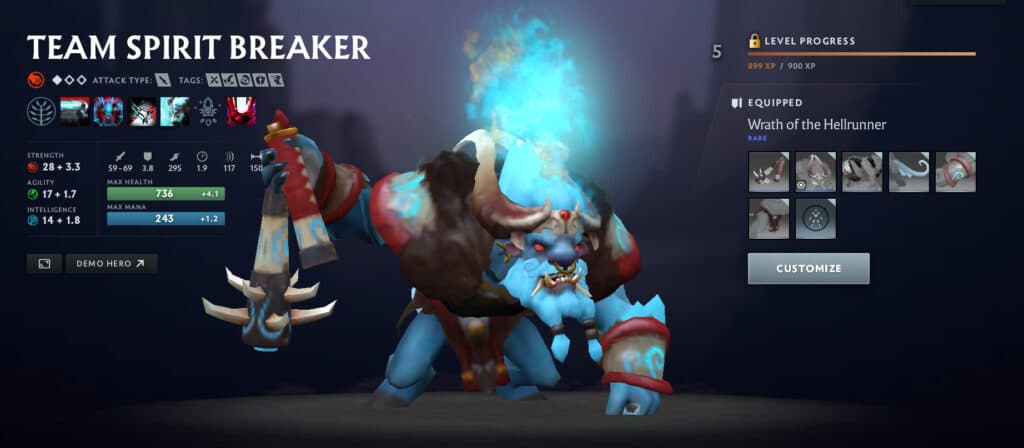 Spirit Breaker is renamed to Team Spirit Breaker in the Dota 2 client.
(Screenshot from Dota 2)
Spirit Breaker has been one of the strongest heroes of TI12. It is the ninth most contested hero with 110 match appearances out of 150 total matches at TI12. The bull demon holds a decent 58% win rate, though most teams threw this hero in the ban pool instead of picking it.
Spirit Breaker is Collapse's most-played hero at TI12.
(Image via Valve)
The Team Spirit Breaker rename is incredibly fitting as it is Collapse's most-played hero throughout TI12. Collapse played Spirit Breaker six times with an 83% win rate - more than anyone else in the tournament. It is also the last hero that Collapse played which is in game three of the Grand Finals.
The star offlaner of Team Spirit delivered solid gameplay and is arguably the MVP of TI12. He and Yatoro are hailed as the biggest stars of the show, showcasing spectacular individual Dota 2 performances.
This new name for Spirit Breaker will likely stick around during the off-season as we continue to celebrate the new two-time TI champs.
Team Spirit Champion Stickers available for purchase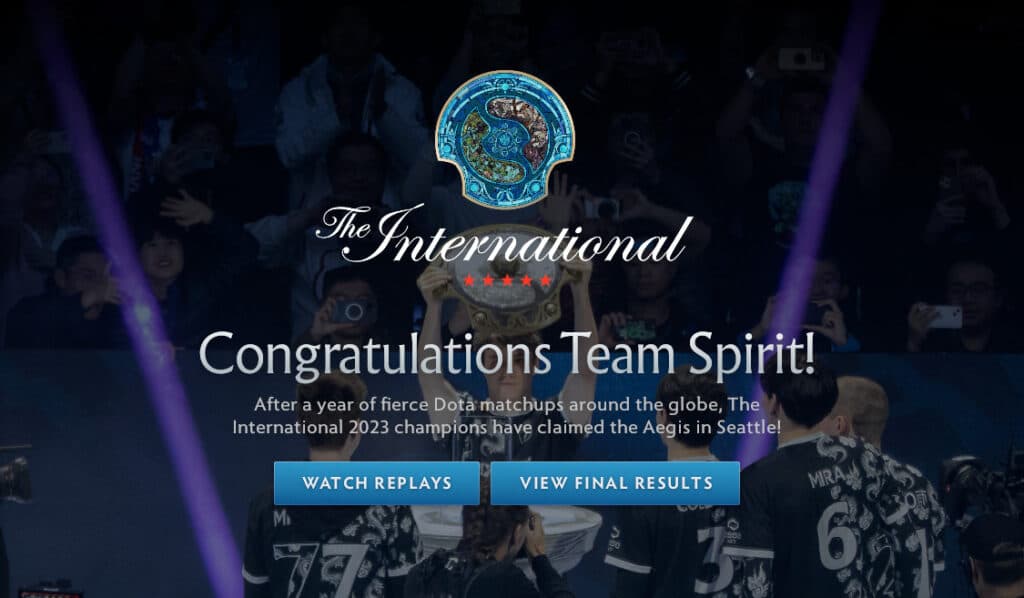 Dota 2 home page congratulates Team Spirit's TI12 victory.
(Screenshot from Dota 2)
Aside from the adorable Spirit Breaker name change, Valve also added Team Spirit Champion Stickers in the game.
Players can purchase a sticker capsule for $1 and get one random player or the team's logo. There are four styles of the stickers: Base, Glitter, Holo, and Gold. You can put these Champion Stickers on your Dota 2 profile!
Team Spirit Champion Stickers in Gold style.
(Screenshot from Dota 2)
Now that the 2023 season is over, we can look forward to the interesting roster shuffle phase. The next big tournament will be ESL One Kuala Lumpur which will take place in December 2023.
Now go and spam Team Spirit Breaker and see if the champion's hero can give you buffs for MMR! Stay tuned to esports.gg for more Dota 2 news and updates!