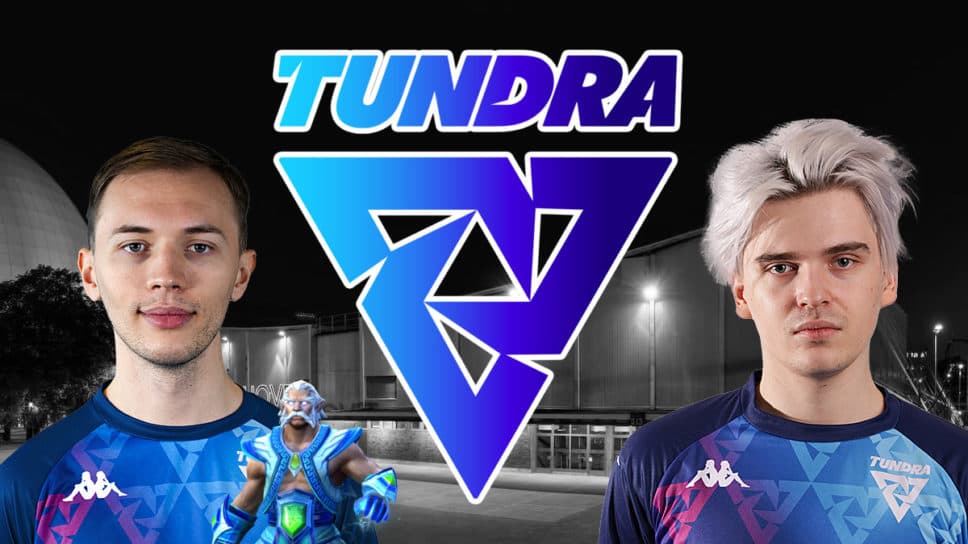 Tundra's Nine and skiter talk Stockholm Major, the new patch, and TI11
Tundra's skiter and Nine helped their team to a third place finish at the Stockholm Major. Now their eyes are one TI11.
Tundra Esports may not be one of the iconic names in Dota 2, but the impressive series of results they've earned in the WEU DPC, their stock is starting to rise. Having most recently finished third at the Stockholm Major, Tundra also kicked off Tour 3 of the DPC with a solid win over Alliance.
In that game, we were gifted by two dominant performances by Tundra's carry's Leon "Nine" Kirilin and Oliver "skiter" Lepko. Skiter's flawless Dragon Knight in game one reigned fire down on Alliance, while in game two Nine's KoTL demolished creep waves and players with similar ease.
We caught up with skiter and Nine after Tundra's week of games to talk about the Stockholm Major, the new patch, and The International.
Skiter on the Major and WEU's strength
Tundra headed to the Stockholm Major, along with fellow western European representatives, Gaimin Gladiators (4th), Team Liquid (9th-12th), and eventual winners OG. They topped group A and made a dominant run through the Upper Bracket of the Playoffs, before falling to finalists TSM and OG. It was one of the most impressive tournament performances we've seen from the team yet. But how did skiter feel like it went?
Congrats on your Major finish! How did it feel to be back on LAN in a real DPC event? I know you guys were at Gamers Galaxy, but this is a "real" LAN.
skiter: It was amazing to feel the energy from people either working the event or from the crowd. It's something special to see real people cheering for you instead of the faceless numbers on Twitch.
How much difference does a crowd and being in an Arena make a difference in how you play, or are you guys just used to it?
skiter: It's like day and night. You constantly hear and feel the energy from the crowd either cheering for you or against you. I am definitely not used to it and you could probably tell. Our team's level of play dropped once we started playing in front of the crowd. The overall pressure gets amplified by quite a lot.
The Chinese teams were missing from this event. Obviously, it's incredibly disappointing they didn't make it but was there a part of you breathing a sigh of relief that there's no LGD, RNG, etc. to face?
skiter: Not really. We were all very excited to test our ideas and style of Dota against Chinese teams since they are considered a very strong region.
Europe took the 1st, 3rd, and 4th place positions at the Major. Do you think WEU is the strongest region in the world?
skiter: Hard to tell because of the absence of Chinese teams. They are a great inspiration for us in terms of hero ideas and different builds. I think they would shake things up nicely.
Tundra's road to The International
Tundra, a UK-based organization with headquarters in London, entered Dota 2 in 2021 after signing the roster of mudgolems. Nine and skiter were both part of the roster that was signed to Tundra, so they have a keen sense of the difference between being an independent stack and one with org support. We asked Nine about how this support affects a team, as well as about the new patch and TI11.
TSM was the runner up at the Major, you guys (Tundra) took third. In both cases, this was an organization with no prior history in Dota heading into Dota 2 by picking up an unsigned stack and performing at a top-level. How much difference does that official org support give to a Dota 2 stack? Do you think more orgs should take a chance on Dota 2?
Nine: I think organizations supporting a Dota 2 Stack can make a lot of difference, there are a lot of things that orgs give that will help the players perform, be it bootcamps or just financial support that takes the stress from players as they commit a lot of time into the game, while not getting a lot in return until they are top-tier. I would love to see more orgs coming into Dota, but they should come with long-term commitment. There are many talented players out there and if you pick the right ones and support them, I am sure you will find success.
A Patch just dropped, 7.31d, two days into the DPC season. How do you feel about patches releasing in the middle or just after the start of the season? Does it mess with performance? Would you prefer they held off or made sure they were before the season start?
Nine: I think there definitely should be patches before the DPC season starts, I personally don't like the lack of gameplay changes recently. I hope they will do more small, or even big patches before tournaments/DPC seasons in future.
Does anything catch your eye from the new patch? Anything you guys want to try out? Personally, I'm excited for the Healing Salve change and Marci in Captain's Mode.
Nine: The patch was very small, I don't think the game changed too much. I enjoy Zeus. Apart from that, I'm hyped for a new Hero in Captains mode, I only wish it wasn't Marci because she is very annoying to play against as Midlaner.
You guys are on 712 DPC points. Do you think Tundra can head to TI in just its second year in Dota 2? Are you already looking forward to Singapore?
Nine: I definitely think we can head to TI and I plan to. I do not look forward to it yet as we didn't make it there yet. But I am giving everything I have to get there. Once I am qualified, I will be very happy. But for now, I just focus on the upcoming matches and the DPC season. TI is still a few months away.
---
Tundra, skiter, and Nine continue their campaign to head to TI on Tuesday, June 14 against OG. You can catch the game live on Twitch, on DreamLeague's official Dota 2 channel.