With the pride of SEA on the line, TNC overcome Beastcoast and Nigma in a stunning set of games.
TNC Predator has reignited the hopes of SEA fans after going 4-0 in Day 2 of the AniMajor Group Stage. Following a lackluster result on Day 1, fans and analysts alike were worried about the region's chances at TI dwindling.
Almost as if they heard the concerns, TNC have flipped the switch completely. After dominant series wins against both Beastcoast and Nigma, they now sit firmly out of elimination range (bottom two). As of the AniMajor, no SEA team has qualified for TI through points alone. This makes the AniMajor that much more crucial for TNC and T1, as it's the last chance for SEA to punch a ticket to TI.
TNC entering their comeback Arc
Following Xctn's elimination in the Wild Card Stage, the SEA region's pride now rested on TNC's shoulders. Their first day in the group stage did not go as planned though. They dropped a 2-0 series to EG, followed by a 1-1 draw against Vici, who had topped the Wild Card. In typical anime fashion, the TNC protaganists only seemed to be losing the battle.
The SEA squad turned up the heat against beastcoast today, in a spectacular show of dominance. Despite the early aggression from beastcoast in Game 1, TNC matched them blow for blow.
Crucially, it was Kim "Gabbi" Villafuerte's Ursa that made the difference. TNC took advantage of Beastcoast's passive Phantom Lancer pick to overpower their opponents 4 versus 5.
From there, TNC grabbed the lead and never looked back. They continued to sweep the map clean of beastcoast heroes and towers. Any form of resistance mounted by beastcoast was put to a half by Jun "Bok" Kanehara show-stopping Ravages.
The pressure from TNC was too great, as beastcoast were forced to concede the first match. Southeast Asia won the first battle between SEA and South America.
Gabbi's list has 5 names on it - the almost 'Double Rampage'
As handily as they had won Game 1, the second match against beastcoast followed suit. Marvin "Boomy" Rushton's Position 5 Magnus handed Gabbi's PA a free lane on a platter. This round though, Gabbi happily hit creeps while the four other members of TNC ran a riot all over beastcoast.
As the mid-game approached, Armel "Armel" Paul Tabios' Tiny picked off the beastcoast heroes over and over, leaving them severely behind. Beastcoast's teamfight potential was completely nullified against the over-farmed TNC.
In beastcoast's last moments, Gabbi executed all five opponents in style with his Aghanim's Scepter and secured the series 2-0 in TNC's favour.
The Anime storyline battle - Nigma vs TNC
In a match-up that seemed almost fated, TNC would have to face off against Nigma, who were hot off a spicy streak themselves. The Kuroky-led squad had just come off a 2-0 stomp of their own against Liquid, following their miraculous Wild Card run.
Nigma took the early-game by then horns and ran through the TNC side of the map. With the fast-paced pressure from Nigma, it seemed that TNC were struggling to keep up.
With Aegis and Agh's in the hands of Amer "Miracle-" Barkawi's Beastmaster, Nigma looked ready to go. They stormed into the TNC jungle, catching the entire team unprepared. The thing though, is they didn't quite catch Armel "Armel" Paul Tabios on his Puck and that came back to bite them.
Despite TNC's best efforts, Nigma still looked firmly in control and would not let up. It was not until Timothy "Tims" Randrup's Nyx finally got his Aghanim's that the fights started taking a turn. TNC rallied around their burrowed fortress and turned a stunning team fight win into a Roshan for themselves.
With the fights raging long - TNC began to claw out an edge. After a pivotal all-out brawl with almost everyone buying back, a final pick-off on Miracle- was the beginning of the end for Nigma.
Sensing the win in front of them, TNC surged into the Nigma base. Without their Beastmaster, Nigma could do nothing and were forced to tap out of Game 1.
Final Boss - Miracle Invoker
The final obstacle in TNC's way was none other than Miracle's unbeaten Invoker. Nigma had a 6-0 record with the player-hero combination thus far and were looking to make it 7. On top of Ivan "MinD_ContRoL" Ivanov's terrifying Mars, iLTW was back on his Ursa, which Nigma had used earlier to dismantle Liquid.
A key part of any good anime is an unlikely hero and there is no unlikelier hero than the one TNC picked for themselves. Instead of a hard-carry last pick, TNC decided to convert their Magnus into Position 1 for Gabbi, surprising analysts.
Indeed, the hero proved to be lackluster in the early stages of the game, doing little to quell Nigma's aggression. Nigma had learned from their mistakes last game and heavily focused Armel's Leshrac this time. Despite this though, the game remained relatively, with both sides endlessly brawling.
Wanting to shake up the game state, TNC rallied behind Gabbi's BKB pickup to smoke for a pick-off. While the fight looked bad at first, Nigma committed important buybacks to turn it around and take Rosh for themselves.
With iLTW's Aegis-holding Ursa knocking on their Tier 2 mid, TNC knew they had to act. In an instant, the team blinked forward following Gabbi's RP to completely annihilate the Ursa. From there, the rest of Nigma was easy pickings.
From there, with the cores of Nigma on the sidelines with no buyback, TNC seized control of the game. With the immense amount of damage from Bok's Viper with Skadi and Armel's Leshrac, they ripped through the Nigma heroes and closed out the 2-0.
Can TNC continue their hot-streak?
With their 2 victories today, TNC go from the bottom of the table to tied for 2nd place, along with EG, Nigma and Vici Gaming.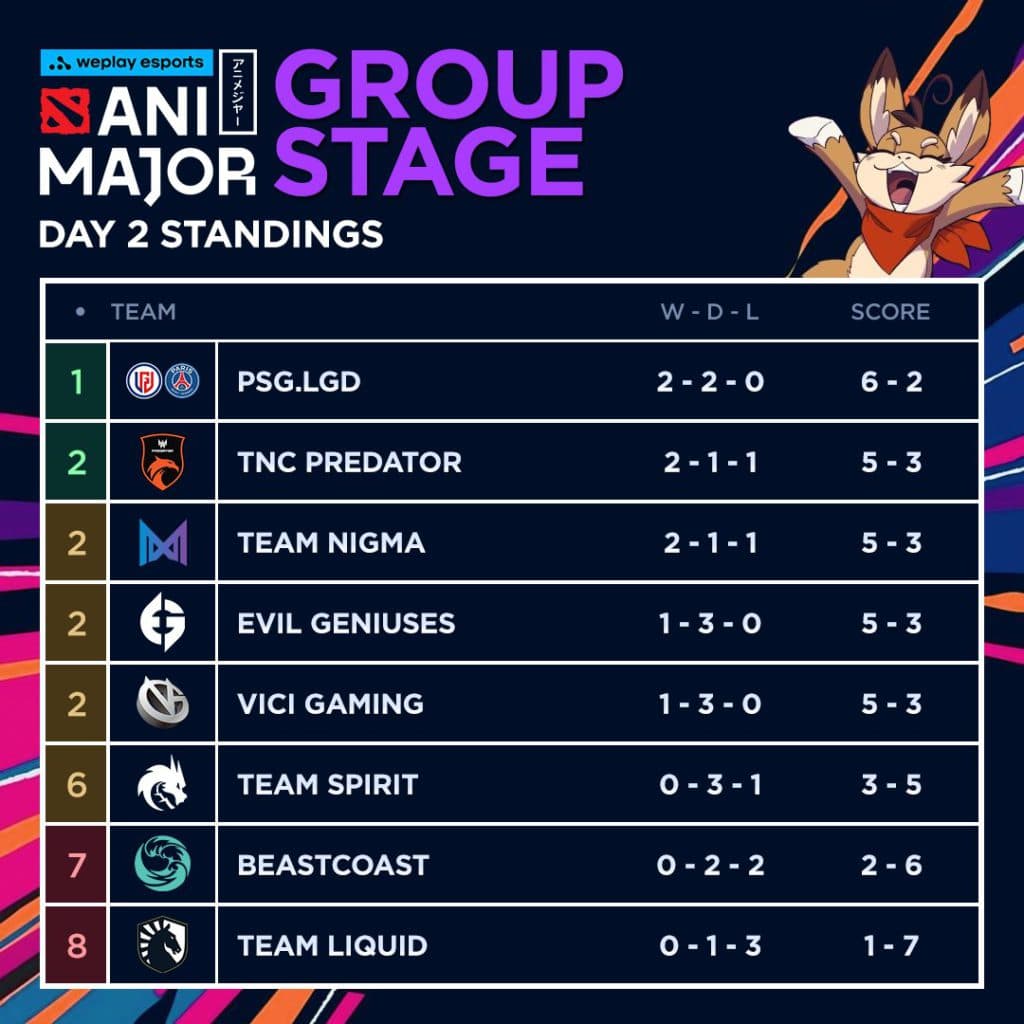 Image Credit: WePlay.
Their true test will be their game against PSG.LGD tomorrow, who have been on a tear throughout the Group stage so far. TNC will need to finish minimum 6th place in the AniMajor overall to secure a direct invite to TI10. If they keep playing at this level though, there might be hope for South East Asia just yet.