Valve beat WePlay Esports, EA Sports, Riot Games, and Activision Blizzard to claim the Emmy for Outstanding Esports Championship Coverage.
If you thought The International 10 was an incredible spectacle, you're not alone, as Valve's coverage of the event just won a Sports Emmy for Outstanding Esports Championship Coverage. The award was announced on May 25th, with members of the Dota community immediately celebrating the victory across social media.
TI10 was the culmination of the 2021 Dota Pro Circuit season. During the event, Team Spirit, undoubtedly underdogs, made their way through the lower bracket to fact PSG.LGD in the finals. Coverage of that shocking upset of the heavily favored LGD is what won Valve the Award.
Tough competition for TI10 to win an Emmy
But TI10 was up against some tough competition, even from within its own game. The WePlay! Animajor was among the competition. But faced with the grand spectacle that is The International, even Dota 2's most unique Major in recent memory wasn't able to hold up.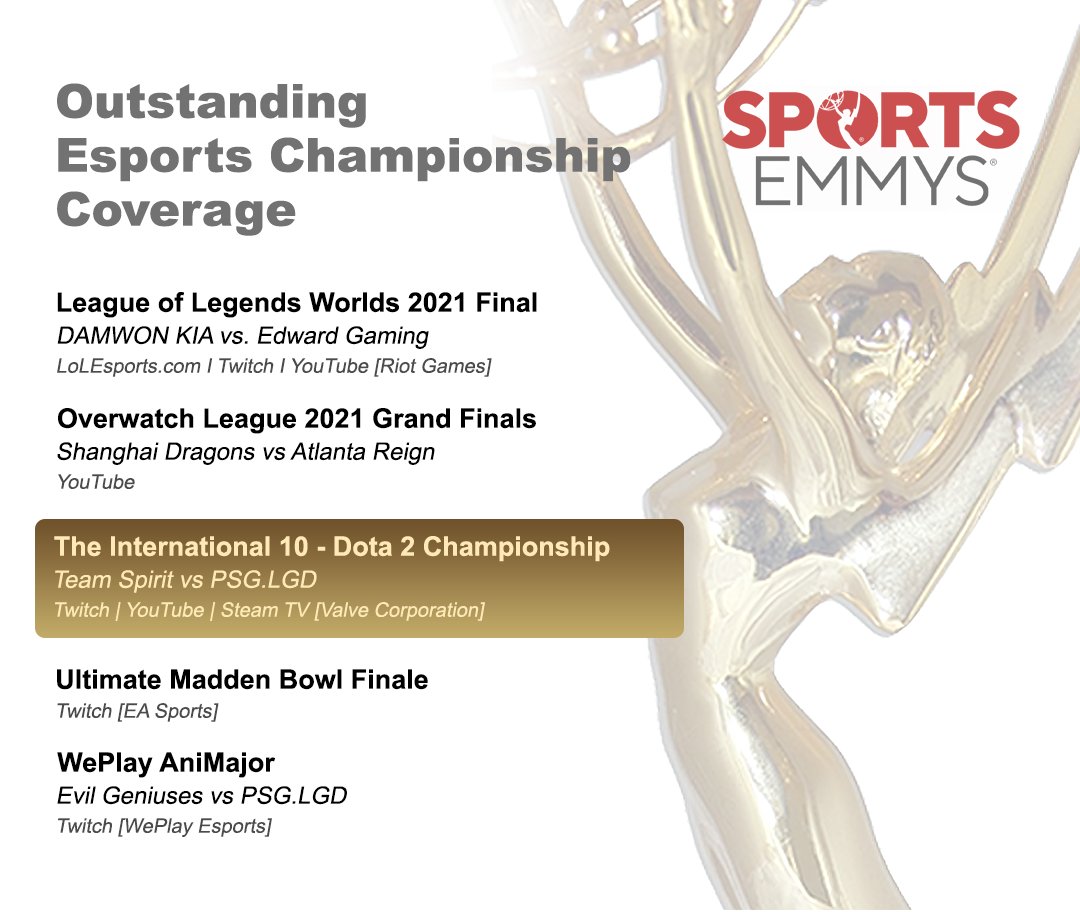 Other events in the running for the award were the League of Legends Worlds 2021 Final, the Overwatch League 2021 Grand Finals, and the Ultimate Madden Bowl Finale. But TI, with its stadium presence and having overcome the issues created by having no crowd, and serious Covid restrictions, claimed victory.
With the win, numerous talents and Valve employees chimed in to show how proud they were of the award.
Overall, the award brings some mainstream recognition to what Dota fans have known all along: The International is an incredibly special event. And although prize pool distributions, format, and other aspects can be critiqued, there's no doubt that when it comes down to it, nothing beats TI.
Unless you're fans replying to the announcement, of course, in which case "True Sight When?" and "Release the Battle Pass!!!"