After a painful one a half weeks of nothing after a heated TI10 Qualifiers, Dota 2 fans have a new event to look forward to.
As the TI10 Qualifiers drew to a close, a sense of dread had set over the Dota 2 community. As much as we were treated to world class games, three months until the main event left many wondering how to fill the void. In a tweet on 22nd July 2021, ESL has become the hero the Dota 2 community didn't deserve, but very desperately needed.
Returning to present the second non-DPC event of the year, ESL has announced ESL One Fall 2021. This 12-team tournament comes just a few months after ESL One Summer 2021, which also featured a similar format. With a total prize-pool of $400,000, this is a good chance for teams, TI-qualified or not, to test their mettle. ESL One Fall 2021 is set to take place a month from now - from 21st to 29th August 2021.
What is the tournament format for ESL One Fall 2021?
Presently, further details of the tournament have yet to be announced. However, based on the information available, ESL One Fall 2021 looks to be a 2nd edition of its Summer counterpart. If that is the case, the tournament will most likely be hosted in EU, with directly invited teams. There may also be a final slot left to a team through open qualifiers.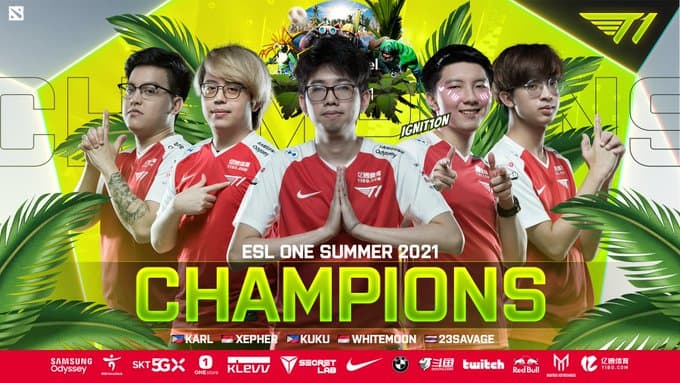 T1, the winners of ESL One Summer 2021
With all the teams and players gearing up to TI-form, the battles that ensue will no doubt be ones to watch.
Feature Image Credit: ESL