Team Spirit has defeated Gaimin Gladiators to lift the Aegis at TI12.
Team Spirit has defeated Gaimin Gladiators to win The International 2022. The Russian organization defeated their Western European opponents with a 3-0 victory demonstrating the team's dominance.
In a trio of games that left little hope for Gaimin, the squad were able to keep a clean sheet for a 3-0 victory. In Games two and three, Gaimin seemed to gain traction early, but be unable to finish things up. Heartbreakingly, in the final match, Gaimin Gladiators looked close to forcing four games, and possibly a comeback, but Team Spirit were relentless. Gaimin, who had defeated LGD Gaming earlier in the day to earn the finals spot, had previously won all three Majors of the 2023 DPC season, and looked poised to win TI12 as well.
With the win four of Team Spirit's members have become the first two-time TI champions since the members of OG at TI9, Illya "Yatoro" Mulyarchuk, Magomed "Collapse" Khalilov, Myroslav "Mira" Kolpakov, and Yaroslav "Miposhka" Naidenov, join an exclusive club with just five other members.
Meanwhile, Denis "Larl" Sigitov will take home his first TI win. Last year, at TI11, he and then team BetBoom came dead last. In a gesture of how much his teammates supported him, Larl was the one to lift the trophy first, the only one who hadn't had the chance to do so before.
All of Team Spirit had momemnts to shine during the match, but the star player had to be Yatoro. After shaving his head, the Team Spirit carry was perhaps the key reason behind the squad's success.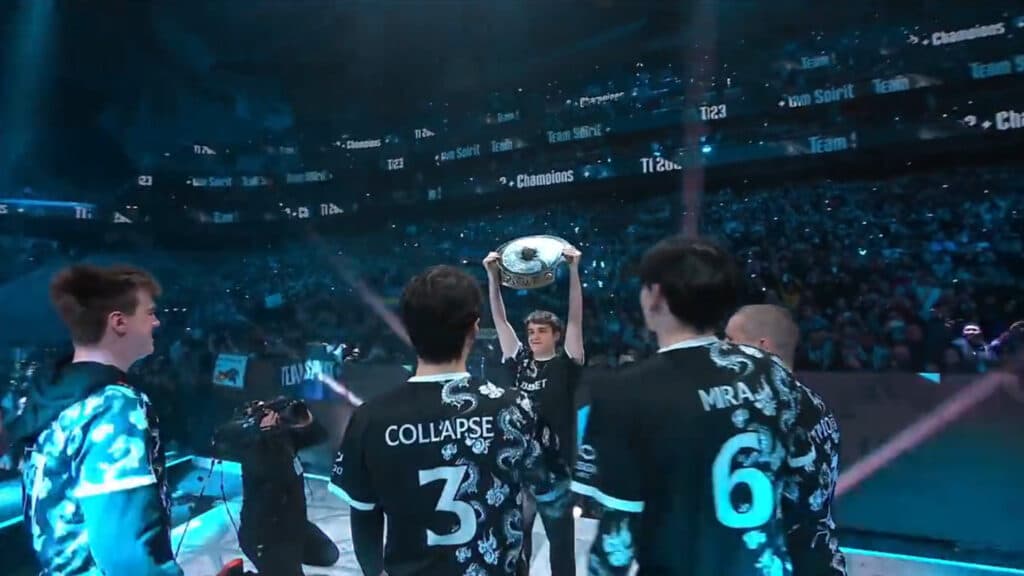 (Image via Valve)
The TI12 winner will take home at least $1,414,524 in prize money, in what will be 45% of the smallest Prize Pool since TI3. Gaimin Gladiators will take home just $377,151, 12% of the total Prize Pool.
---
To recap and find out more about TI12, stick with esports.gg and check out our Dota 2 section!