Ninjaboogie is not ready to let the whole getting kicked by his team drama go and wants to "poke the silent bear"
It has only been two weeks since Michael "ninjaboogie" Ross first tweeted about what he believed to be the real reason he was kicked from Team SMG, and it did not look pretty. Sadly for Team SMG, it was about to get uglier.
Since then, ninjaboogie had finally laid his mother to rest and had received plenty of support from the community, showering him with sympathetic words of condolences.
A Malaysian fan, who expressed shame in the Malaysian-based organization's actions, even asked ninjaboogie to set up a donation page for financial support during these trying times. Despite all the empathy he received, there were still others the support player had hoped to hear from.
Ninjaboogie expressed his surprise, questioning what seemed to be his former teammates, as to why they have stayed silent throughout the whole ordeal. He has shared several victories with his teammates and gone through severals ups and downs.
"I dunno i'm just curious why they have stayed so silent. No apology or condolences from anyone"
ninjaboogie surprised at his teammates' reaction.
He previously earned first place in both PGL Open Bucharest in 2017 and Dota 2 Asian Championships in 2018 with Moon during their time in Mineski, as well as a respectable 9th-12th place finish at TI9 in 2019 with ragingpotato who joined after. Kenchi served as Vice President and coach for Mineski during that time. Moon, ragingpotato and Kenchi are currently active members of Team SMG.
"Except midone I don't care about that guy" - ninj
On the other hand, ninjaboogie singled out Midone in a tweet, saying he did not care about the former Team Secret player. Another Twitter user followed up with the sentiment and asked whether he really hated Midone, to which he responded "Yeah I hate that c**t" while mentioning Midone's "father situation". The details about this story are still unclear at the time of writing.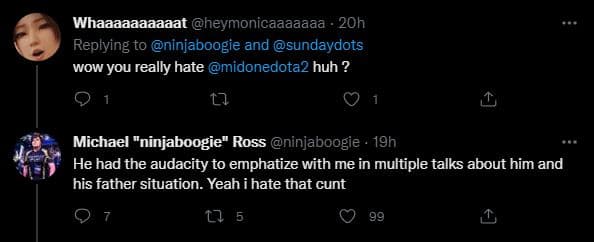 The Dota 2 organization still has not issued any official statement regarding the situation. Team SMG has not tweeted at all after announcing ninjaboogie's departure. However, there is confirmation that Johan "Pieliedie" Astrom will complete its roster for the third tour of Division 1 DPC SEA region.
Pieliedie has numerous achievements under his belt. His biggest break was Shanghai Major 2016 where he won first place with Team Secret along with the $1.1 million prize. He last played with Team Bald Reborn, the streamer super star team that is revered as the gatekeeper of WEU Division 2.
The newest Team SMG roster as seen in Dota client
With all of his accomplishments, Pieliedie seems to be a strong addition to Team SMG's roster. But only time can tell where the results will lead them as they await for the start of DPC Tour 3.
Meanwhile, ninjaboogie is still without a team and will unfortunately have to sit out DPC 2021-22 Tour 3.