Team SMG disqualified from TI11 after failing to register its roster for regional qualifiers. CEO Kenchi Yap steps down. "Worst year of my life" says iceiceice
Team SMG officially announced on Twitter that the organization has been disqualified from The International 2022 (TI11) after failing to register its players for the regional qualifiers. This was especially upsetting for its latest roster members Daryl "iceiceice" Koh and Wilson "poloson" Koh who can no longer represent their home country, Singapore, where TI11 is held.
According to a tweet by Ben "Noxville" Steenhuisen, there were a handful of organizations including Team SMG who missed the deadline to register their rosters for TI11 qualifiers. Said tweet also mentioned Discord leaks indicating that these organizations were previously warned about the deadline.
Team SMG apologizes to its players, CEO steps down
Team SMG released an official letter addressing the situation. The organization stated that there were a number of factors that caused the inevitable. However, both management and players took full responsibility and admitted their mistakes for everything that went down. Team SMG apparently made an appeal to Valve but was then denied. Consequently, CEO Yap "Kenchi" Chee Loong will be stepping down from his role. The organization will now focus its efforts towards DPC 2023.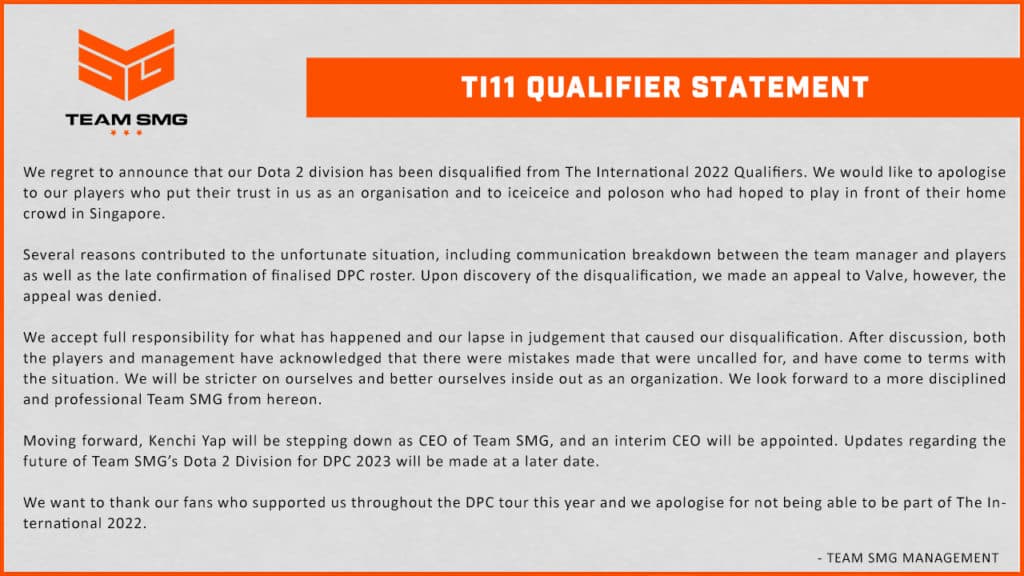 Iceiceice says this is the "worst year of my life in Dota terms"
After getting kicked from Team Secret so close to TI11, iceiceice found a silver lining and joined Team SMG along with his Southeast Asian peers. Even though he would have to go through the grueling qualifiers, he at least would have a chance to enter TI11. However, that chance is now completely stripped away. Now, he has to sit on the sidelines for TI11 despite it happening in his hometown.
I could be eating sh*t all day, but I'm still alive. And I should be happy about being alive. I like life.
Iceiceice remaining positive about his TI11 debacle
Iceiceice opened up on his stream about 2022 being the worst year of his Dota career. He stated, "This is actually the worst year of my life in Dota terms. Zero majors, zero TIs, get kicked from like a team. What else? Didn't even get to play the qualifier." However, he remained positive and talked about being grateful to be alive. "I could be eating sh*t all day, but I'm still alive. And I should be happy about being alive. I like life." he continued.